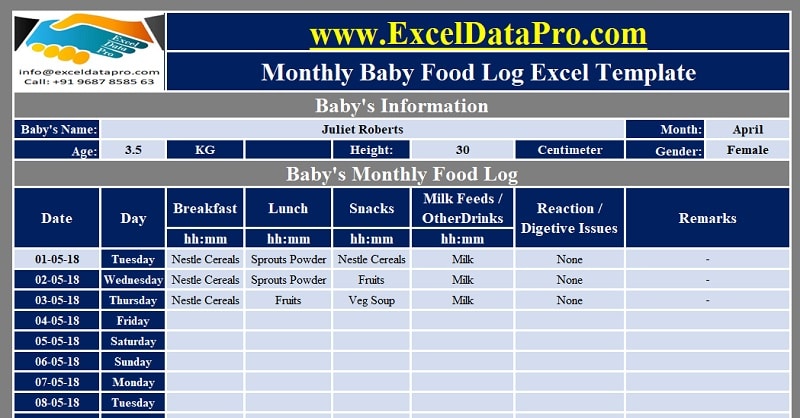 Baby Food Log is a document that helps you to maintain records and timetables for your baby's food. You can record the type of food given to the baby, timings, reaction to new foods etc all these things in this template. This template can be helpful to new mothers, caretakers, and babysitters.
Infants and growing children need utmost care and mothers have to maintain baby's food log initially to know whether it suits the baby's stomach or not. Apart from this, the baby's can't speak and thus a mother has to know the timings of the baby when they require food.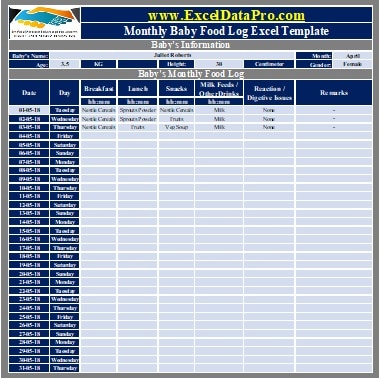 To help you easily manage these things and keep a track of things given to the baby, we have created a simple and easy Baby Food Log Excel Template.
Click here to download the monthly Baby Food LogExcel Template.
Click here to Download All Health & Fitness Excel Templates for ₹299.
You can download the blank printable format from the link below:
Baby Food Log Printable Format
You can also download other healthcare-related templates like Blood Sugar Log, Blood Pressure Log, Food Calorie Calculator, Weight Loss Log and much more.
Let us discuss the contents of the template in detail.
Contents of Monthly Baby Food Log Excel Template
Baby Food Log Template consists of 2 sections:
Baby's Information
Baby's Monthly Food Log
1. Baby's Information
This section consists of basic information about the baby like name, age, weight, height, and gender. If you want you can also add other details according to your requirements.

2.Baby's Monthly Food Log
Monthly Food log consists of the following columns:
Date: Date of the month in dd/mm/yy format. You just need to enter the first date of the month. It has predefined formulas and will automatically display the dates for the rest of the month.
Day: Day column consists of a predefined formula and will automatically the name of the weekday next to the respective date.
Breakfast: Just below the heading of breakfast you can record the routine timing at which you feed your baby.
Lunch: Similar to Breakfast. Enter the time and food given to the baby for lunch in this column.
Dinner: Similar to Above. Enter the time and food given to the baby for dinner in this column.
Milk Feeds and other Drinks: You need to enter the milk or other drinkables giving to the baby in this column.

Reaction / Digestive Issues: In this section, if your baby has any kind of reactions to any food you can record them. You can also record any digestive issues if any.
Remarks: In this section, you can record any unusual activity by the baby light over crying, not playing, pale, etc. This will help the pediatrician to know more about the baby when you visit them.
Thus, this Baby Food Log can be helpful in many ways to us.
Disclaimer: This template has been created with a general overview. It is highly recommended that you consult your Pediatricians or Health Care Professional for the limits of giving baby food and other related issues. 
We thank our readers for liking, sharing and following us on different social media platforms.
If you have any queries please share in the comment section below. We will be more than happy to assist you.