Food Calorie Calculator is an excel template to help you calculate the amount of calorie intake on daily basis for breakfast, lunch, and dinner. This template is helpful to people targeting to lose weight or persons who look for gaining weight.
Nutritionist or Dietitian usually provide diet charts with prescribed calorie limits for all daily meals. These limits include calories that are necessary according to your body, weight, height and other diseases like blood sugar, blood pressure or obesity etc.
We have created an easy to use Food Calorie Calculator in excel with predefined formulas. Just enter your intake calories and your target limits, it will automatically calculate your total intake per meal. It will also show the difference between your target calories and the actual calorie intake.
Click here to download Food Calorie Calculator Excel Template.
Click here to Download All Health & Fitness Excel Templates for Rs 199.
You can also download the printable version of the same from the link below:
Food Calorie Calculator Printable Format
You can also download other healthcare related templates like Blood Sugar Log, Blood Pressure Log, Simple Age Calculator and much more.
Let us discuss the contents of the template in detail.
Contents of Food Calorie Calculator Excel Template
This template consists of 3 sections:
Personal Information
Calorie Markup
Calorie Calculator
1. Personal Information
Personal information consists of details like name, age, weight, height, dietitian etc. Fill in your information to personalize the sheet.
 2. Calorie Markup
Calorie Markup consists of three levels of daily intake of calories; ideal calories, prescribed calories and actual calories. Your dietitian/nutritionist can provide you these levels of calorie intake.

This Markup shows the difference between your prescribed and actual intake of calories. If the calories are below the prescribed it the fonts will turn red in color.
3. Calorie Calculator
This section is further divided into 3 categories; Breakfast, Lunch, and Dinner. Each category consists of 4 columns:
Food Details
Quantity: Amount and Measure
Calorie Intake
Breakfast
Lunch
Dinner
The below-given chart gives a brief idea about each type of food we intake for breakfast, lunch or dinner.  You can use this table to calculate your calories intake.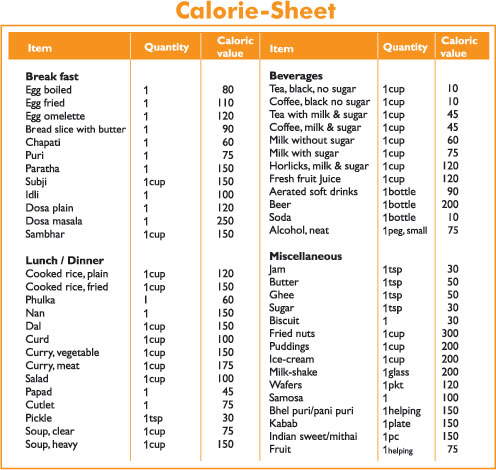 Source: ecofrenfood.wordpress.com
Just enter the amount and measure and calories. It will automatically sum up the total for each category and reflect it in the Calorie markup section.
Disclaimer: This template has been created with a general overview. It is highly recommended that you consult your Health Care Physician (HCP) or nutritionist for the normal and targetted nutrition calorie levels or for any complications.
We thank our readers for liking, sharing and following us on different social media platforms.
If you have any queries please share in the comment section below. We will be more than happy to assist you.