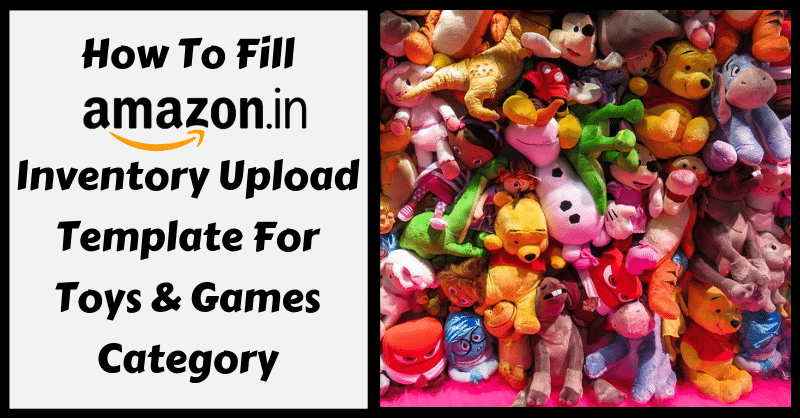 Toys & Games category is favorite among all age groups. If we mention the target audience (toddlers, kids, boys, girls, teens, adults, male, female etc.) of the toys & games category products then hardly anyone would miss out.
Hence, we can say that selling toys & games products can happen to be a lucrative business on Amazon India. Take a look at the list of products that we have integrated so that you can get an idea of what products can be listed & sold on Amazon India.
List Products in Toys & Games Category
The Toys & Games Category consists of  28 subcategories with different kind of products. We have explained the main categories and the kind of products that an individual seller can add to their inventory via this template. Read below.
Action & Toy Figures
(Accessories, Bendables, Bobbleheads, Playsets, Props & Replicas, Statues, Maquettes & Busts & Toy Figures)
Advent Calendars
Baby & Toddler Toys
(Activity Play Centres, Baby Toys, Bath Toys, Bricks & Blocks, Counting Frames, Hammering & Nailing Toys, Hobbyhorses, Indoor Climbers & Play Structures, Motor Activity Toys, Pull Along Toys, Rocking & Spring Ride-Ons, Soft Toys, Sorting, Stacking & Plugging Toys, Sound Toys, Spinning & Battling Tops & Teaching Clocks)
Bikes, Trikes & Ride-Ons
(Accessories, Balance Bikes, Electrical Vehicles, Go-Carts, Kids' Bikes & Accessories, Pedal Cars, Pull-Along Wagons, Push Ride-Ons & Accessories, Rollerskates, Safety Equipment, Scooters, Skateboards, Tractors & Trailers, Trikes & Unicycles)
Building & Construction Toys
Coin & Stamp Collecting
(Coin Collecting, Collectible Display & Storage & Stamp Collecting)
Collectable Trading Cards & Accessories
(Packs & Sets, Single Cards, Storage Albums & Cases)
Cosmetics & Jewellery
(Bracelets, Earrings, Hair Decoration, Makeup, Makeup & Hair Dressing Heads, Necklaces, Rings & Vanity Cases)
Die-Cast & Toy Vehicles
(Aircraft, Slot Cars, Race Tracks & Accessories, Toy Trains & Accessories, Toy Vehicle Playsets, Toy Vehicles & Accessories)
Dolls & Accessories
(Baby Dolls, Clothing & Shoes, Dollhouse Accessories, Dollhouse Dolls, Dollhouses, Fashion Dolls, Furniture, Playsets, Prams, Soft Dolls & Vehicles)
Dressing Up & Costumes
(Accessories, Boas, Capes, Coats, Vests & Wings, Costume Kits, Costumes, Face Paints, Fake Body Parts, Footwear, Gloves & Handwear, Hats & Headwear, Jewellery, Masks & Eyewear, Stockings, Tights & Socks, Ties & Sashes, Toy Wands, Toy Weapons, Wigs & Hairpieces)
Electronic Toys
(Alarm Clocks, Dance Mats, Digital Cameras, Educational Computers & Accessories, Electronic Pets, Handheld Games, Karaoke Machines, Phones & Mobile Phones, Plug & Play Video Games, Radios, MP3 & CD Players, Tablets & Accessories, TVs & DVD Players & Walkie Talkies)
Games
(Action & Reflex Games, Backgammon, Bingo, Board Games, Card Games, Checkers, Chess, Dice & Dice Games, Domino & Tile Games, DVD Games, Educational Games, Electronic Games, Floor Games, Games Collections, Go, Hyakunin Isshu, Japanese Flower Cards, Karuta Cards, Magic Boxes, Mah Jong, Mystery Games, Pachinko, Reversi, Role Playing Games, Shogi, Sport Games, Stacking Games, Strategy Games, Tabletop & Miniature Gaming, Travel & Pocket Games, Trivia & Quiz Games)
Learning & Education
(Detective, Educational Computers, Electronics, Explorer Toys, Flash Cards, Foreign Languages, Geography, Habitats, History, Mathematics & Counting, Reading & Writing, Reward Charts, Science, Solar, Special Needs Developmental Toys)
Marble Runs
Model Building Kits
(Accessories, Aircraft, Boats & Watercraft, Buildings, Cars & Vehicles, Figures, Model Building Tools, Motorcycles, Robots, Rockets & Spaceships, Steam Engines & Tanks)
Model Trains & Railway Sets
(Building, Decoration Parts, Figures, Landscaping, Lighting & Signal Engineering, Locomotives, Replacement Parts, Starter Packs, Tools & Cleaning, Track Construction, Trains, Vehicles & Wagons)
Musical Toy Instruments
(Accessories, Drums & Percussion, Guitars & Strings, Pianos & Keyboards, Wind & Brass)
Novelty & Gag Toys
(Badges, Fingerboards & Finger Bikes, Gag Toys & Practical Jokes, Kaleidoscopes, Key Rings, Light-Up & Glow-in-the-Dark Toys, Magic Kits & Accessories, Magnets & Magnetic Toys, Mobile Phone Charms, Money Banks, Nesting Dolls, Slime & Putty Toys, Spy Gear, Temporary Tattoos, ViewFinders & Wind-Up Toys)
Party Supplies
(Decorations, Invitations, Noisemakers, Party Favor Bags, Party Favours, Party Games, Party Hats, Masks & Accessories, Party Tableware, Piñatas, Table Covers & Accessories)
Pretend Play
(Doctor Play Sets, Household Toys, Kitchen Toys, Magnet & Felt Playboards, Paper & Magnetic Dolls, Play Tools, Pretend Play Purses, Shops & Accessories)
Puppets & Puppet Theatres
(Accessories, Bag Punch Figures, Finger Puppets, Hand Puppets, Marionettes, Plush Puppets & Puppet Theatres)
Puzzles
(3-D Puzzles, Floor Puzzles, Framed Puzzles, Jigsaw Puzzles, Pegged Puzzles, Puzzle Accessories, Puzzle Mats, Sudoku Puzzles & Wooden Puzzles)
Radio & Remote Control
(Airplanes, Boats, Cars & Trucks, Helicopters, Motorcycles, Parts & Accessories, Robots & Tanks)
Real-Food Appliances
School Supplies
(Book Covers, Circles, Diaries & Poetry Albums, Exercise Books, Fountain Pens, Globes, Greeting Cards, Letter Sets, Lunch Boxes & Water Bottles, Notebook Folders, Paper, Pencil Cases, Pencils, Post Cards, Rulers & Set Squares, School Cones, School Supply Sets)
Soft Toys
(Animals & Figures, Plush Backpacks & Purses, Plush Pillows, Plush Puppets & Plush Ride-Ons)
Sport & Outdoor
(Balance Boards, Ball Pits & Accessories, Beanbags & Foot Bags, Blasters & Toy Guns, Bubbles, Calisthenics & Ability, Garden Slides, Garden Tools, Gym Sets & Swings, Ice Skates, Kickball & Playground Balls, Kites & Flight Toys, Marbles, Petanque & Boule, Play Tents, Playhouses, Pogo Sticks, Pools & Water Fun, Racket Games, Sand & Water Tables, Sandpits & Sand Toys, Sledding & Toboganning, Slumber Bags, Table Soccer & Billiards, Target Games & Darts, Toy Sports, Trampolines, Travel Items, Wind Spinners & Yo-Yos)
List of other important categories to help you understand the process of bulk listings using excel worksheet to their inventory on Amazon India:
How to Download Amazon Inventory File for Toys & Games Category?

Log in to your Amazon India seller account.
Click on Add Products via Upload under the Inventory tab.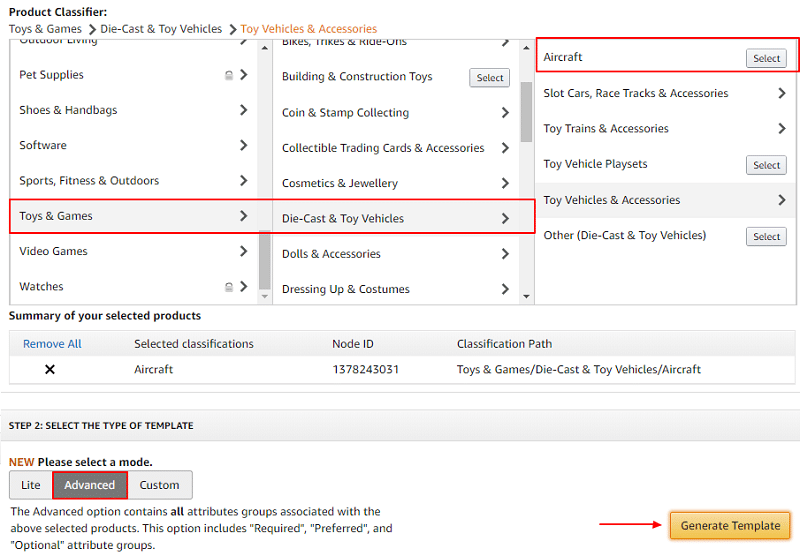 Scroll down to the Product Classifier option
Find Toys & Games category. We have taken Aircraft from Toy vehicles as an example.
Choose the product sub-category. Click the "Select" button
Select the template mode as "Advanced".
Click "Generate Template". A product inventory excel file will be downloaded.
Check your download folder to locate the file.
How to Fill Inventory Upload File for Toys & Games Category?
There are total 7 worksheets in the downloaded excel file, out of which the "Template" sheet is to be filled with item details. Other excel sheets are for reference purpose only. We have taken the "Aircraft" template as an example from Toy Vehicles.
There are total 10 sections in the Aircraft Excel Template. These sections remain the same for any toy or game product excel sheet that you download with a minor change in the sequence of field columns.
Required product information
Images
Variation
Basic product details
Discovery
Product enrichment
Dimensions
Fulfillment
Compliance
Offer
Now, let's understand all the necessary attributes and fields that are relevant to the product. Kindly leave irrelevant fields blank and go ahead.
Note: Sellers can upload an excel file with empty fields that are not relevant to the selected product.
1. Required product information

Product type: Describe the type of product. For example, chess, toy train, etc.
Seller SKU: The inventory identification number given to the product.
Brand: The brand name of the product.
Product ID: Write the numerical value of the product ID.
Product ID Type: Select UPC, EAN, GCID, ASIN etc. from the drop-down list.
Manufacturer: The name of the product manufacturer.

Title: A short product title including brand, colour, size, toy or game name, etc.
Recommended browse nodes: Refer the valid values tab in excel worksheet.
Colour: Describe the colour of the product.
Colour Map: Specify in which colours the product is available.
Quantity: Enter the quantity of the product.
Standard Price: The selling price of the product.

Shipping Template: Write Migrated Template here. You can change it later by editing the product.
Maximum retail price: Provide the MRP of your product.
Main image URL: Insert the main product image URL.
2. Images

Insert high definition product images with a white background. You get total 3 column space to insert other product images and 1 space to enter swatch image URL. Upload all images on Google Drive or Dropbox and create shareable links. Copy those links & insert them here.
3. Variation

Parentage: Describe whether the product is a parent or child.
Parent SKU: Provide the SKU of the main product.
Variation theme: Define the product variation theme. For example, size, colour, material, etc.
Relationship type: The relationship of the main product with the product you are adding using this file.
4. Basic product details

Update delete: Enter Update or Partial Update if updating current product details or adding a totally new product. Use "Delete" if you want to completely remove a product listing.
Manufacturer part number: Refer the product packaging for the part number.
Description: Describe your product in brief. Write the main feature & usage.
Edition: Like in books we have an edition, the same you need to write for your products.
5. Discovery

Bullet point: Write short sentences about product features. You get total 5 space.
Catalogue number: Alphanumerical catalogue ID for the collection.
Search terms: Mention highly searched terms for the product. You Get total 5 space.
Target audience: Define the target audience that who will use the product.
Style name: Any specific name of your product that is famous among buyers.
Target audience keywords: Insert specific keywords keeping your target audience in mind.
6. Product enrichment

Scale name: Define the size of your product using a scale name. For example, jumbo, mini, large, tiny, etc.
Size: Specify the size of your product. Refer above example values.
Rail gauge: Write the measure of the distance between the rails. This is for toy trains.
Character: If the toy product is about a famous character then write its name. For example, Doremon.
Number of pieces: Total number of individual pieces in the product.
Minimum recommended age: Define the minimum age of the user who can use the product.

Maximum recommended age: Write the maximum age of the user who can use the product.
Power source: Indicate what kind of power source is needed to run the product.
Material type: Name of the material used to make the product.
Size map: The size of the product. For example, small, medium, large, etc.
7. Dimensions

Shipping weight: The final weight of the product after packing.
Website shipping weight unit of measure: Select GR, KG, OZ or LB here.
Item height & width: Specify the height & width of the product.
Item height unit of measure: The measuring unit of product height.

Item width & length unit of measure: The measuring unit of product width & length.
Item length & weight: The total length & weight of the product.
Item weight unit of measure: The measuring unit of product weight.
You can also enroll for Amazon Easy Ship Program. To know more about it click the link below:
Understanding Amazon India Easy Ship Service In Layman Terms
8. Fulfillment

Package weight: The weight of the package.
Package weight unit of measure: The package weight measuring unit.
Package height unit of measure: The package height measuring unit.
Package height: The height of the package.
Package width: The width of the package.

Package length unit of measure: The package length measuring unit.
Package width unit of measure: The package width measuring unit
Package length: The length of the package.
Fulfillment centre ID:  Select AMAZON_IN or DEFAULT for fulfillment centre ID.
Package dimensions unit of measure: Write the package dimension unit of measure in CM, FT, IN, M, MM.
9. Compliance

Country/region of origin: The country where the product originated.
Batteries are included: State whether your product includes batteries or not.
Legal disclaimer: Indicate a short legal disclaimer about using a battery run product.
Safety warning: Write safety warnings while using a battery operated product.
Is this product a battery or does it use batteries?: Specify whether the product is itself a battery or runs on a battery.

Battery type/size: The size and type of battery in the product. Total 3 column space.
Number of batteries: Give the total number of batteries used to operate the product.
Watt hours per battery: Specify the total run time of the battery in hours.
Number of lithium-ion cells: Describe the total number of lithium-ion cells in the battery.
Number of lithium metal cells: The lithium metal cell content in the battery. Refer the battery packing.

Lithium content (grams): The lithium content in the battery. Refer the battery packing.
Lithium battery packaging: Select values from the drop-down list depending on the how the battery is contained in the product. For example, batteries only, with equipment, pre-installed in the equipment, etc.
Battery composition: Refer the battery packing for battery composition info.
Battery weight (grams): The total battery weight excluding any cover or product.
Battery weight unit of measure: The measuring unit of battery weight.

Lithium battery energy content unit of measure: The measuring unit of battery in watt-hours.
Lithium battery weight unit of measure: The measuring unit of lithium battery weight.
Applicable dangerous goods regulations: Certain products are regulated as dangerous goods. Here you need to select values from the drop-down list. You have total 5 column space.

UN number: The UN number is Hazmat United Nationals Regulatory ID. You can get the UN details from the manufacturer or in the safety data sheet. For example, UN1920.
Safety data sheet (SDS) URL: Insert the URL of the safety data sheet. It can be found on the manufacturer website.
Volume: Specify the volume capacity of the product.
Item volume unit of measure: The measuring unit of volume capacity.

Flashpoint (°c)?: The flashpoint details are found in the safety data sheet or on the battery packaging.
HSN code: Write the 4 digit HSN code as per the GST regulation.
Categorisation/GHS pictograms: Select appropriate value from the drop-down list. For example, explosive, toxic, oxidizing, corrosive, etc. You get total 3 column space.
10. Offer

Item condition: Write the item condition. Example New, Refurbished, Used, etc.
Offer condition note: If item condition is not "New" then describe the condition here in brief.
Max order quantity: Number of items a buyer can order at a time.
Max aggregate ship quantity: Give the maximum number of products shipped in single order.
Launch date: The launch date of the product if any.

Is discontinued by the manufacturer?: Select true or false from the drop-down.
Is gift wrap available?: If the product is available in gift wrap then select True or else False.
Can be gift message: If you can print a gift message then select True or else False.
Number of items: The number of items in the products.
Release date: The release date of the product if any.

Item package quantity: Total number of items included in the package.
Product tax code: Specify the product tax code.
Restock date: The restock date of the product if any.
Sale price: The price at which a seller offers a product on SALE.
Sale start & end date: The date when you want to start & end a sale.

Handling time: Time needed to pick, pack & ship the product.
Stop selling date: The date after which your product will be unavailable for selling.
Offering release date: The date when the product is available for buyers to order.
How to Upload the Excel Inventory File?
Before adding products to the inventory you must perform a thorough check for any errors or warnings in the excel file. Ironically, products can't be added to the main inventory unless they are error free. Follow the steps below to validate your excel sheet.
Steps to Check the Excel Template File: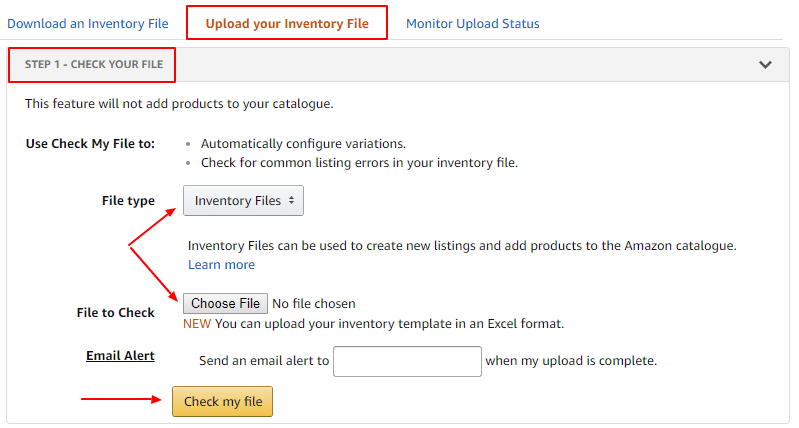 Keep File Type as Inventory Files
Select the excel template via Choose File option
Click Check my File
Click Monitor Upload Status to see the validation progress
If there are any errors in the file then download the processing report & check which columns have errors. Solve the errors & repeat the above steps until your excel sheet is error free.
Steps to Finally Upload the Excel Template File: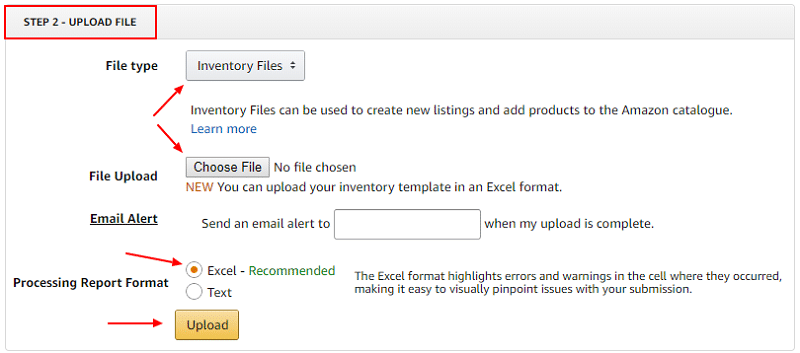 Keep File Type as Inventory Files
Select the excel template via Choose File option
Select the Excel radio button in the Processing Report Format
Click Upload and refresh the page
Go to Monitor Upload Status to check the total number of records submitted
Hence, using a single excel inventory template file a seller can list unlimited products in the Toys & Games category. For products that cannot be uploaded using an excel template file, sellers can use the Amazon Product Flat File.
You can download free and ready-to-use business Excel Templates in different categories helpful for the smooth running of your business
Happy Selling on Amazon India.
We thank our readers for liking, sharing and following us on different social media platforms.
If you have any queries or suggestions please share in the comment section below. I will be more than happy to assist you.