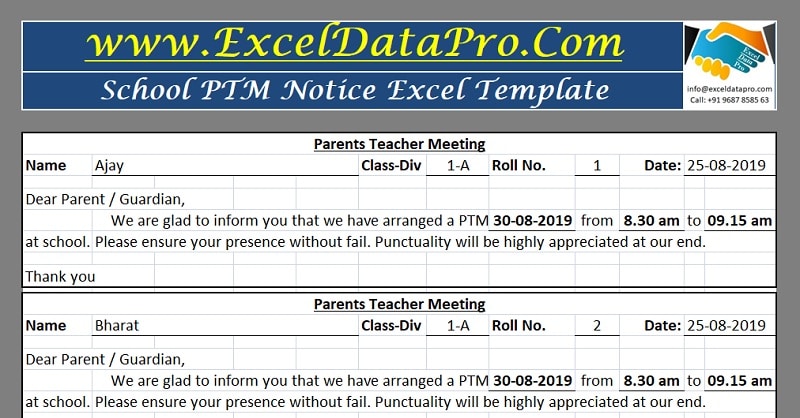 School PTM Notice is a simple and ready-to-use Excel Template to help a school administrator to issue PTM Notice to all parents with minimal efforts.
Just copy and paste the class-wise data along with roll numbers of all the students of the school and PTM Notice is ready to print.
What is School PTM Notice?
School Administrator issues a notice with data and time informing the parents to attend a meeting with the teacher at the school. Such notice is known as Parent Teacher Meeting Notice or PTM Notice.
Depending on the school, PTM takes place in school on a monthly, quarterly or semester basis.
Purpose Of Parents-Teacher Meeting
A Parent-Teacher Meeting (PTM) is a very crucial and unavoidable aspect of the academics. Schools conduct these meetings to develop a dialogue between the Teacher and the Parent of the students.
It helps both of them to understand a child properly and take the necessary steps/actions for the overall development of the student.
An aspect which plays a very vital role in the success of a PTM is the full presence of parents. To ensure this, parents need to be informed well in advance so that they can plan their schedules accordingly.
When it comes to sending notice to all the parents, it becomes a very tedious and time-consuming task; and that to which the administration needs repeat regularly.
School PTM Notice Excel Template
Keeping in mind the above points and to simplify the process of issuing PTM notice, we have created a simple and easy School PTM Notice Excel Template. Just copy and paste data of all the students from your school database and your PTM is ready to print.
Click here to download School PTM Notice Excel Template.
Click here to Download All School Management Excel Templates for ₹299.
You can also download other educational templates like; Yearly School Attendance Sheet, School Report Card and Mark Sheet Template, Academic Period Allotment System, Syllabus and Lesson Planner and Multiple Choice Question – MCQ Test Checking Sheet from our website.
School PTM Notice Excel Template will turn this into a cakewalk. One time class-wise data entry of student's and Roll No. wise time slot as decided by the management. That's it and it is ready to print.
Let us understand how to use this template in detail.
Contents of School PTM Notice Excel Template
School PTM Notice Excel Template consists of 3 sheets:
Student's Database
PTM Printing Allotment Sheet
School PTM Notice Template
In this template, do not make any entry in cells with Navy Blue color as they consist of formulas and headings. Enter data only in the cell with Light Blue color.
Students Database Sheet
This is the basic data entry sheet of this template. Enter class-wise, roll number-wise data of the students.
If you have data of students already in another file then just copy the data and paste it in this sheet and it's done.
PTM Printing Allotment Sheet
Student's Database Sheet bears class-wise data of the whole school. This sheet consists of space for a single class assuming maximum class strength as 60.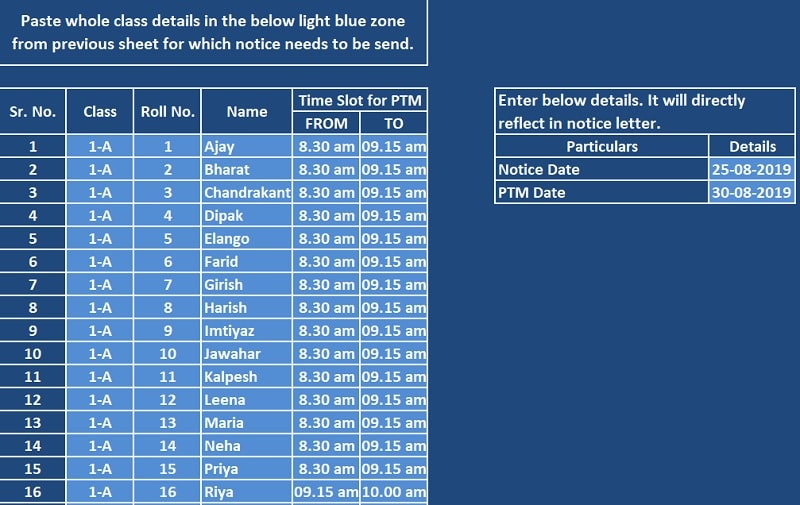 Go to the Student's Database Sheet. Column headings bear filters. Dropdown filter for column Class and select the class for which notice needs to print.
For example,  you want to print notice of PTM Notice for Class 1 to 5.
A dropdown filter of the Class column and un-tick "Select All".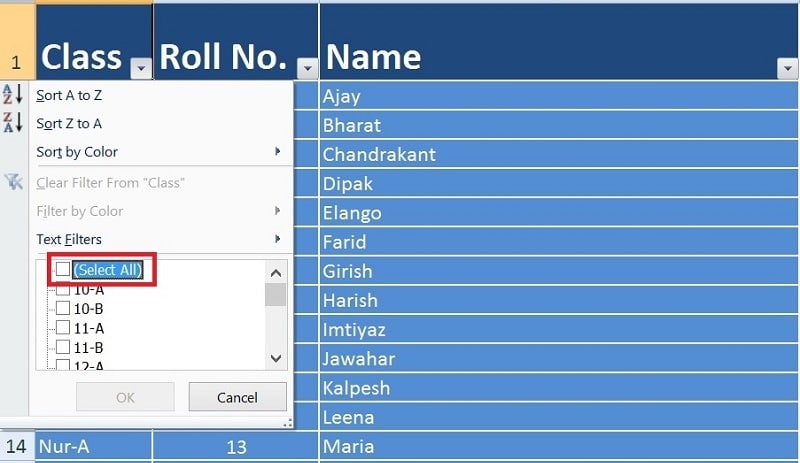 Scroll down and select Class 1-A.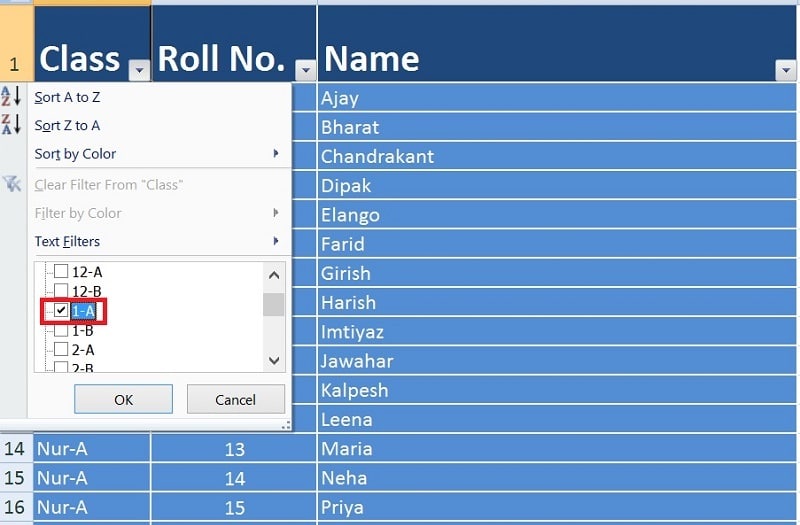 This will display only the data of Class 1-A.
Select and copy the whole class data of 1-A within the range of A362: C421.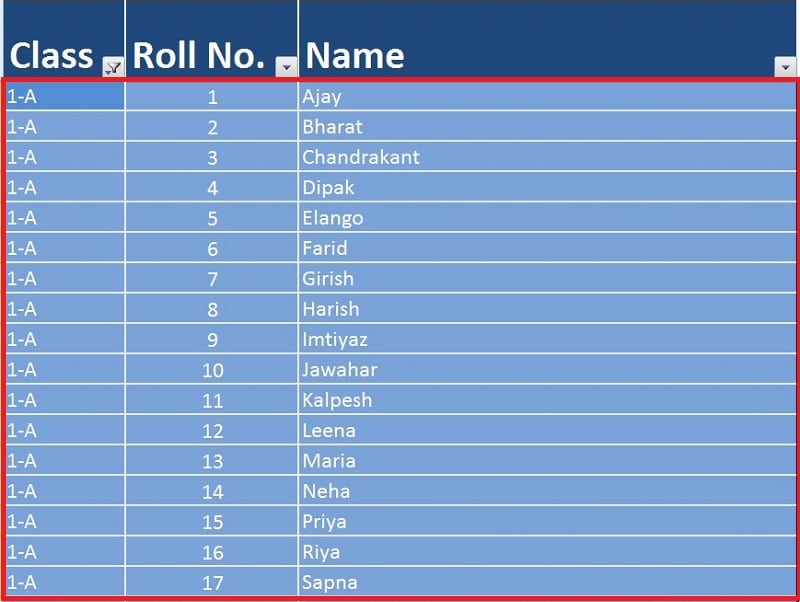 Go to Printing Allotment Sheet and go to cell B7.
Right-click and select "Paste Special" from the options.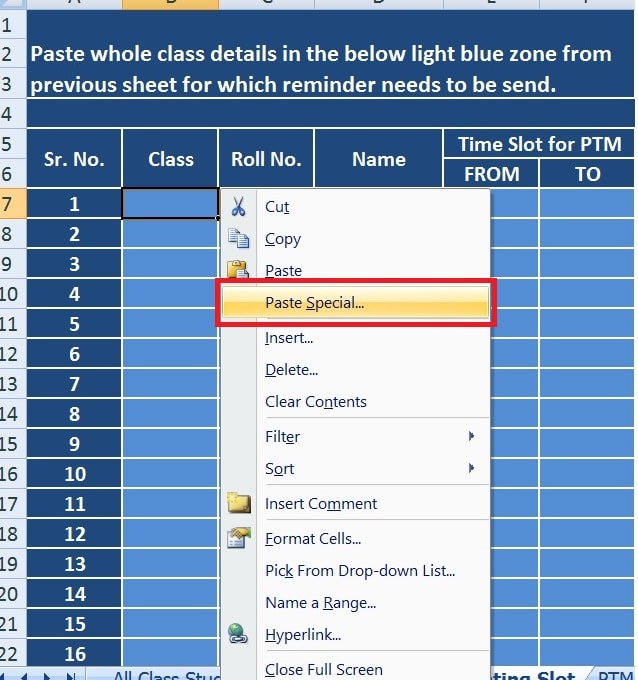 Select "Values" from the window appeared bearing multiple options.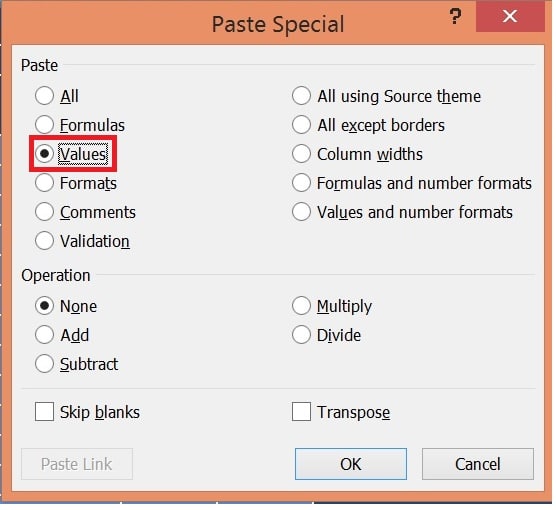 Now enter the time slot as per the planning.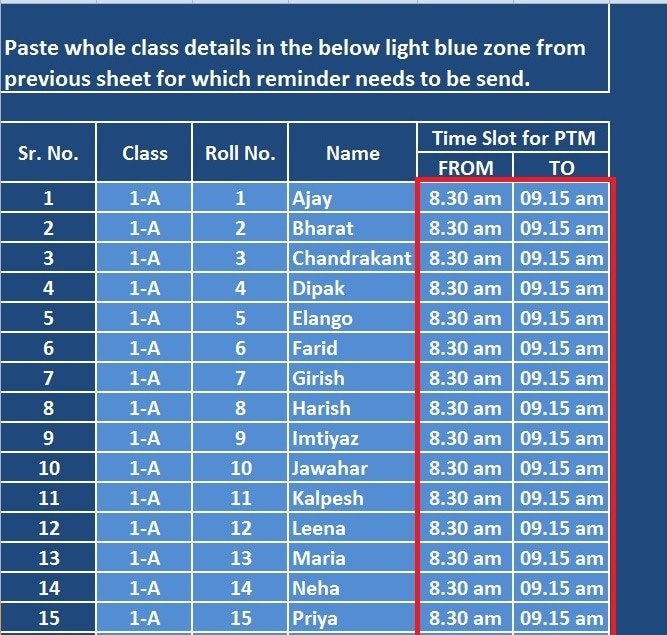 In this example, we have equally divided 3 hours PTM into 4 different slots of 45 mins. each.
1st Slot – Roll No. 1-15 – Time From 8.30 am to 09.15 am
2nd Slot – Roll No. 16-30 – Time From 9.15 am to 10.00 am
3rd Slot – Roll No. 31-45 – Time From 10.00 am to 10.45 am
4th Slot – Roll No. 45-60 – Time From 10.45 am to 11.30 am
You can change the number of slots, the number of student/slot or timings per slot as per your convenience. Just enter data accordingly and it will print.
On the right side, a box appears. Ensure you insert Notice date and the PTM date in the respective boxes.

PTM Notice Template
This is the final printable output. It bears 7 notices per page. You can insert the data you want to display in the PTM notice. We have taken a general not of mentioning the name, roll number, PTM date, and timings.
Ensure to check print preview before you print.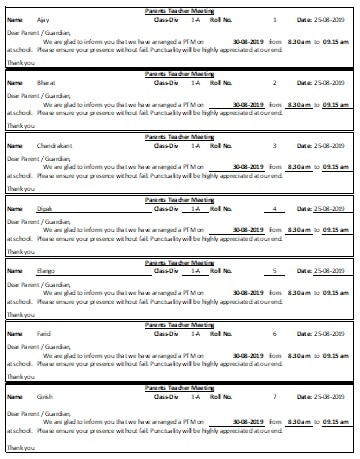 You can adjust your page set up according to your printer and page.
Suppose you have 48 students in class 1-A, then you need to print 7 pages where the last one notice will be blank.

Follow the same easy and simple process for the rest of the classes.
We thank our readers for liking, sharing and following us on different social media platforms.
If you have any queries please share in the comment section below. We will be more than happy to assist you.