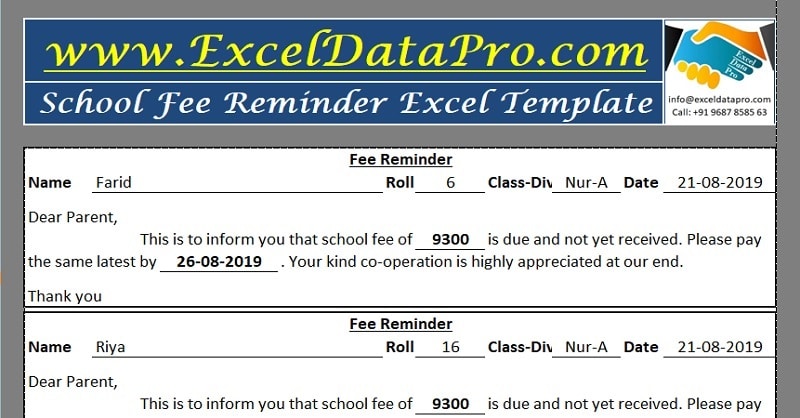 School Fee Reminder is a ready-to-use excel template which helps school administrators and teacher to create and issue a fee reminder to all parents in just 3 steps.
Just insert or copy class-wise and roll number-wise data of outstanding fee and sort the data as per the given instructions. Your fee reminders are ready to print and distribute.
What is a Fee Reminder?
Liquid cash flow in any institution is like blood in the human body. It helps in the smooth functioning of an educational institution.
Disruption in cash flow causes serious functional issues and in the long run, makes a big negative impact on its growth. Thus, it the duty of a school administrator to ensure timely realization of revenues.
Some school collect the fee for complete academic year in advance, but not possible for all institutions. Many schools collect fees on a monthly, quarterly or half-yearly basis. Many times parents fail to pay the school fee of their child.
On the occurrence of such delays of fee payments by parents beyond a reasonable limit, the school administration needs to issue a reminder for payment of fees. These reminders are school fee reminders.
A School Fee Reminder consists of all details like name, roll number, outstanding fee amount, the final date of payment, and other relevant details.
Creating these reminders manually by extracting data of multiple classes and students from the database itself is a hectic task.
School Fee Reminder Excel Template
We have created simple and easy School Fee Reminder template predefined formulas and formatting to help you print and distribute School Fee reminders with least efforts. Just enter few data as required and your reminders are ready to print.
Click here to download School Fee Reminder Excel Template
Click here to Download All School Management Excel Templates for ₹299.
You can also download other educational templates like; Yearly School Attendance Sheet, School Report Card and Mark Sheet Template, Academic Period Allotment System, Syllabus and Lesson Planner and Multiple Choice Question – MCQ Test Checking Sheet from our website.
Let us understand how to use this template in detail.
Contents of School Fee Reminder Excel Template
School Fee Reminder Excel Template consists of 4 sheets:
Class-wise Outstanding Fee Sheet
Class-wise Sorting Sheet
Printing Slot
Fee Reminder Template
Class-wise Outstanding Fee Sheet
If you already have your outstanding report ready in excel with you then just copy it into these sheets. In this sheet, you can enter data up to 30 classes. If you don't have data ready in excel you have to manually enter the data.
Previously, we have published Student Fee Collection Template which helps school administrators to manage Fee Collection with ease. It provides you with class wise – student wise outstanding and a summary report.
Click here to download the Student Fee Collection Excel Template.
Using the outstanding report of this template eases and simplifies your work.
If you are already using our Student Fee Collection System Template then just go to the last sheet with sheet name 'Fee Pending (Class-wise)' where it displays report.
Press "Ctrl+A+A" to select the whole sheet and then "Ctrl+C" to copy.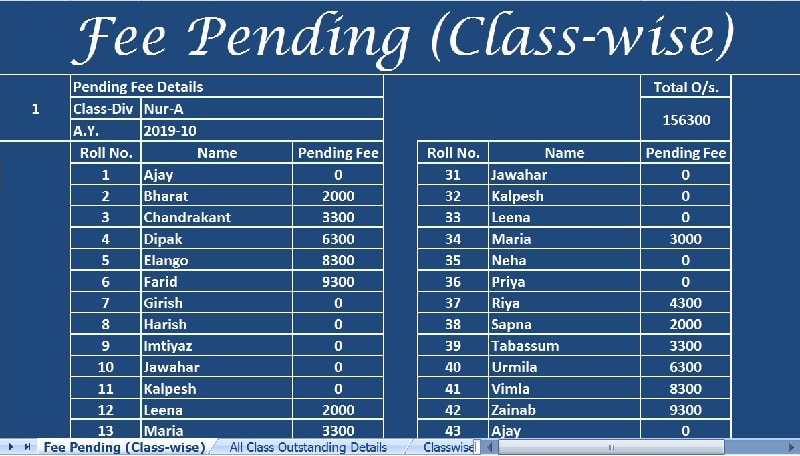 Paste the copied data into Class-wise Outstanding Fee sheet. This sheet has the same cells as the Fee Pending (class-wise)
This is a one-time process for both template users. Now both the sheets are linked with each other. Hence, the sheet fetches the changes made in the outstanding amount.
Whenever any fee receipt entry is done in Student Fee Collection System Template this data will update automatically.
Note: Make sure you check the accuracy of data in case file location is changed. We recommend to randomly check a few data of different classes before printing the reminders.
In case you are not using our Student Fee Collection System Excel Template, then skip the first sheet.
Class-wise Sorting Sheet
Once you paste the data go to the second sheet with the name "Class-wise Sorting".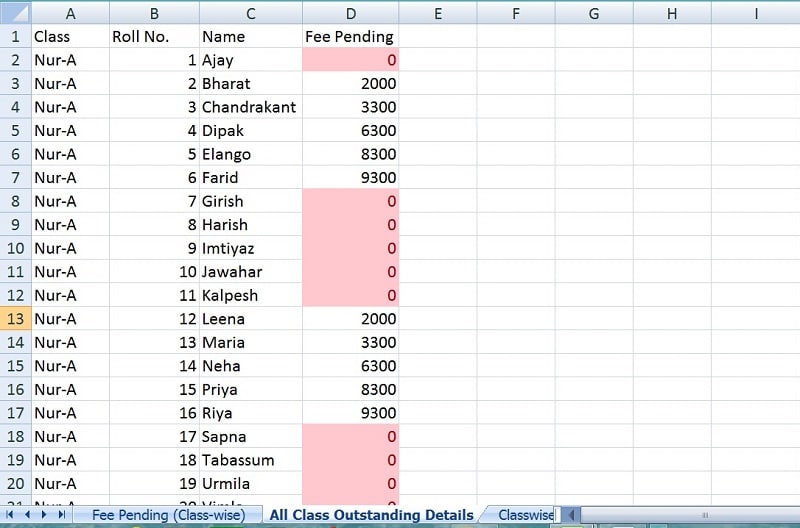 This sheet is linked with the first sheet and thus you don't need to add/edit any data in this sheet. It consists of the class-wise details of every student studying in the school.
In case you are not using our Student Fee Collection System Excel Template, then skip the first sheet and paste/enter class-wise data in the above format for all classes.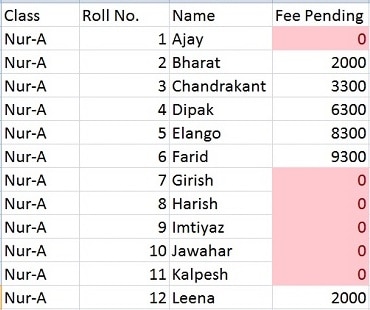 All the cells with no outstanding amount will turn red due to data validation.
Printing Slot Sheet
For example, you need to send reminders to the Pre-Primary Section; Nur-A, Nur-B, JKG-A, JKG-B, SKG-A, and SKG-B.
Select data of the first class i.e. Nur-A. Select all the four columns; Class, Roll No., Name and Fee Pending without column headings and Total Outstanding row at the bottom. In this case, for Nur-A, the selection will be from A2: D61.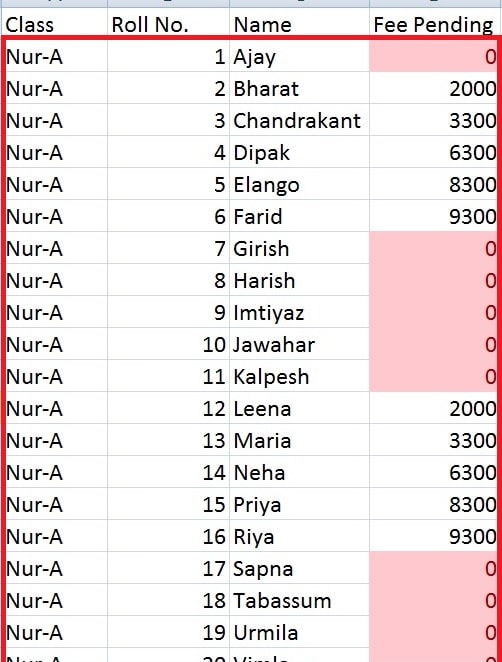 Copy the data and go to the next sheet i.e. "Printing Slot", go to the cell B6, right-click there and select "Paste-Special" from the options.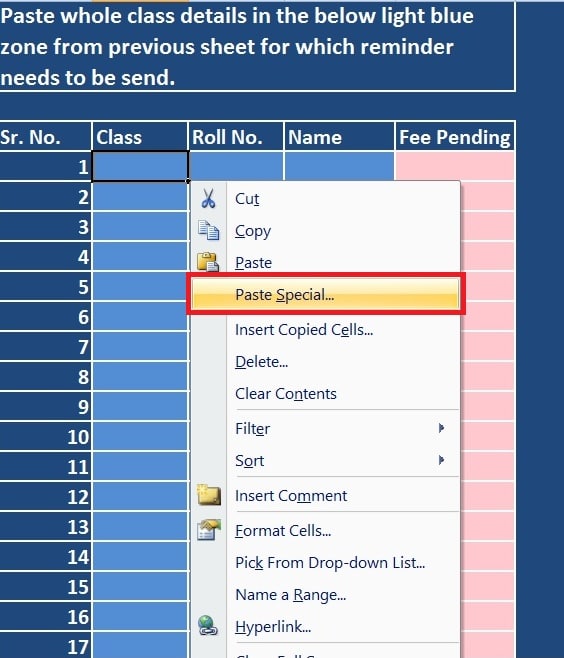 Select "Values" from it and click "Ok".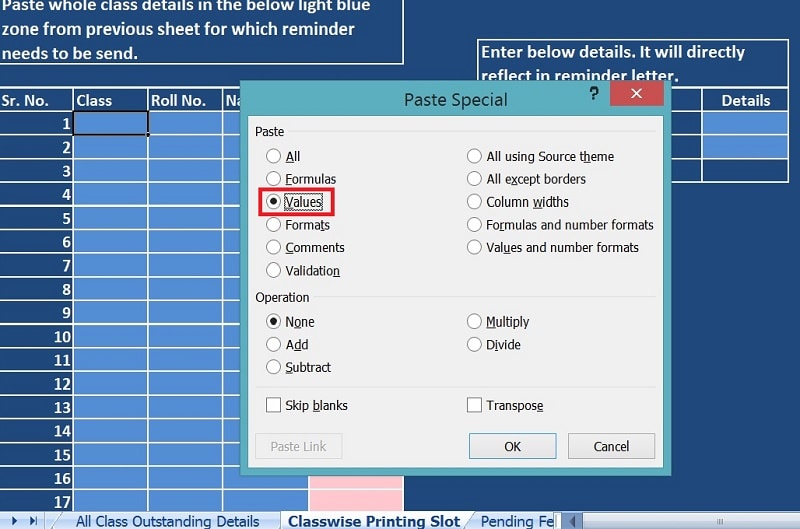 Now you need to sort the data. Sort the data by Fee Pending amount following below-mentioned steps:
Press "Alt+A+S". It will display a window as below.
Select "Fee Pending" from the first tab, then select "Values" from "Sort On" tab, and lastly select "Largest to Smallest" from "Order" and then press "Ok".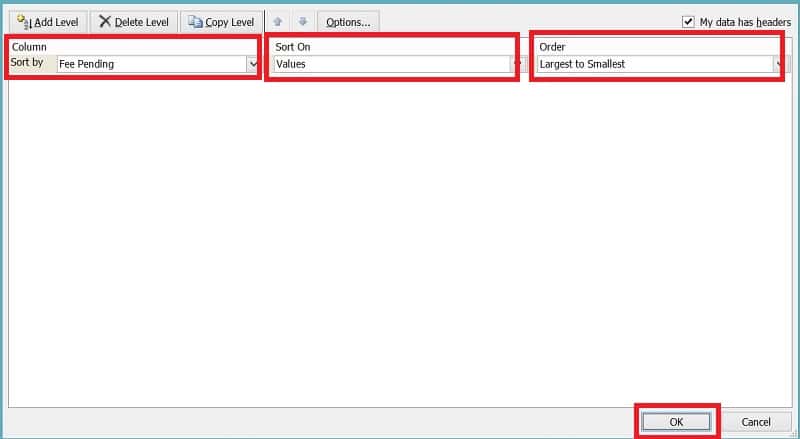 Immediately, the system sorts the data with the highest outstanding value at the top and the lowest at the bottom. Those students who have already paid the fees and thus not eligible for reminders will be at the bottom.
Select and delete their data so that it does not appear in the reminder sheet.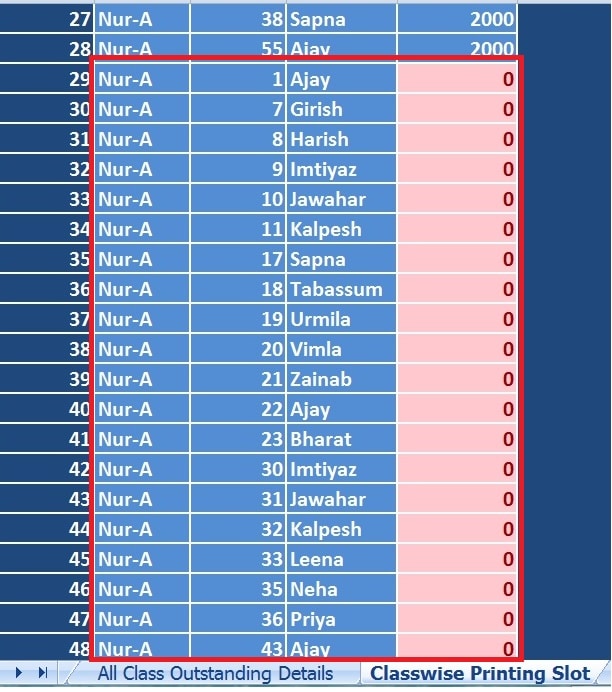 On the right side, a box is given. Insert 2 details in cells with light blue color; date of reminder and number of days. It calculates and displays the last date of payment in the row "Latest by".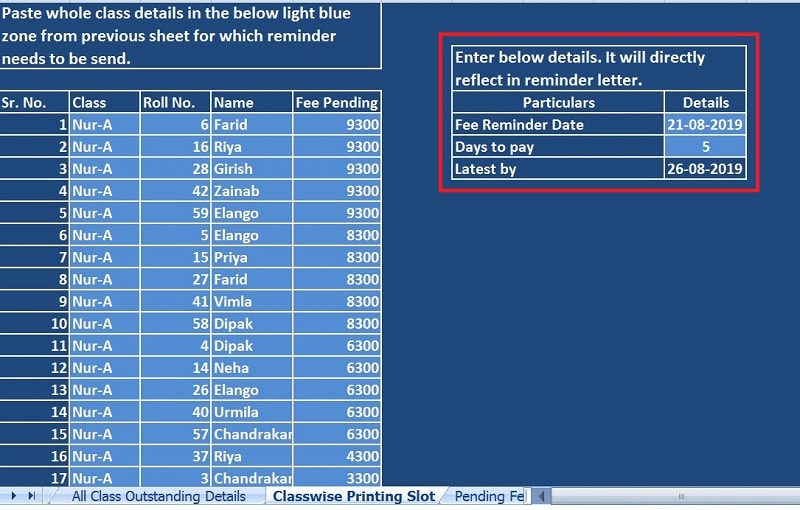 Fee Reminder Template
Go to Fee Reminder template. For ease of printing check the Sr. No. till where you need to print the fee reminders for.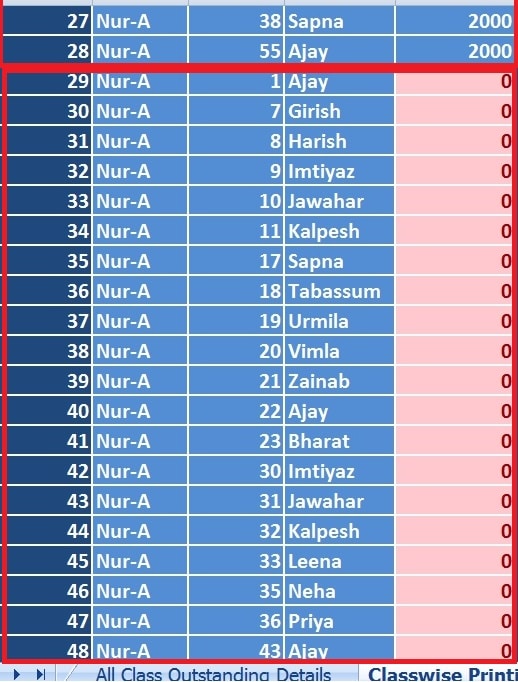 There are a total of 60 fee reminders in this sheet, one each for a child.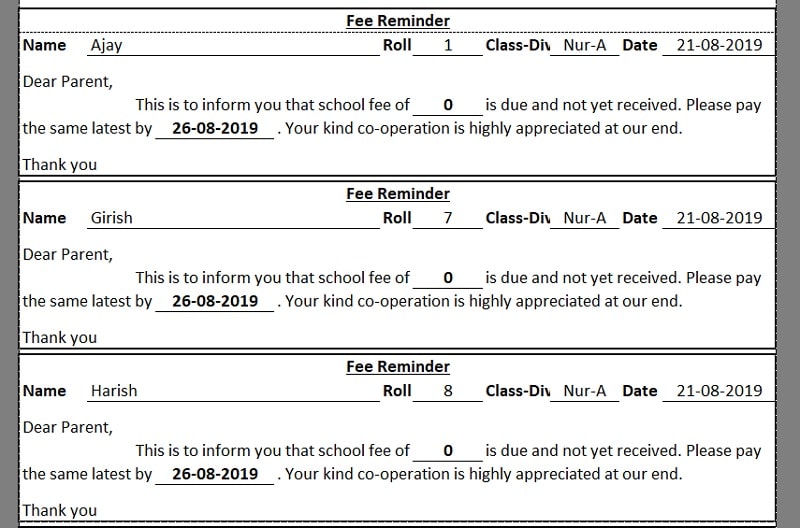 In the sample data, Nur-A the reminders are available till Sr. No. 28. All the rest data from Sr. No. 29 onwards has been deleted as they were having zero outstanding amount. Hence, you need to print only 3 or 4 pages according to your page setup.

Check the print preview and ensure that the print is according to your need.
Your fee reminders are ready to print and distribute.
We thank our readers for liking, sharing and following us on different social media platforms.
If you have any queries please share in the comment section below. I will be more than happy to assist you.3.