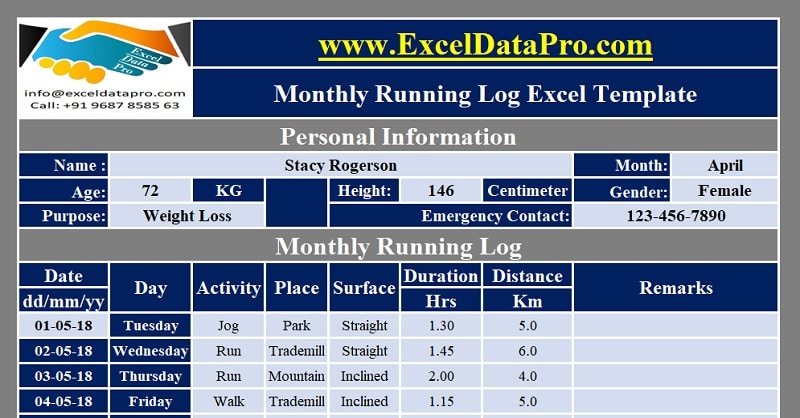 Monthly Running Log is a document to record your running activity on day to day basis. According to World Health Organization (WHO), the number of obese and diabetic person around the world are rising at a high rate.
Running, jogging or walking is good for health for everyone. These exercises can prevent you from getting into these diseases or help you cure and maintain your health.
Some of the benefits of walking/running and jogging are:
Improves Heart Health.
Improves Blood Circulation.
Helpful in losing weight.
Reduces risk of diabetes.
Help maintain sugar levels.
Strengthens Bones.
Strengthens Muscles and much more.
To know more in detail about the benefits of running click on the link below:
Benefits of Walking and Running
The above-mentioned benefits are just common one there are much more benefits of it. Being fit a key to healthy living. Thus, we must arrange a daily schedule for running, jogging or walking.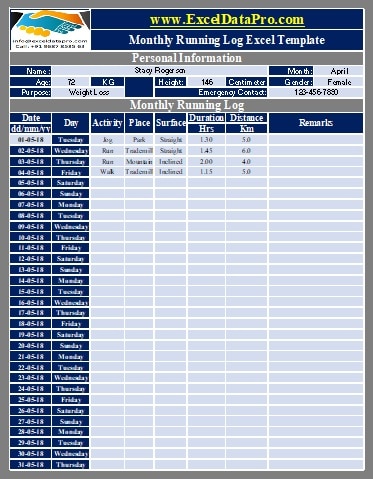 To help you easily maintain records of your daily running, jogging or walking we have created a Monthly Running Log Excel Template.
Click here to download the Monthly Running Log Excel Template.
Click here to Download All Health & Fitness Excel Templates for Rs 199.
You can download a blank printable format of the same from the link below:
You can also download other healthcare related templates like Blood Sugar Log, Blood Pressure Log, Food Calorie Calculator, Weight Loss Log and much more.
Let us discuss the contents of the template in detail.
Contents of Monthly Running Log Excel Template
Monthly Running Log Excel Template consists of 2 sections:
Personal Information
Monthly Running Log
1. Personal Information
To personalize the sheet you can enter your details in this section:
This section consists of following details:
Name: Your name
Age: You Age in years
Weight: Your Current Weight. You can select the weight metric KG or LBS from the drop-down list.
Height: Your Height. You can select the height metric Centimeters, feet or inches from the drop-down list.
Gender: Male or Female. Select from the drop-down menu.

Purpose: Purpose of running, jogging or walking.Select it from the dropdown list. It can be weight loss, diabetes, Marathon etc.
Emergency Contact: Provide a contact number which can be contacted in case of emergency.
2. Monthly Running Log
In this section, you need to maintain the running log on daily basis. For this purpose, there are multiple columns here to enter data:
Date: Enter the first date of the month. It will automatically display whole month's dates and the name of the respective weekday.
Day: No need to enter anything here as it is already preprogrammed using TEXT function. Thus, it will display the name of the weekday automatically.

Activity: Enter the name of the activity you do in this section like jog, walk or run.
Place: Here you need to enter the place or equipment where you are performing the activity like a park, treadmill or mountain.
Surface: Surface plays a big role in running. Climbing an inclined plane is more effective than the straight runs. It reduces more calories in short runs and also make your muscles stronger.
Duration: Duration of the run.
Distance: Distance of the run.
Remarks: Remark or notes if you want to make any.
This template can be helpful to you as an individual, personal Trainer or for your patients.
Disclaimer: This template has been created with a general overview. It is highly recommended that you consult your Health Care Professional for the minimum and maximum limits of walking feasible according to your medical condition or for any complications.
We thank our readers for liking, sharing and following us on different social media platforms.
If you have any queries please share in the comment section below. We will be more than happy to assist you.