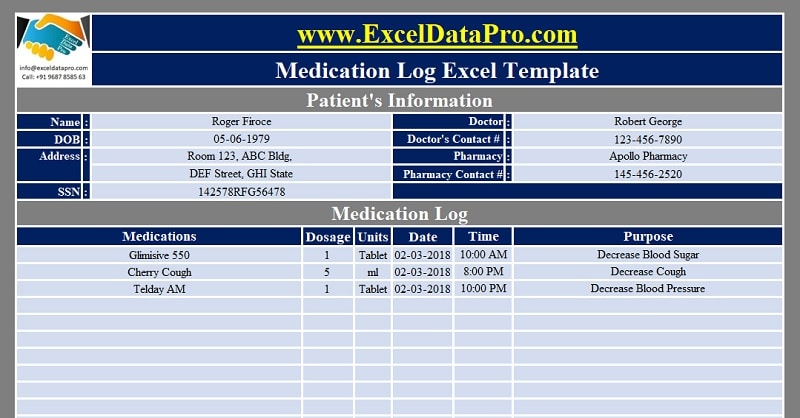 Medication Log is a ready-to-use excel template to easily record daily medication with time, dosage, etc along with a weekly checklist of medications.
This template can be useful to elderly patients who tend to forget the dosage or timings of their medications.
The ratio of patients suffering from diseases like blood sugar, blood pressure, etc has substantially increased in recent years.
Earlier, we use to see that these diseases were found only in elderly people. But not it is not the case. We often see these diseases in young persons or children too.
The above template can also be helpful to caretakers, doctors to examine the effect of medication on the patient and thus increase or decrease the dosages.
Usually, its template is used for seeing the patient's current condition for the medicines, dosages and their effect on the patient's health.
Medication Log With Weekly Checklist Excel Template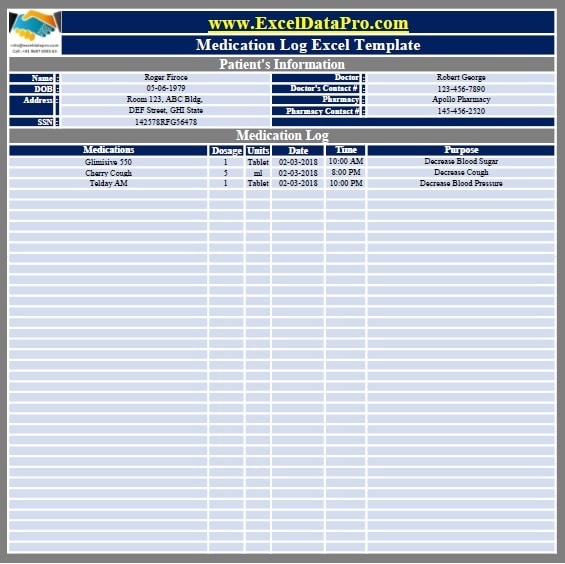 We have created the Medication Log Excel Template to manage your daily/weekly/monthly log of your routine medication. It is very simple and easy to use. Just enter the patient's details and start maintaining the log.
Click here to download the Medication Log Excel Template.
Click here to Download All Health & Fitness Excel Templates for ₹299.
You can also download other health & fitness templates like Blood Sugar Log, Blood Pressure Log, Food Calorie Calculator, Weight Loss Log and much more.
Let us discuss the contents of the template in detail.
Contents of Medication Log With Weekly Checklist Excel Template
This template consists of 4 sheets:
Monthly Medication Log.
Printable Medication Log.
Weekly Medication Checklist.
Printable Weekly Checklist.
Monthly Medication Log
This sheet consists of 2 sections:
Patient's Information
Daily Log
1. Patient's Information
Patients information section consists of the following information:
Name – Patient's Name.
DOB – Patient's date of birth.
Address – Patient's Address.
SSN – Patient's Social Security Number.
Doctor – Doctor's Name.
Doctor's Contact # – Doctor's Contact Number.
Pharmacy – Pharmacy's Name.
Pharmacy Contact # – Pharmacy Contact Number.

2. Daily Log
The daily log consists of the following columns:
Medication: Name of the medicine prescribed by the doctor.
Dosage: Prescribed amount/ dosage of medicine.
Units: Units of medicine. it can be tablets, ml, injections, DNS, etc.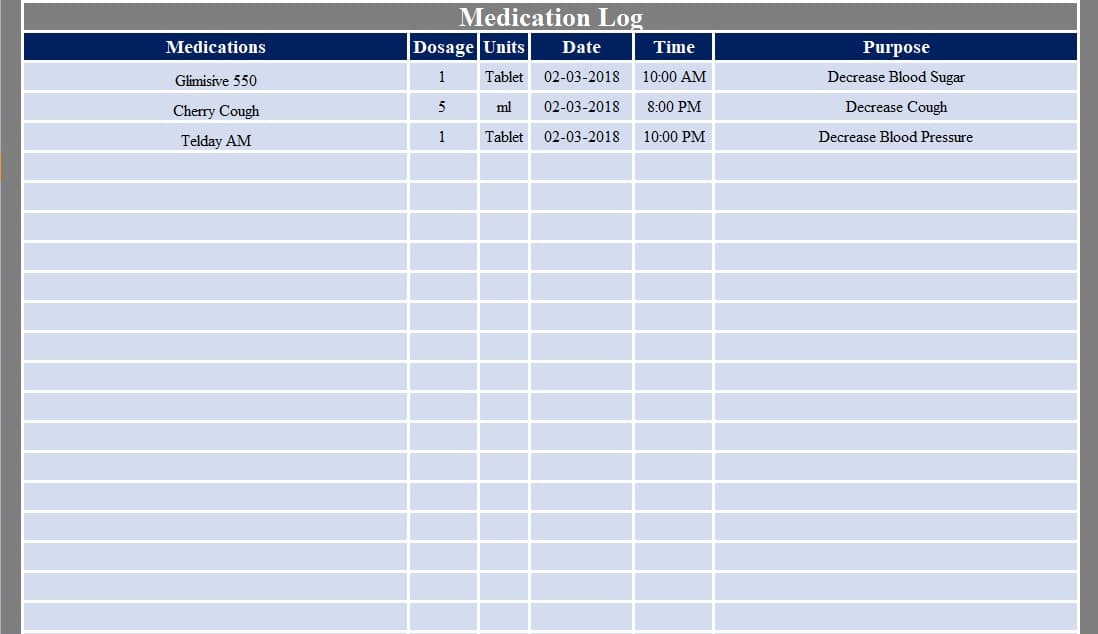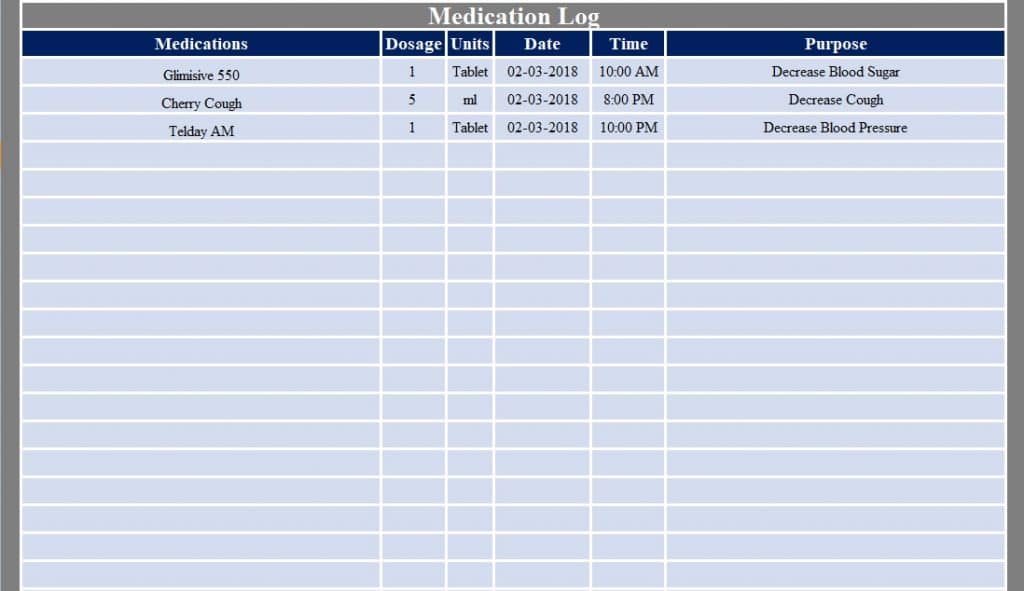 Date: Date on which the medicine is taken.
Time: Time on which medicine has been taken.
Remarks: You can write the reason for which the medicine has been taken, its effects. You can also record the after medicinal records of blood sugar, blood pressure, etc in this section.
Printable Medication Log
You can also download the printable version of the Log from the link below:
Medication Log Printable Sheet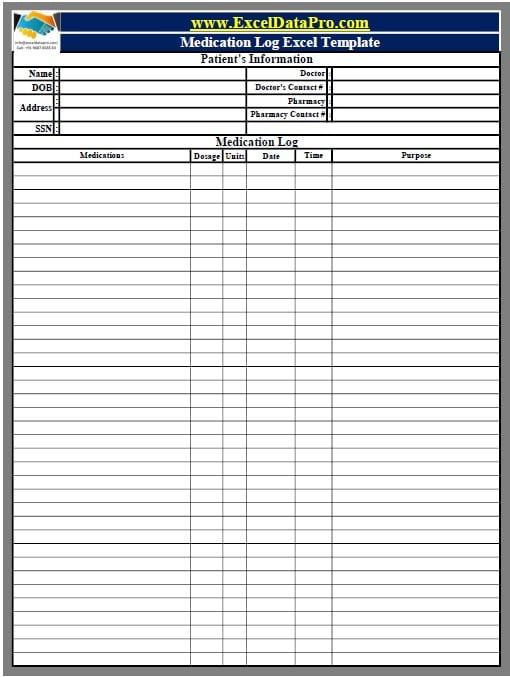 Weekly Medication Checklist
Weekly Medication Checklist sheet consists of weekdays with date and time of medication. You just need have to tick the checkbox for the respective time.
You just need to enter the first date and it will automatically fetch the remaining dates of the week along with the respective weekday.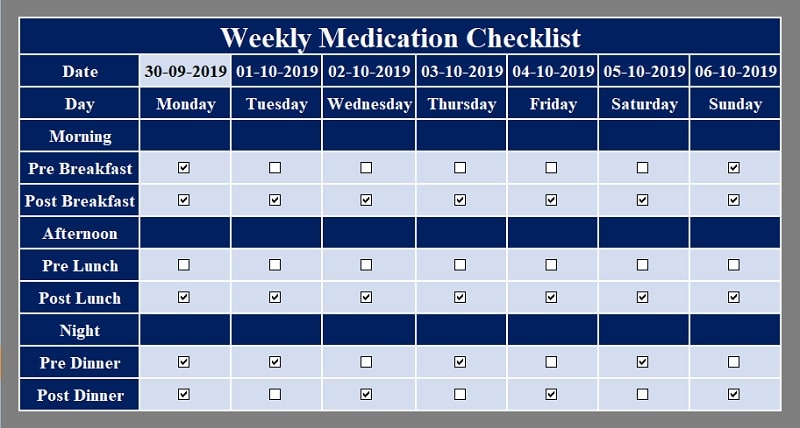 This template consists of pre-breakfast, post-breakfast, pre-lunch, pro-lunch, pre-dinner and post-dinner. If you have any other timings you can increase or decrease according to your needs.
This will help you know if you have skipped any medications or have taken dosages against the prescribed timings.
Printable Medication Checklist
You can also use this printable version of the weekly medication checklist if you are traveling or have an "on the go" schedule.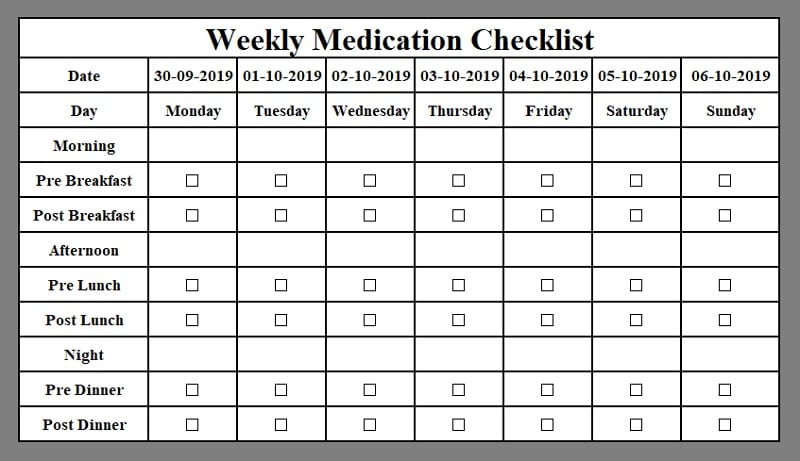 Click the link below to download the printable version:
Printable Weekly Medication Checklist
Benefits of Maintaining Medication Log
An accurate record of your medication.
To provide crucial information to your doctor.
For preventing medication errors as well as consequent risks to patients.
Reduces chances of loss and wastage of medications.
Disclaimer: This template has been created with a general overview. It is highly recommended that you consult your Health Care Physician (HCP) or nutritionist for the normal and targetted nutrition calorie levels or any complications.
We thank our readers for liking, sharing and following us on different social media platforms.
If you have any queries please share in the comment section below. We will be more than happy to assist you.