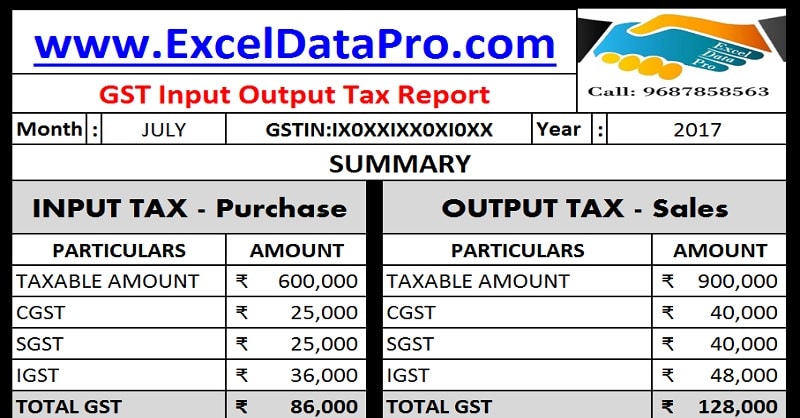 Under the GST regime, we will have to calculate the price and the amount of Input Tax Credit out of the tax paid and tax received. We have created an Excel Template for GST Input and Output Tax Report.
Managing your sales and purchase in the template will automatically calculate your GST payable amount.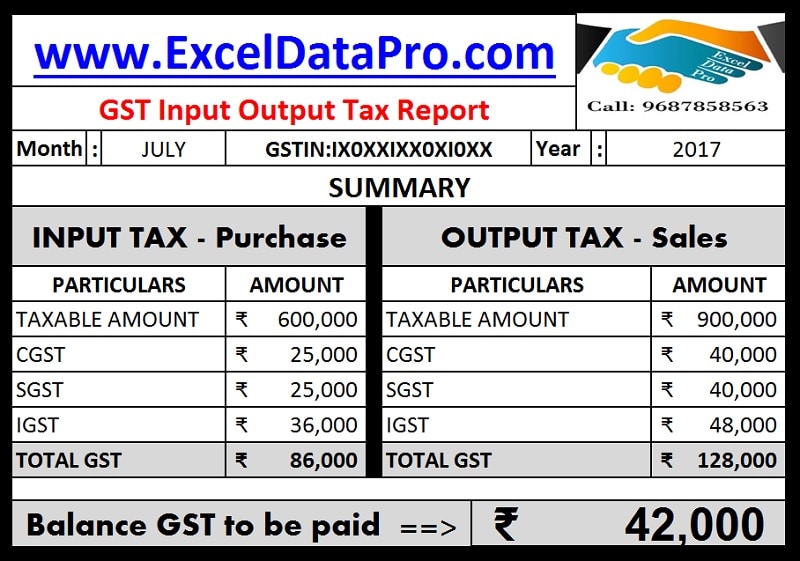 This template can be helpful to everyone registered under GST. Especially to Chartered Accountants and Tax consultants.
Click here to Download GST Input Output Tax Report in Excel.

You can also download other different types of GST invoice formats from our GST Templates page.
Let us discuss the contents of the template in detail.
Contents of GST Input Out Tax Report
It consists of 3 sheets, Input/Purchase data, Output/Sales data and GST Input Output Tax Report.
Input/Purchase Data
This sheet contains data of purchase. In this section, you will record all purchase invoices that consists of GST tax.
GST tax that you have paid on the purchase of raw material or processes which add value to the capital goods, you will receive it as Input Tax Credit.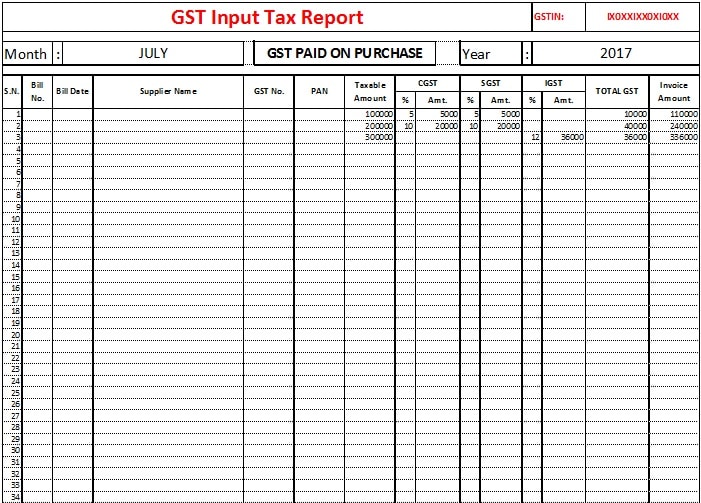 It consists of following columns:
Sr No.: Serial Number
Bill No: Invoice Number
Supplier Name: Name of supplier
GST No.: GST number of Supplier
PAN No.: If the supplier is non-registered then you have to take his PAN details.
Taxable Amount: The taxable value of invoice on which the tax is applicable.
CGST, SGST, and IGST: In this section, you only need to enter the percentage of tax applicable and predefined formula will automatically calculate the tax amount.
Total GST: Will calculate the total amount of GST paid.
CGST + SGST + IGST.
Invoice Amount: Total amount of invoice inclusive of tax
2. Output/Sales Data
Output/Sales data sheet also contains the same columns as in the Input/Purchase data sheet.
The difference is only in one column. Instead of the supplier, you have to mention buyer's name.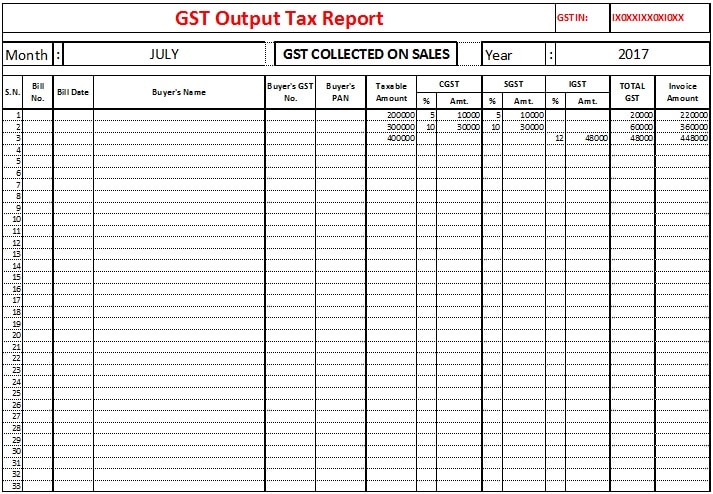 Sr No.: Serial number
Bill No.: Bill number/invoice number issued by you
Buyer Name: Name of your customer/buyer.
GST No.: GST number of the buyer/Customer
PAN No.: PAN number.
Taxable Amount: Amount on which you have collected the tax percentage.
CGST, SGST, and IGST: Applicable GST tax and their respective rates. With predefined formula, the system automatically calculates the tax amount by entering the percentage.
Total GST: CGST + SGST + IGST
Invoice Amount: Total amount of the invoice.
3. GST Input Output Tax Report
Tax report sheet consists of the summary of both Purchase and Sales data.
Input Tax section fetches data from your Input/Purchase sheet. Whereas, Output Tax fetches data from the Output/Sales Sheet.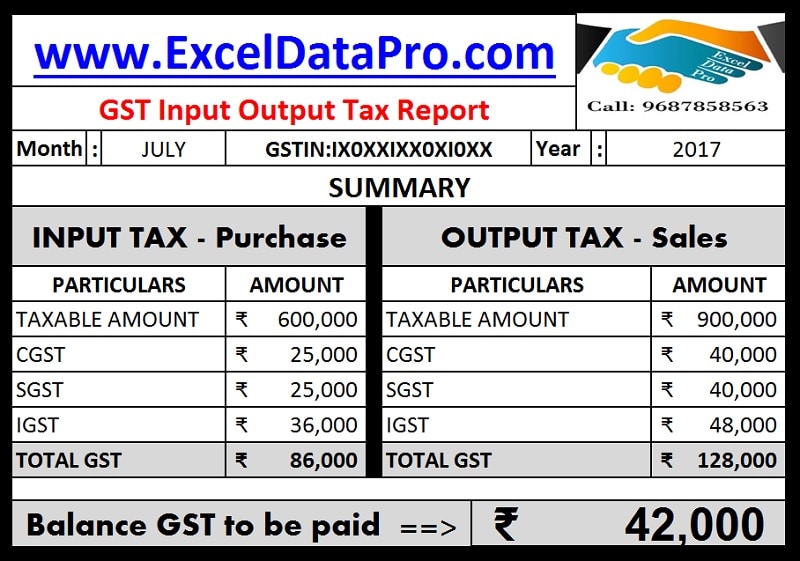 Summary consists of the total taxable value and tax amounts of CGST, SGST, and IGST.
Finally, the Input totals are subtracted from Output Totals. The difference is the amount which will be payable to the government.
If the amount is negative, then it means you have access credit.
We thank our readers for liking, sharing and following us on different social media platforms.
If you have any queries please share in the comment section below. I will be more than happy to assist you.