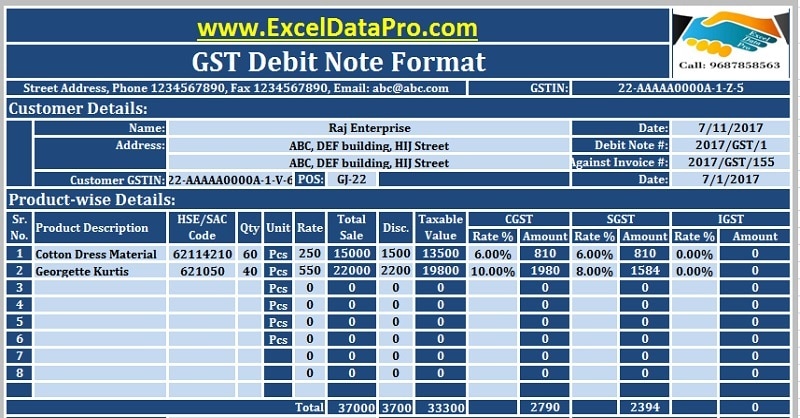 GST has bee implemented from 1st July 2017. As a registered business will now issue GST Invoice for the supply of taxable goods or services is made. A GST Debit Note whenever taxable value or tax charged in the original invoice is found less than the actual amount.
In this article, we will discuss the GST Debit Note. The government has defined some rules for all the types of invoices and vouchers made under GST 2017.
Rules of GST Debit Note
1) A revised tax invoice referred to in section 31 and credit or debit note referred to in section 34 shall contain the following particulars:
The word "Revised Invoice", wherever applicable, indicated prominently.
Name, address, and GSTIN of the supplier.
Nature of the document.
A consecutive serial number not exceeding sixteen characters, in one or multiple series, containing alphabets or numerals or special characters -hyphen or dash and slash symbolized as "-" and "/"respectively, and any combination thereof, unique for a financial year.
Date of issue of the document.
Name, address and GSTIN or UIN, if registered, of the recipient.
Name and address of the recipient and the address of delivery, along with the name of State and its code, if such recipient is un-registered.
Serial number and date of the corresponding tax invoice or, as the case may be, bill of supply.
The value of taxable supply of goods or services, the rate of tax and the amount of the tax credited or, as the case may be, debited to the recipient.
The signature or digital signature of the supplier or his authorized representative.
(2) Every registered person who has been granted registration with effect from a date earlier than the date of issuance of the certificate of registration to him may issue revised tax invoices in respect of taxable supplies effected during the period starting from the effective date of registration till the date of issuance of the certificate of registration.
Provided that the registered person may issue a consolidated revised tax invoice in respect of all taxable supplies made to a recipient who is not registered under the Act during such period.
Provided further that in the case of inter-State supplies, where the value of a supply does not exceed two lakh and fifty thousand rupees, a consolidated revised invoice may be issued separately in respect of all recipients located in a State, who are not registered under the Act.
(3) Any invoice or debit note issued in pursuance of any tax payable in accordance with the provisions of section 74 or section 129 or section 130 shall prominently contain the words "INPUT TAX CREDIT NOT ADMISSIBLE".
Source: www.cbec.gov.in
GST Debit Note Format Excel Template
We have created an excel template for GST Debit Note following the above guidelines. Just enter a few details and the template will compute all the rest items for you.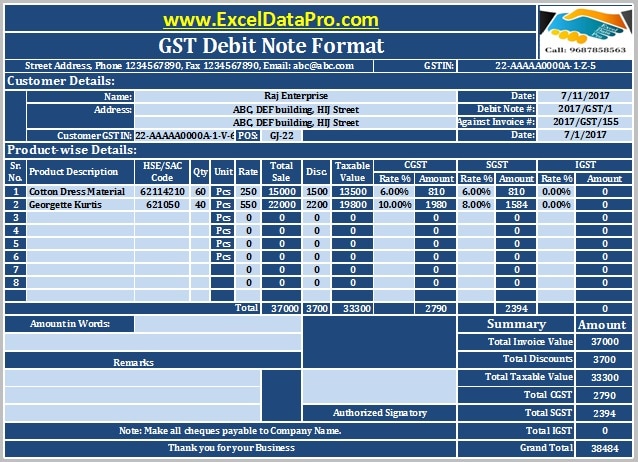 This template will be helpful to issue debit note against the invoices issued earlier with less tax value or tax amount to your clients with relevant CGST, SGST, and IGST Computations.
It is useful for Traders, Wholesalers, Accounts Assistant, Accountants, etc.
Click here to Download GST Debit Note Format In Excel Under GST 2017.
Click here to Download All GST Excel Templates for ₹299.

Additionally, you can download other GST templates like GST Invoice Templates, GST Receipt Voucher, GST Payment Voucher, and GST Refund Voucher from our website.
Let us discuss the contents of the template in detail.
Contents of the GST Debit Note Format
This template consists of 4 sections
Header Section.
Customer Details Section.
Product and Tax Details Section.
Summary and Signature Section.
1. Header Section
The header section contains the company name, company address, company logo, GSTIN and the heading "GST Debit Note".

2. Customer Details Section
Customer Detail section consists of details of a customer such as the name of the customer, address, GSTIN, Debit Note Number, Place of Supply (POS), the date of issue, the invoice number and the invoice date against which the document is issued.
3. Product-wise Tax Details Section
Similar to your tax invoice this section also contains the same columns:
Sr. No.: Serial number.
Product Description: Size, color, dimensions, etc of the Product.
HSN/SAC Codes: Harmonized System Nomenclature code of goods or Services Accounting Code of services.
You can find the HSN Code for your product from the pdf file attached below: Download link: HSE Codes for GST Enrollment
You can know the SAC Code for your product from the pdf file attached below:
Download Link: SAC Codes for GST
Qty: Quantity of goods.
Units: Unit of the product like meters, pcs, kgs, etc.
Rate: Every product has a price per unit. Enter the rate of your product.

Total Sale: This column is auto calculated where Total Sale = Quantity X Rate.
Disc.: Applicable discount on goods or services
Taxable Value: Taxable value is the amount on which the tax is applicable. This column is also auto calculated where Total Sale – Discount = Taxable Value.
CGST: This column has 2 subdivisions. The applicable rate of CGST and the amount of CGST. The rate is entered manually. The Amount column of CGST is auto calculated. Taxable Value X Rate of CGST.
SGST and IGST: Both these columns of tax have similar formats to CGST. The respective rates of SGST and IGST are entered manually and the Amount= Taxable Value X Rate of SGST/IGST.
Note: When IGST is applicable, CGST and SGST will not be collected.
Total: A Horizontal total of each column for summary has been made.
4. Summary and Signature Section
Summary and signature section contains billing amount payable by the customer, signature box for authorized signatory, remarks and business greetings.
Total Taxable Value = Total Invoice Value – Discounts.
Grand Total = Total Taxable value + CGST + SGST + IGST.

We thank our readers for liking, sharing and following us on different social media platforms.
If you have any queries please share in the comment section below. I will be more than happy to assist you.