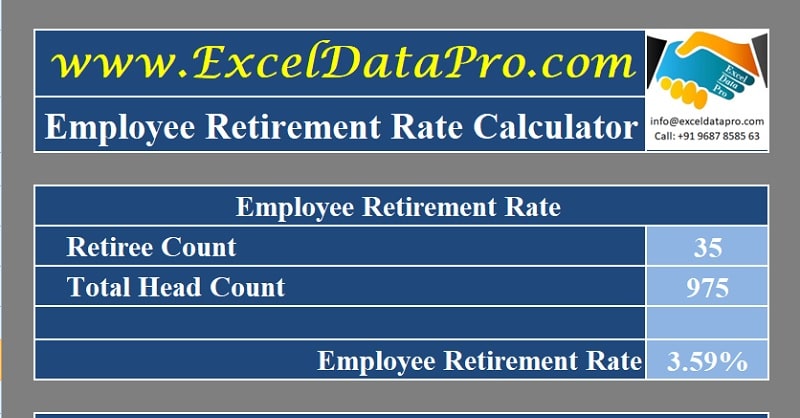 Use this Online Employee Retirement Rate Calculator to get the desired metric in just a few clicks or download a free template in Excel.
Employee Retirement Rate Calculator
Number of Retirees during the Year
Total Employee Headcount
Employee Retirement Rate :

%
Employee Retirement Rate Calculator is a ready-to-use excel template to you calculate the rate of retirements in your organization.
This Human Resource metric is useful for recruitment planning, forecasting retirement rates, study retirement trends, etc. You can also define future recruitment strategies.
Retiring employees contribute to the Employee Turnover Rate. It is a proportion of the total turnover rate. Hence, Retirement Rate is different from the turnover rate.
What is Retirement Rate?
Employee Retirement Rate is the percentage of employees retiring against the total headcount of the company. Hence, this rate is a key workforce planning metric.
Click here to know more about Employee Retirement Rate and its uses.
Thus, a rise in the retirement rate indicates a future labor supply issue. Usually, this metric is important for companies in developing a strategic workforce plan.
Employee Retirement Rate Calculator Excel Template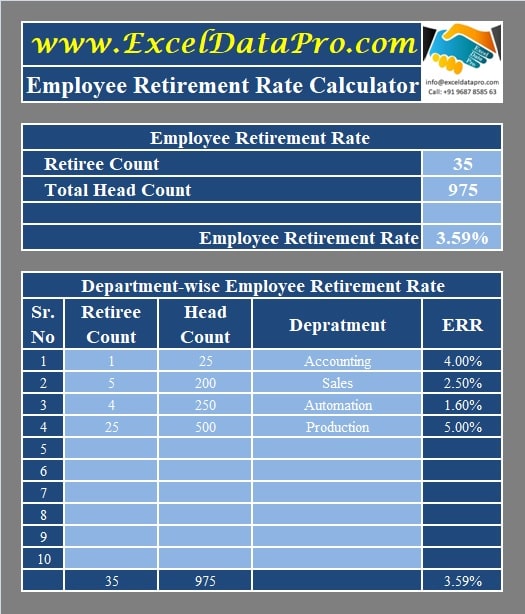 Retirement Rate Calculator is a simple and easy excel template with predefined formulas.
Furthermore, you can calculate the retirement rate department-wise as well as of the organization with this template. Just enter 3 details and the template will calculate the retirement rate for you.
Click here to download the Employee Retirement Rate Calculator Excel Template.
Additionally, you can download other useful HR Metrics Templates like Training Spend Rate Calculator, Time To Hire Calculator, Time To Fill Calculator, Yield Rate Calculator, and many more from our website.
Let us understand the contents of this template in detail.
Contents Of Employee Retirement Rate Calculator Excel Template
This template consists of 2 sections:
Retirement Rate
Department-wise Retirement Rate
Retirement Rate
The first section is for calculating retirement rates for the complete organization. You need to insert only 2 details: number of retirees and total employee headcount.
The cell consists of predefined formulas and it automatically calculates the retirement rates for you.

Department-wise Retirement Rates
This section is applicable to those companies with a bigger workforce and multiple departments. It consists of the following columns:
Sr. No: Serial Number
Retiree Count: No of retiring employees of that particular department.
Headcount: Total headcount of the employees of that particular department.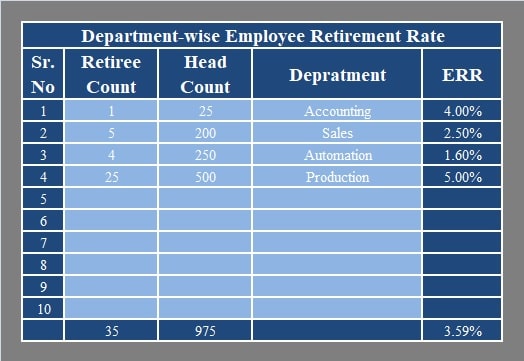 Department: Insert the name of the department.
ERR: ERR stands for the employee retirement rate. This column consists of a predefined formula. Hence, you don't need to make any entry in this column. It calculates the whole company's retirement rate as department-wise.
This template can be useful to the HR professionals, HR assistants, and company management to take important recruiting decisions.
We thank our readers for liking, sharing, and following us on different social media platforms.
If you have any queries please share in the comment section below. We will be more than happy to assist you.