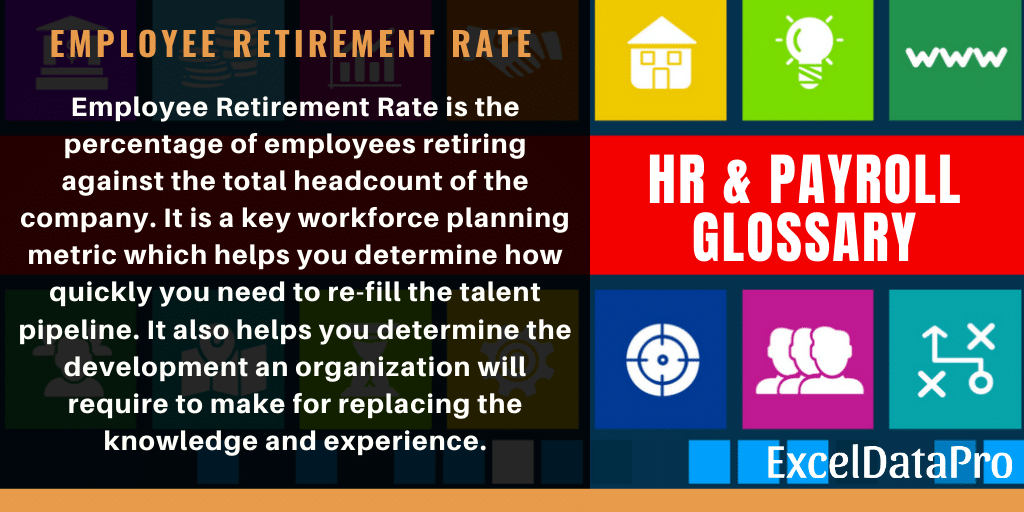 Employee Retirement Rate – Definition
Employee Retirement Rate is the percentage of employees retiring against the total headcount of the company. This rate is a key workforce planning metric.
It helps you determine how quickly you need to re-fill the talent pipeline. It also helps you determine the development an organization will require to make for replacing the knowledge and experience.
Retirement Rate is different from the Employee Turnover Rate.
Turnover rate is the percentage of employees leaving the company during a specific time due to promotions, transfers, voluntary resignations, dismissals, retirements, etc. Whereas the retirement rate is the percentage of people only those who retire.
Formula To Calculate Employee Retirement Rate
To calculate the retirement rate is you need to divide the retirement count by the total FTE Count.

How To Use Retirement Rate?
This metric can be helpful in many ways:
It helps to observe trends in retirement rates. This can be done during specific times of the year. It helps you know the increase and decrease over time.
You can forecast future rates. To forecast you will also require other metrics like Average Age, historical rates of previous years and Average Age of retirement.
Helpful for recruitment planning.
Predict future labor supply.
This metric is particularly important for every company in many ways.
Important Note
An employee qualifies to retire, but it doesn't mean that the employee will leave the workforce.
Many a time,  people who retire still continue to work on contractual, casual, part-time, and even voluntary basis. Thus, while predicting you need to consider this point.
This metric can be helpful to small business owners, hr assistants and hr professionals to manage their workforce.
You can download a ready-to-use Employee Retirement Rate Calculator Excel Template with predefined formulas.
We thank our readers for liking, sharing and following us on different social media platforms.
If you have any queries please share in the comment section below. We will be more than happy to assist you.