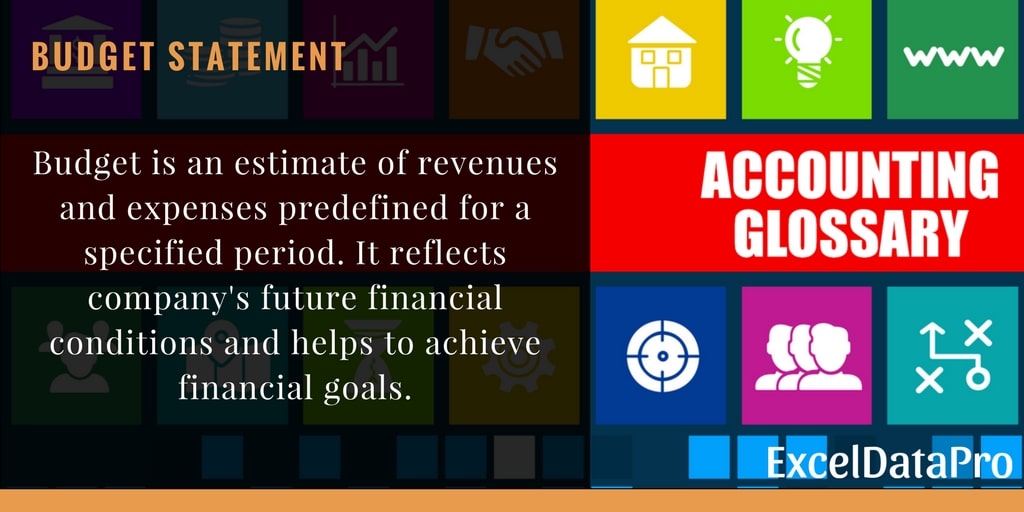 Budget Statement – Definition
The budget statement is an estimate of revenues and expenses predefined for a specified period. It reflects the company's future financial conditions and helps to achieve financial goals.
As per Wiki, "A budget document which quantitatively represents a financial plan for a defined period of time." It is considered one of the most important administrative tools of business and helps to achieve quantified objectives.
This document projects the summary of the intended expenditures and the proposals to manage those limits. It also helps to monitor and manage the financial performance of the organization.
Types of Budget Statement
There are 5 types of corporate budget statements depending on the nature of financials:
Master Budget
Operating Budget
Cash Flow Budget
Financial Budget
Static Budget
Personal Budget
Uses of Budget Statement
The traditional use of the budget is that it helps us reduce unnecessary business expenditure and eventually increase business income.
Prioritize financial spendings and set relevant sales/revenue targets.
Allocate resources and assign responsibilities to the respective department head/managers for the better and feasible running of the department.
For getting better cash flow by proper financial management.
Asset/Wealth Building.
Benefits of Maintaining a Budget Statement
Proper budget allocation helps in achieving financial goals.
Prevents unnecessary spending.
Helps you save efficiently.
Creating cushions for unexpected expenses.
In case of debt, proper and feasible budgeting will help you pay off your debt.
What is 50:30:20 Budget rule?
The 50:30:20 rules states to spend your after-tax income in the ratio of 50:30:20.
The split will be as follows:
50%:  Spend on needs like groceries, housing, utilities, health insurance, and travel.
30%: Spend on wants and leisure like shopping, dining out, hobbies, learning new skill sets, etc
20%: For savings, financial goals, etc.
What are the 30 days rule?
The 30-Day Rule is a method to control your spending habits. This rule says that if you want to buy anything, think over it for 30 days.
After 30 days, if the urge of buying stays then buy it or else don't buy. Thus, saving you from unnecessary spending habits.
Create a Budget Statement in Excel
We have created a simple and ready-to-use Budget Template with Chart. This template will help you manage your finances well and decide your financial goals.
This Budget Template is useful for Accounts Assistant, Accountants, Audit Assistants, etc.
Generally, it includes planned sales revenue, resource quantities, assets, liabilities, costs, expenses, etc. In this statement, you can allocate an amount of money for a particular purpose.
You can download the Budget Template with graphical representation from the link below:
We thank our readers for liking, sharing and following us on different social media platforms.
If you have any queries or questions, share them in comments below and I will be more than happy to help you.