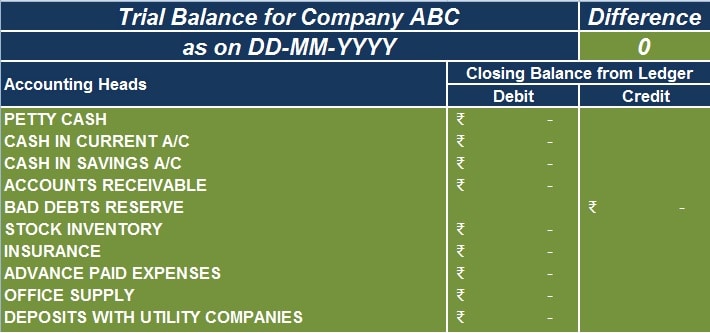 Trial Balance Excel Template is a ready-to-use template that enables you to make the statement of all closing balances of ledger accounts on a certain date.
What is a Trial Balance Statement?
Trial Balance is a document in which we record the closing balances of all the ledger accounts at the end of the accounting period. Trial Balance is a statement with all closing balances of ledger accounts on a certain date.
Usually, the Trial Balance is prepared at the end of an accounting period that assists us in the easy drafting of other financial statements.
Steps to Prepare a Trial Balance
First of all, segregate the Ledger balances into debit balance and credit balances.
As per the accounting rules, assets and expense accounts will appear on the debit side of the trial balance.
Liabilities, capital and income accounts will appear on the credit side.
Enter all the segregated and extracted debit and credit balances of the ledger accounts into the trial balance sheet.
Thus, the total of all debit balances appearing in the trial balance should be equal to the sum of all credit balances.
If the totals of debit balances and credit balance do not match, then you need to check the ledger balances again.
Trial Balance Excel Template
We have created a Trial Balance Template with predefined formulas. This template helps you easily prepare trial balance and find the difference.
Click here to Download Trial Balance Excel Template.
Click here to Download All Financial Statement Excel Templates for Rs 199.

In addition to this, you can also download other accounting templates like Profit and Loss Statement, Bank Reconciliation and Cash Flow Statement.
This template can be helpful to Accounts Assistants, Accountants, and Auditors, etc.
Let's discuss the contents of the Trial balance Template.
Contents Of Trial Balance Excel Template
This template consists of two sections:
Header Section
Data Input Section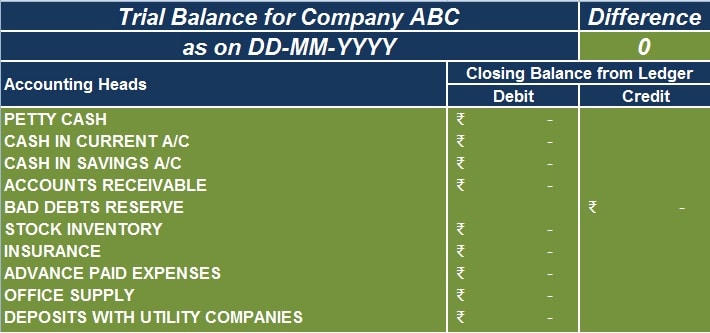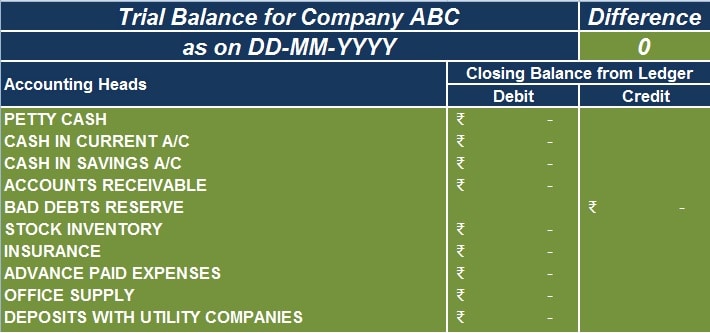 1. Header Section
This section consists of the heading of the sheet with the date of preparation. Furthermore, on the right-hand side, you can see the difference between Debit and Credit amounts.


The formula applied here is =SUMPRODUCT(SUM(B5: B89)-SUM(C5: C89))
2. Data Input Section
This section consists of all the accounting heads from the Ledger.
Insert the closing balances of all the accounting heads into this section. I have included most of them, but if required you can change it as per your need.
The accounting head is as follow:
Petty Cash
Cash In Current A/C
Cash In Savings A/C
Accounts Receivable
Bad Debts Reserve
Stock Inventory
Insurance
Advance Paid Expenses
Office Supply
Deposits with Utility Companies
Notes Receivable
Investments
Organization Expense
Vehicles
Depreciation – Vehicles
Furniture and Fixtures
Depreciation – Furniture and Fixtures
Equipment
Depreciation – Equipment
Buildings
Depreciation – Buildings
Land
Goodwill
Other Intangible Assets
Accounts Payable
Sales Tax Payable
Other Taxes Payable
Accrued Wages
Unearned Revenue
Accrued Income Taxes
Credit Card
Bank Loan
Notes Payable
Equity Share of Owner
Owner's Drawing Account
Common Stock
Additional Paid-In Capital
Preferred Stock
Retained Earnings
Sales
Revenues
Sales Returns and Allowances
Income on other Investments
Gain / Loss on Sale of Assets
Purchases
Freight
Purchase Returns and Allowances
Cost of Goods Sold – Materials
Labor  – Cost of goods sold
Direct Expenses – Cost of Goods Sold
Indirect Expenses – Cost of Goods Sold
Advertising
Amortization
Bad Debt Expense
Bank Charges
Charitable Contributions
Commissions Expense
Contract Labor
Credit Card Fees Expense
Delivery Expense
Depreciation
Dues and Subscriptions
Entertainment
Insurance
Interest Expense
Maintenance
Miscellaneous
Office Expense
Operating Supplies
Payroll Taxes
Permits and Licenses
Postage
Professional Fees
Property Taxes
Rent
Repairs
Telephone
Travel
Utilities
Vehicle Expenses
Wages
Income Taxes
Totals
The trial balance will ensure that the debits are equal to the credits.
Pro-Tip
Please note that just because our trial balance is balanced, it does not mean that the accounts are correct or that mistakes haven't occurred.
There can be entries that we have missed or items we might have entered in the wrong account.
For example, you might have increased the wrong asset account at the time of purchase. Sometimes, we decrease the wrong expense account while making a payment or the transactions are entered twice.
Thus, you need to keep in mind that the trial balance is not the final document of accounts.
Once the trial balance is prepared, the next step is to prepare other financial statements like Profit and Loss Account and Balance Sheet.
We thank our readers for liking, sharing and following us on different social media platforms, especially Facebook.
If you have any queries or questions, share them in the comments below and I will be more than happy to help you.