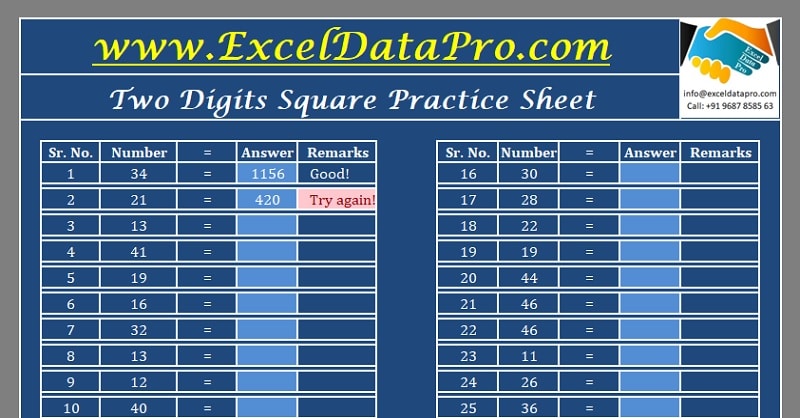 Square Practice Sheet is a simple and ready-to-use Excel Template that teaches a student to find squares of given whole numbers by practicing it.
Not only this, but the students can also check their learning curve by performing multiple tests. Usually, taking tests a tutor or parent needs to write numbers manually and give to the child. In addition to that, you also need to check the given answers.
But in this template, the manual task is transformed into an automated one by a random number generator. Just define the range and click on the button to generate new numbers.
Additionally, this template also contains a printable version for practicing and taking a test that can be given to students for practice.
What is a Square Number?
In mathematics, when a whole number is multiplied by itself, it is called a square number. The square of a given number is written as 3².
Children tend to learn squares from grade 5. The squares from numbers 1-12 are usually taught to children. This helps them to easily calculate the area of a square.
In simple terms, "n X n" is the representation of a square number, where "n" is any whole number.
Each multiplication table also consists of a square where the number is multiplied by the number itself. Like 1X1, 2X2, 3X3 and so on.
Why are they Called "Square Numbers"?
We all know that a square geometrical shape that has all sides equal. Similarly, to derive the square of a number, you need to multiply two same numbers which are equal.
Another interesting fact is that when you arrange a "square number" of circular or square objects in an array, they will form a perfect square. Arranging in an array means putting objects in row and columns with the same number of objects.
For example, take 4 pennies. 4 is the square of 2. Hence when you arrange them in array they will form a square ass shown below:
Square Practice Sheet Excel Template
We have created a simple and easy-to-use Square Practice Sheet Excel Template with predefined formulas and macros.
This template helps you practice squares of numbers between a given range and also test your knowledge by taking a test of the same. It also consists of a printable version which you can print and use for doing practice or conducting a test on physical paper.
Click here to download the Square Practice Sheet Excel Template.
Click here to Download All Educational Excel Templates for ₹299.
You can download other useful educational templates like Percentage Practice Sheet, Student Study Planner, MCQ Test Sheet, Basic Division Test Sheet, Basic Subtraction Test Sheet, Basic Addition Test Sheet, and Multiplication Table Test Sheet.
This sheet consists of a macro and VBA code. Hence, once you download and open the template make sure you follow the below steps:
A "Security Warning" will appear at the top. Click on "Options".

Select "Enable The Content" and click "OK".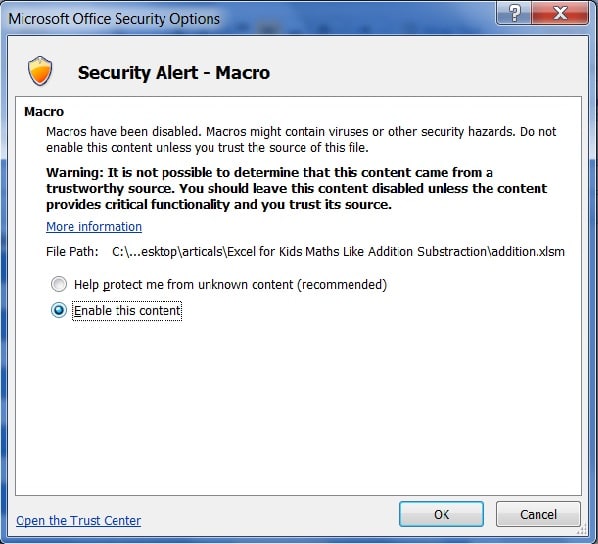 Let us discuss the contents of the template in detail.
Contents of Square Practice Sheet Excel Template
This template consists of 6 sheets:
1-30 Squares To Memorize.
Square Number Calculator.
Square Practice Sheet.
Test Sheet.
Printable Square Practice Sheet.
Tips and Trick Sheet.
Squares To Memorize
Children from grade 5 onwards should memorize the squares from numbers 1-30. This will help you easily derive the squares of big numbers at a later stage.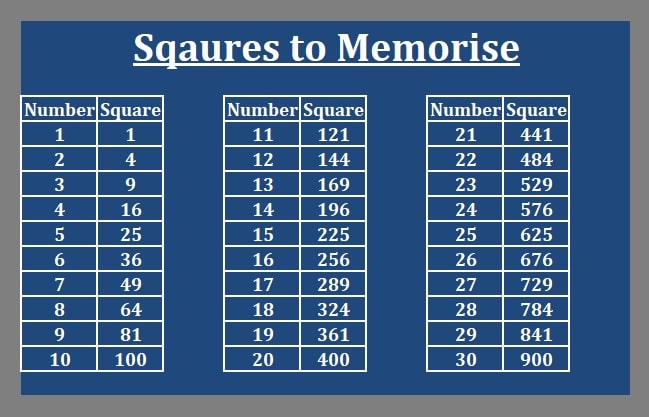 There are 3 tables with a number and its square. Tell your kids to memorize it.
Square Calculator
A ready calculator to find the square of any given whole number is given in the second sheet. Just insert the number and it automatically displays the square of that particular number.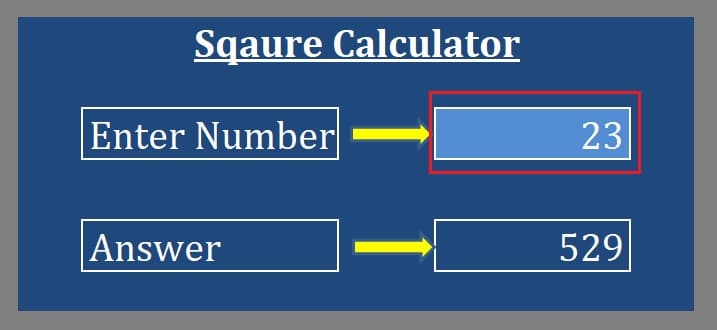 Square Practice Sheet
This sheet consists of two tables with 15 questions each. Thus there are in all 30 questions.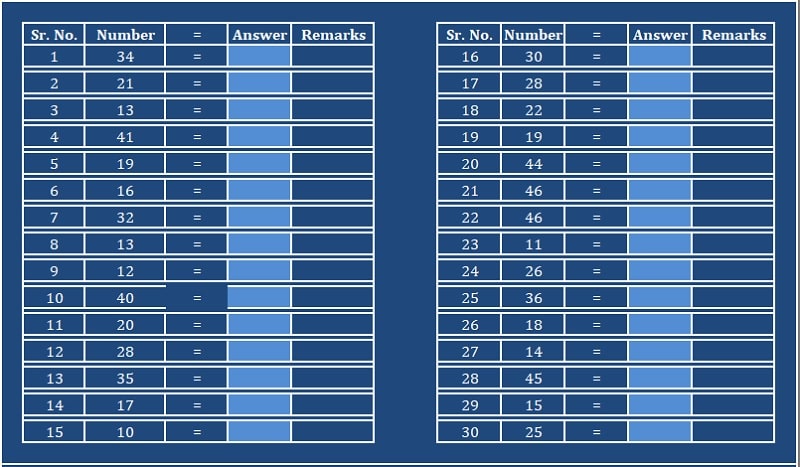 Insert the range between which you want to your student/child to practice the squares for. Range can be different for different grade students. You can insert 2 digits, 3 digits, or 4 digit range according to the grade of your child.
Click on the "New Number" button.

If the answer provided by the student/child is correct then the remarks column displays "Good Job" and if the answer is incorrect then the remarks column display "Try again!" and turns the cell red.

As soon as the child finishes the test, click on the "New Number" button again to practice some more squares. This will help the student to learn thoroughly.
Square Test Sheet
When you are satisfied with the learning of the child, you can use this Square Test Sheet to conduct a test.
This sheet is similar to the previous sheet. The only difference is that it doesn't have a remarks column that displays the answer to be right or wrong.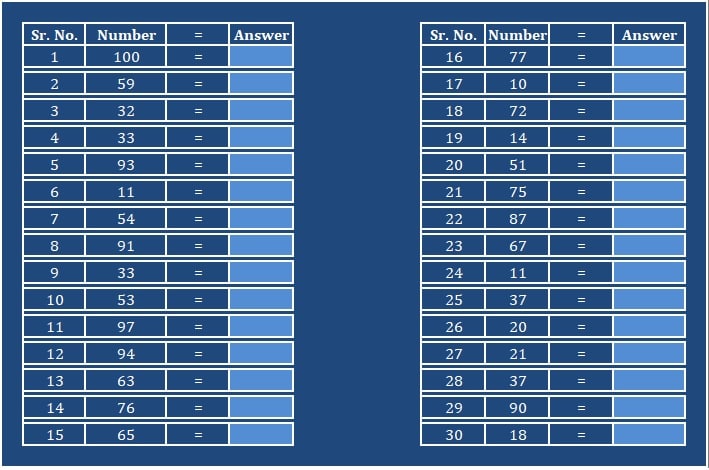 Enter the range and click on "New Number".

The box below the sums displays the marks obtained by providing the t answers. Each sum consists of 1 mark. Thus the test sheet performs a test of marks 30 marks.
Hide the rows given in golden color while taking the test. Unhide after the test to see the results.
Your test is done. No question papers to prepare, no checking, and no marks to calculate. Everything is done automatically. Isn't that great?
Printable Square Practice Sheet
Followed by the test sheet, we have given a printable version of the practice sheet. This is black and white and can be printed on paper. Just set the print area and print the sheet.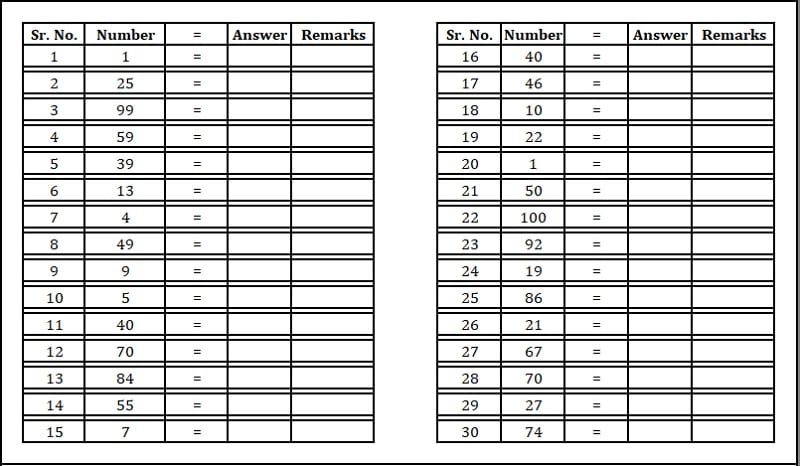 This sheet can be used when you want to take the test of the child without a computer or you multiple students.

Furthermore, if you have more students and you desire to give a different set of questions to all then you can do that by following the below steps.
Print the Existing Sheet.
Click on the New Number button.
Take another print.
Repeat until you reach the desired number of copies.
Tips and Trick
Tips and tricks to easily find square are explained in this last file. This will help the child to quickly derive the squares of any given number.
We thank our readers for liking, sharing and following us on different social media platforms.
If you have any queries please share in the comment section below. We will be more than happy to assist you.