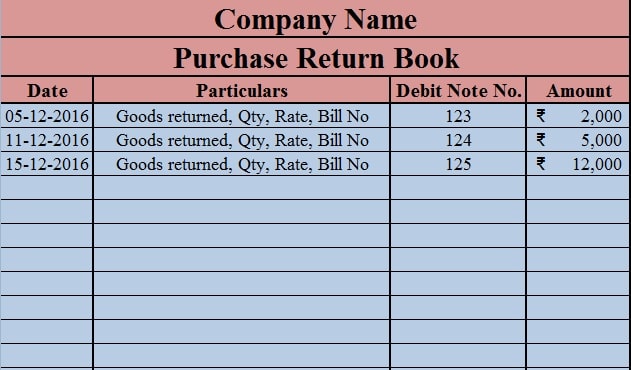 Purchase Return Book is a subsidiary book of accounts which records the goods returned to our suppliers. It is also called return outward book.
Usually, when poor quality, inaccurate quantity, untimely delivery goods are received, we return those goods to the suppliers. Purchases returns or returns outwards, are a normal part of the business.
You need to post the Purchase Return entries on daily basis to individual's account. Post these entries to the debit side of the supplier's account in the creditor's ledger. This helps the creditors account to stay up to date.
Every entry in the Purchase Return Book is made on the basis of debit notes issued by us to suppliers.
Debit Notes
Debit Note is a document which debits the account of the supplier along with purchase returns.
The debit notes are goods return invoices which contain the details like quantity, product details, reasons for return etc.
Therefore, the supplier's account is debited in our books of account. The supplier credits our account in his books of accounts.
Regular maintaining of Purchase Return Book helps us to avoid discrepancies of creditor's accounts.
The amount of Accounts Payable decreases whenever a purchase return takes place.
I have created a Purchase Return Book Template for easy accounting. You can customize it according to your needs as and when required.
Click here to Download Purchase Return Book Excel Template.
Click here to Download All Accounting Excel Templates for Rs 199.

Apart from that, you can also download other Accounting templates like Cash Flow Statement, Accounts Payable Ledger and Accounts Receivable Statement.
Let's discuss the Purchase Return Book Template in detail.
Template Content of Purchase Return Book
Purchase Return Book Template contains two sections as mentioned below:
Heading Section
Data Input Section
1. Heading Section
Enter Company/Business Name in the first row. Cells A1 to D1. Merge these cells.
Enter heading of Purchases Return book in second row. Cells A2 to D2. Merge these cells.

2. Data Input Section
Third row consists of subheadings for data input. These include date, particulars, debit note number and amounts. See image below: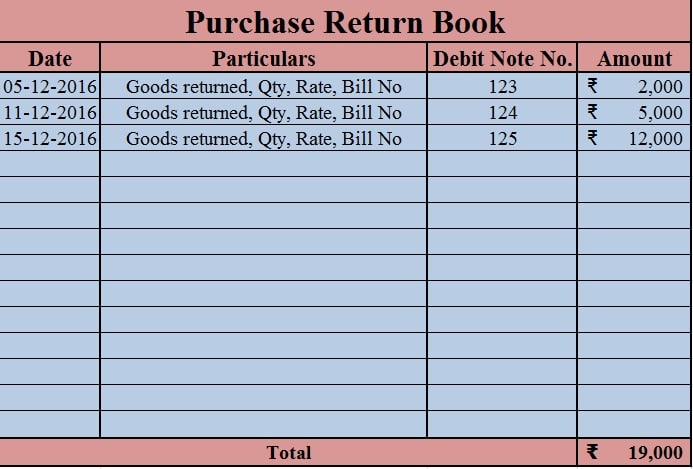 Row5 to Row 17 is the data input section. In this area, you need to enter date return, the name of supplier along with product details, debit note number and the amount.
Merge Cell A18 to C18. This cell displays the subheading of the total. Cell D18 contains the total amount of Purchase return. The formula applied here is =SUM(D4:D21).
We thank our readers for liking, sharing and following us on different social media platforms, especially Facebook.
If you have any queries or questions, share them in comments below and I will be more than happy to help you.