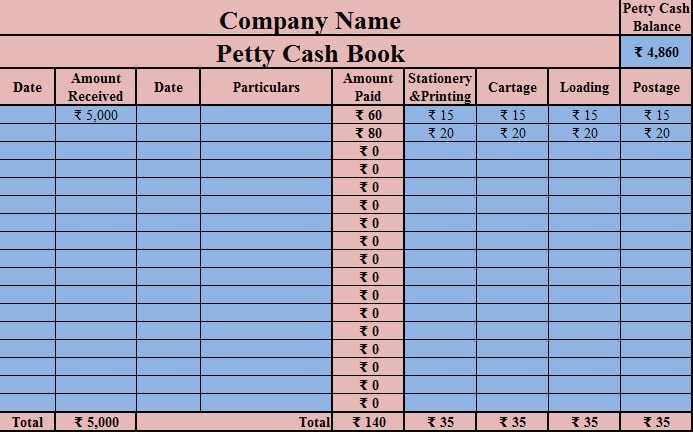 A Petty Cash Book is a document in which all petty or small daily routine payments made from petty cash fund are systematically recorded.
In other words, Petty Cash Book is a type of Cash Book which is generally maintained in large businesses to reduce the burden of 'Main Cash Book'. Petty Cash Book can be used to record numerous Sundry (small) amount transactions like postal, stationary, pantry, loading etc.
The Chief Cashier gives the Petty Cashier an amount of cash as an advance, to handle petty expenses for a fixed period of time.
I have created an easy to use Petty Cash Book template which is useful for businesses of all sizes.
Click here to Download Petty Cash Book Excel Template.
Click here to Download All Accounting Excel Templates for Rs 199.

In addition to Petty cash book, you can also download other accounting related templates like Cash Book, Account Receivable, Accounts Payable and Profit & Loss Account.
Let's discuss in detail about the Petty Cash Book template.
Template Content for Petty Cash Book
The Petty Cash Book template has 2 sections which are mentioned below:
Header Section
Data Input Section
1.Header Section
Row 1 = Your Company/Business Name. Cells A1 to H1. Merge these cells. Cells I1 is heading for "Petty Cash on Hand".
Row 2 = Heading of sheet "Petty Cash Book" or "Daily Cash Book". Cells A2 to H2.These cells are merged.
The amount of Petty Cash on Hand is reflected in cell I2 by subtracting total expenses in cell E21 out of cash received from Chief Cashier in cell B21. See image below:

Formula applied is =SUM(B4:B20)-SUM(E4:E20) or we can also use =SUM(B21-E21). Both the formulas reflect the same calculations.
If the totals of outward exceed against the totals of inward then the Petty cash on hand will be negative. Using conditional formatting the amount in cells turns red whenever there is a negative balance.
2. Data Input Section
Row 3 = Headings for data input for inward and outward cash entries. Cell A3 to Cell I3.
The Debit side has the date and cash received from Chief Cashier, whereas the Credit side has all types of petty expenses like stationaries and printing, postage, loading etc.
See the image below to understand it better: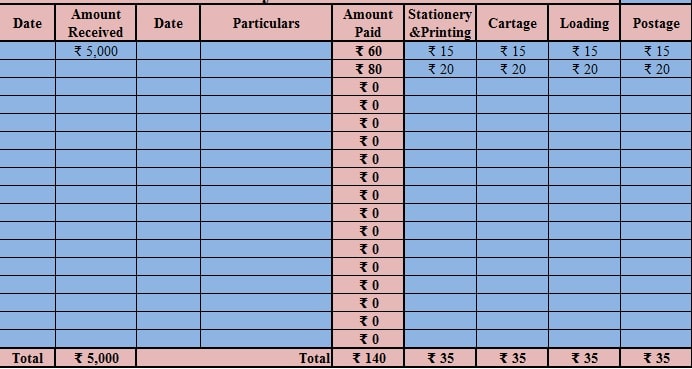 Subheadings for expenses can be increased or decreased as per your requirement.
Row 21 = Totals of both inward and outward entries. The Petty cash on hand is derived by simple formula =SUM(B21-E21) as mentioned in the description of the header section.
Conclusion
Petty cash book is a useful document to save time, as each payment that is made under a particular head is not posted into the ledger separately. This posting of this periodic total is made with a single entry as Petty Expenses.
Thus, in large businesses both Cash book and Petty Cash Book are very essential.
We would like to express our gratitude to our viewers for encouraging us by liking and sharing our content on different social media platforms, especially facebook viewers.
If you have any queries or questions, share them in comments below and I will be more than happy to help you.