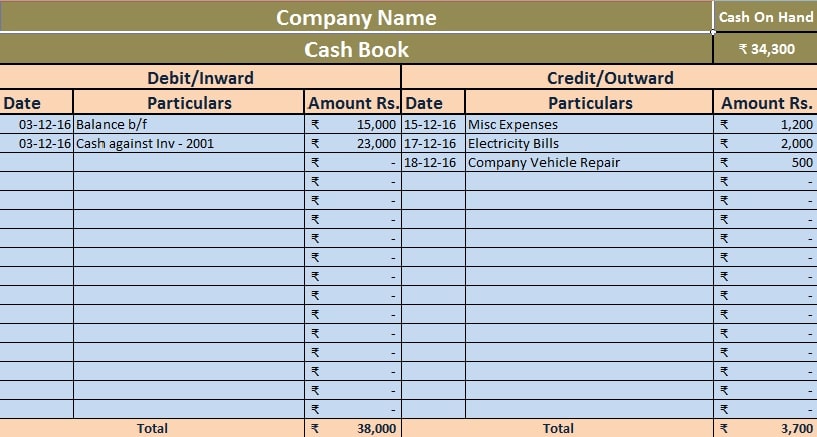 Cash Book Template is an excel template with predefined formulas to help you record routine cash transactions of a company on a regular basis. Enter the transaction on the debit or credit side and it will automatically calculate the cash on hand for you.
What is a Cash Book?
Cash book is the record of cash transaction done in a company on a day to day or regular basis. Cash book is just like a ledger account. There is no need to open a separate cash account in the ledger.
It is subsidiary ledger which records all kind cash receipts and cash payments including the bank deposits and withdrawals. At the end of the month, these transactions from cash book are posted to the general ledger.
The best-known practice of business is to weekly compare the bank related transaction with the bank statement or perform a bank reconciliation to avoid mismatch of balances. You can use our Bank Reconciliation Statement Excel Template for this purpose.
In big companies where there are high volumes of cash transactions, the cash book is subdivided into two different journals. One is the receipt Journal and the other is the disbursement journal. In a smaller business as there are fewer transactions, all the cash transactions are maintained in a single cash book.
The records fed in the cash book are always in a chronological order. This helps us to easily reconcile the cash balances when required. All the received cash is posted on the debit side and all payments and expenses are posted on the credit side of the cash book.
Types of Cash Book
There are 4 types of Cash Book:
Simple Cash Book
Cash Book With Discounts
Cash Book With Tax (VAT, GST)
Cash Book With Discounts and Tax
In this article, We will discuss Simple Cash Book Template.
Simple Cash Book Template
We have created a Simple Cash Book Template in Excel that will help you easily record and reconcile your cash transactions. This template can be helpful for accounting professionals like accountants, accounts assistants, small business owners etc.
Click here to Download Simple Cash Book Excel Template.
Click here to Download All Accounting Excel Templates for Rs 199.
Let us understand the contents of the Simple Cash Book Template in Excel.
Contents of Simple Cash Book Template
Row 1 = Your Company/Business Name. Merge cells A1 to E1 Next Cells F1 and F2 is Cash on Hand, Its will automatically change according to the difference in Debit and Credit Amounts. The formula applied is =(D21-H21)
Row 2 = Heading of Cash Book. Cells A2 to E2. Merge these cells.
Row 3 = Merge A3 to C3 and put heading of Debit/Inward. Merge D3 to F3 and put the heading of Credit/ Outward.
Row 4 = This row consists of subheadings for data input. See the table below:

Date, Particular, Amounts in Debit/Inward and Credit/Outward and their respective dates are details to be entered manually.
For Cash On Hand, you can set a function which automatically calculates Amount of Debit and Credit Side. Cash On Hand Amount here is calculated by deducting total amount Debit Side (Cell D21) –Total amount Credit Side (Cell H21). In our sheet formula used is =C21-F21.
If you have any queries or questions, share them in comments below and I will be more than happy to help you.