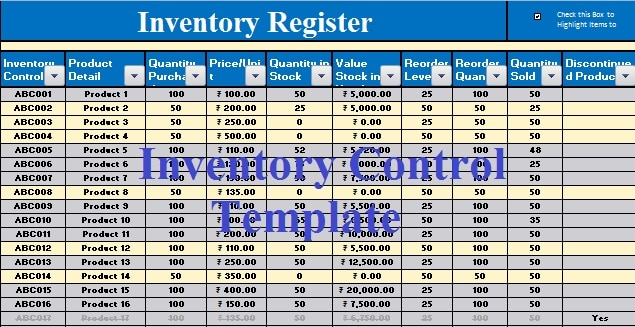 Inventory Control template is a document that keeps track of products purchased and sold by a business. It also contains information such as the amount in stock, unit price, and stock value, etc.
Furthermore, while preparing Profit and Loss Accounts for a company we require the cost of Inventory. This is also be derived using Inventory Control Template.
Inventory template varies for different business types such as Retailers/wholesalers, Hotels, Real Estate, etc.
Inventory Control template assists us in knowing the exact inventory levels of each product. As a result, it helps us to understand when and which products to re-order.
You can quickly analyze the purchases/sales patterns for a particular period. Thus helping us to know about the best performing products.
Inventory Control Template can be useful for all kinds of businesses. All retailers, wholesalers, store managers and especially e-commerce businesses like Amazon, Flipkart, and Snapdeal vendors, etc and use this template.
Inventory Control Register Excel Template
I created a very useful Inventory Control Template with drop-down menus for easy access. With this template, you can keep an eagle's eye on your stock inventory.
Eventually, this will help you increase the profitability of your business.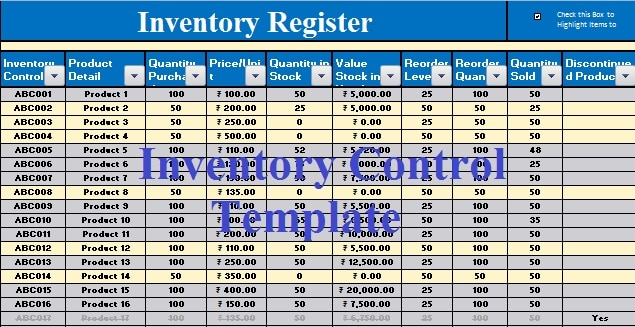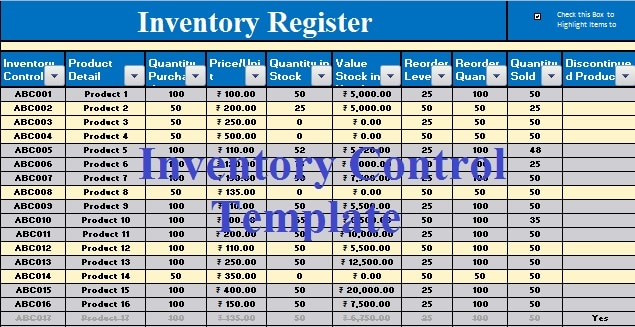 Click here to Download Inventory Control Excel Template.
Click here to Download All Accounting Excel Templates for Rs 199.

You can download other Excel-based Accounting Templates like Profit & Loss Account, Accounts Receivable, and Accounts Payable templates.
Let's discuss the template in detail.
Content for Inventory Control Template
Inventory Control Template design consists of two sections as follows:
Heading Section
Data Input Section
1. Heading Section
As usual, the first line here is the heading "Inventory Control Sheet". A checkbox next to the heading has been designed. If we check this box then all the items to be reordered will be highlighted.
Other sub-headings for Data input section are as below: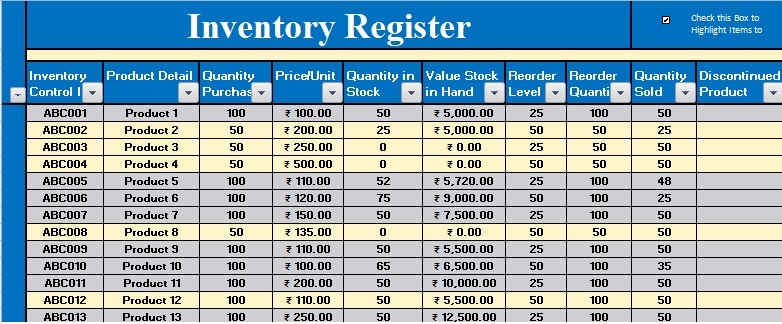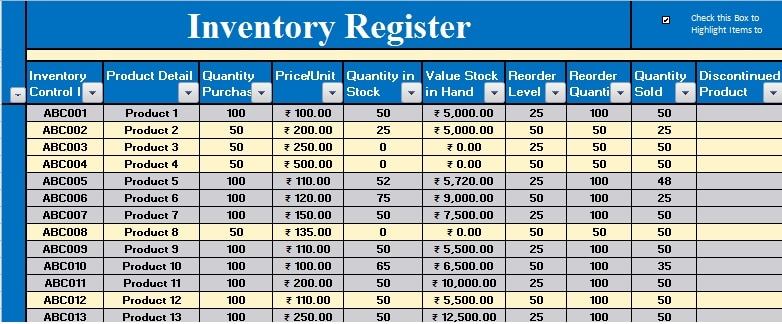 2. Data Input Section:
Inventory Control ID: Here you can put a unique alphanumeric ID for your products as given in the worksheet "ABC001".
Product Detail: You can describe your product name under this subheading.
Quantity Purchased: Quantity of product purchased is entered here.
Price/Unit: Price per Unit is entered here.
Quantity in Stock: Quantity in stock is derived by subtracting Quantity Sold from Quantity Purchased.
Value Stock in Hand: Value of Stock in Hand is derived by multiplying Stock in hand with Price/Unit.
Reorder Level: You have to input a level for Reorder. This will indicate to us about reordering the product if a product stock is below that limit.
In the Heading Section, a highlight checkbox is there. If you tick that checkbox, the product below the reorder level will be automatically highlighted.
Reorder Quantity: Reorder Quantity can be entered according to the sale of the desired product. It can either be predefined or vary according to the sales pattern.
Quantity Sold: Daily sales of each day will be entered here, which will give you an exact inventory status of the product.
Discontinued Product: Here you have to enter "Yes" if and only if the product is discontinued by your supplier. Typing "Yes" here will change the data in the row with a strike-through line.
See image below for reference: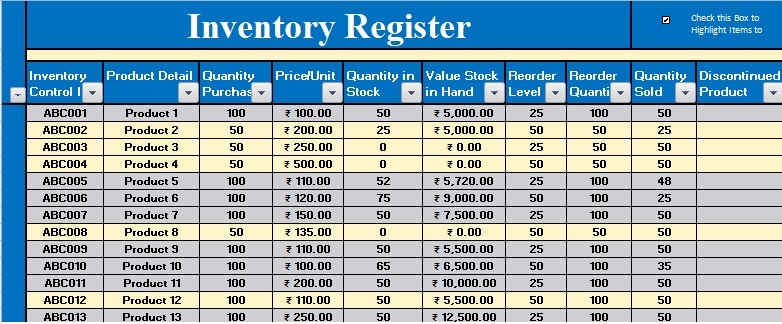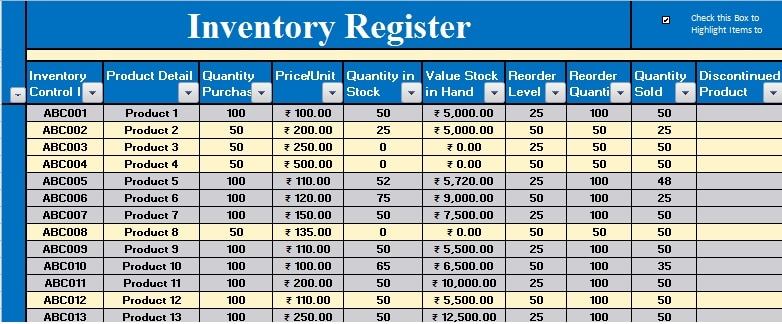 You can generate different reports with the help of this template. Reports for a particular product, stock level and reorder level, etc can be by selecting it from the drop-down menus.
We would like to express our gratitude to our viewers for encouraging us by liking and sharing our content on different social media platforms, especially facebook viewers.
If you have any queries or questions, share them in the comments below and I will be more than happy to help you.