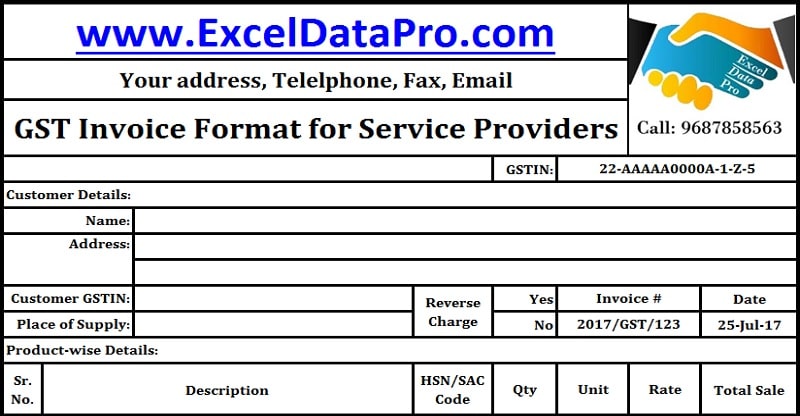 GST Invoice format for service providers is almost similar to the GST Invoice format issued for goods suppliers. The major difference is the Services Accounting Code (SAC code) to mentioned instead of the Harmonised System of Nomenclature Code (HSN Code).
You can find different types of GST invoice formats, credit note, debit note, delivery challan and much more on the link below:
In this article, we will discuss the GST invoice format for service providers.
We have created an excel template in compliance with the GST Law. The government has some predefined rules in respect to the contents of the tax invoice.
Preview of the Invoice: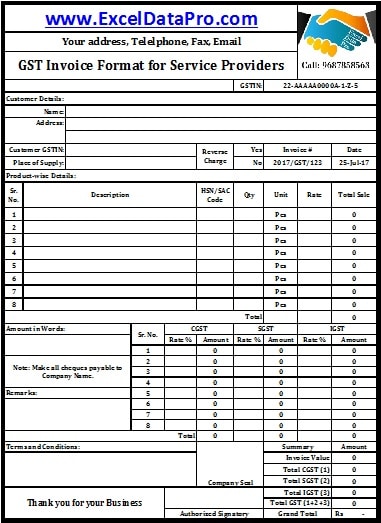 Click here to Download the GST Invoice Format For Service Providers
Click here to Download All GST Excel Templates for Rs 199.

If you are a retailer registered under composition scheme, you can download invoice template from the link below:
The GST Invoice for Retailers Registered Under Composition Scheme.
Predefined rules of GST Tax Invoice for Service Providers: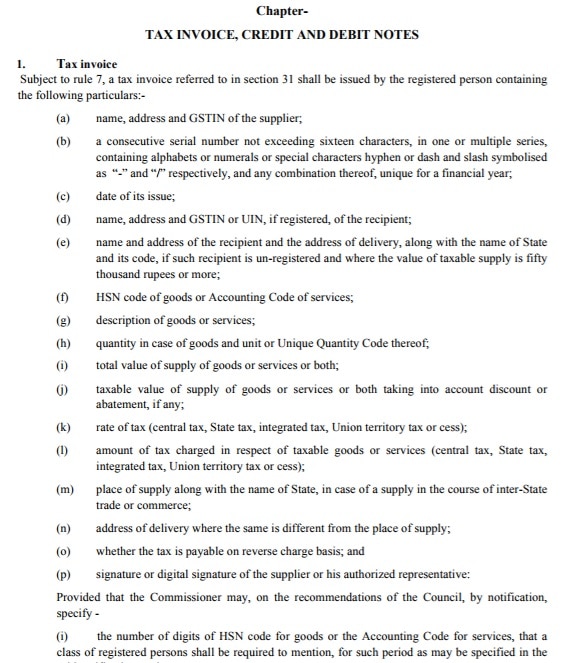 Source: www.cbec.gov.in
Let us discuss the contents of the template in detail.
Contents of GST Invoice Format For Service Providers
This template contains 5 sections:
Service Provider Detail Section
Customer Detail Section
Product Detail Section
Taxation and Remark Section
Terms and Billing Summary Section
1. Service Provider Detail Section
Service provider detail section consists of service provider's details like company name, address, logo, GSTIN(GST Number) and the type of document.

2. Customer Detail Section
Customer details include customer name, customer address, and customer GSTIN. In addition to that, it contains the place of supply, invoice date, invoice number and applicability of reverse charge.

3. Services Detail Section
This section has multiple columns such as serial number, description, SAC code, quantity if applicable, units, rate and Total Sale.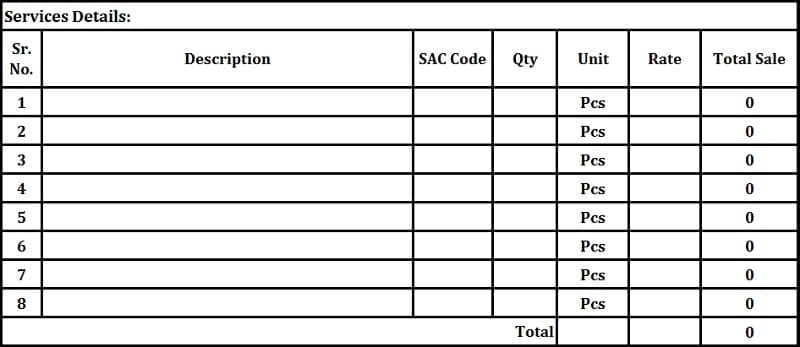 Quantity and units columns can be removed if not needed.
4. Taxation and Remark Section
Taxation and remarks section consists of 3 columns with 2 sub column each for CGST, SGST, and IGST.

Additionally, it also has "Amount in words" and "Remark" areas.
5. Terms and Billing Summary Section
Lastly, Terms and conditions along with the billing summary and business greetings are given.

Billing Summary:
Invoice Value + CGST + GST + IGST = Grand Total
OR
Invoice Value + Total GST = Grand Total
Additionally, you can also download other accounting templates like Petty Cash Book, Simple Cash Book, and Accounts Payable from here.
We thank our readers for liking, sharing and following us on different social media platforms.
If you have any queries please share in the comment section below. I will be more than happy to assist you.