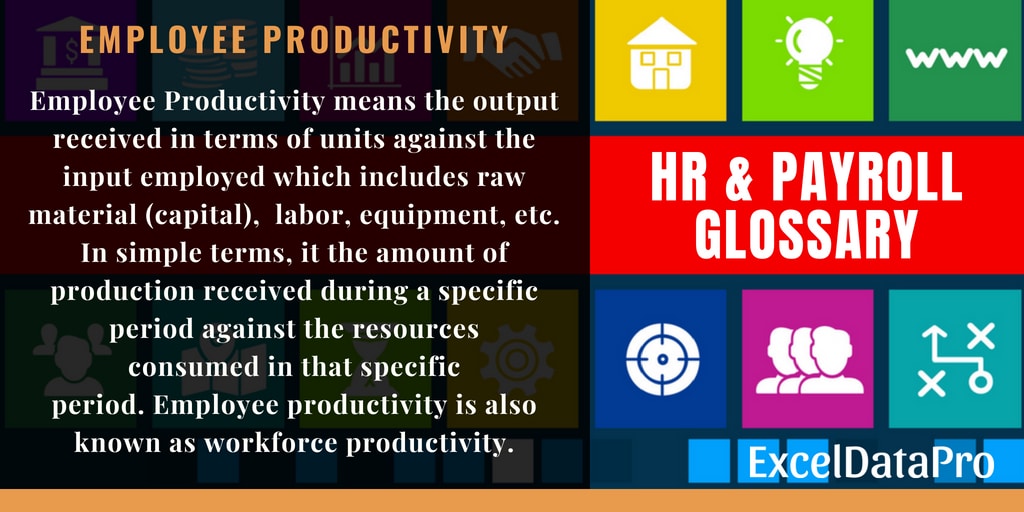 Employee Productivity – Definition
Employee Productivity means the output received in terms of units against the input employed which includes raw material (capital),  labor, equipment, etc. In simple terms, it the amount of production received during a specific period against the resources consumed in that specific period.
Employee productivity is also known as workforce productivity. It is a measure to assess the efficiency of an individual or a group. The efficiency can be measured in terms of units, sales, contracts or jobs done/completed against the resources used.
Formula To Calculate Employee Productivity
The basic formula for calculating the employee productivity is the output divided the input during a particular time.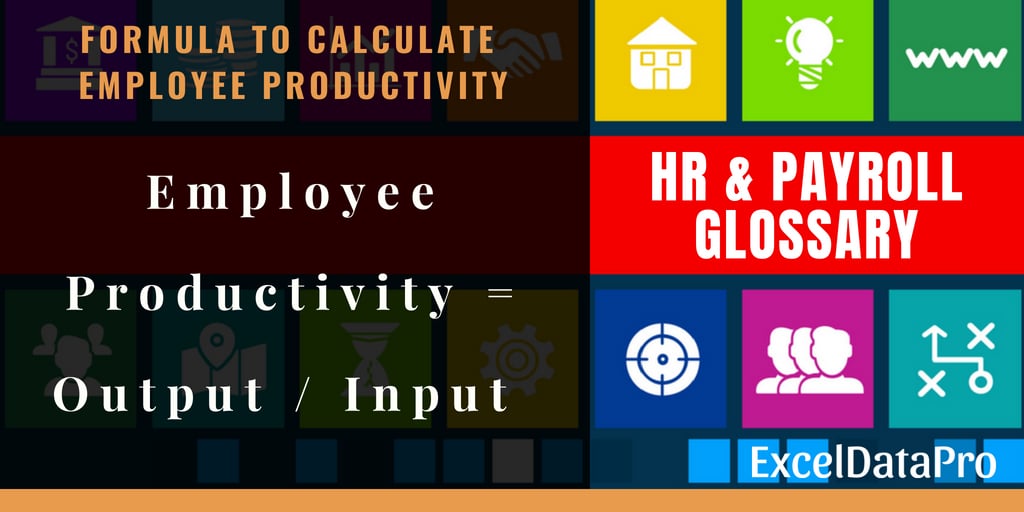 In other words, you can obtain the employee productivity by dividing the average output per period by the total inputs consumed during that period. The input includes capital costs, energy costs, material costs, and manpower.
Let us understand the above with a simple example.
Example
Company A has is a manufacturing unit and produces 523 units in a week utilizing 15 employees. So applying the formula output/input we get 523/15 = 34.86 units per employee per week.
The same can be measured in term of hours. Let us assume that the value of 523 units is $50,000 and the unit is working averagely 21 hours a day. To calculate the productivity you need to multiply 21 hours to 5 days a week which is 105 hours total. Thus, 523/105 = 4.98 units per hour or 50000/105 = $ 476.19 per hour.
Turning Company A into a Sales Agency, if Company A generated sales of $ 110,000 in a week utilizing 20 salespeople. Here output / input = 110000/20 = $ 5,500 Sales revenue per salesperson per week. Per day sales will be calculated by $ 5,500/5 working days =  $ 1,100 per person per day.
While you measure sales productivity, you will have to add a variety of additional outputs, like the number of new customers, the number of positive leads generated and the volume of sales in dollars.
In the service industry, as intangible outputs are involved you will be able to measure the number of customers served or the number of tasks completed.
Whereas in the manufacturing industry, you will either measure the production per employee or worth of goods one employee can produce during that specific time.
Productivity unit of service industry changes depending on the industry. It all depends upon the purpose and industry for which you measure the productivity.
As shown in the example, turning the company into a sales company gives the revenue per salesperson and the same in manufacturing shows the units per employee or worth of unit produced per employee.
Ways to Improve Employee Productivity
Employee productivity has a huge impact on profits, and with a simple equation, you can track productivity per individual, team, or even department. Here are some simple steps you can take to improve employee productivity.
Knowing the skill sets of your employee and matching tasks to their skill.
Effectively Communication.
Create Incentive Programs
Encourage Flexible Working Hours
Use the data of your employees to identify the need for proper structuring of the workforce.
Focus on quality rather than quantity. It is applicable to service industries and also to the manufacturing industry.
Provide opportunities for your employees to develop their skills by providing them with proper training.
You can find definitions of other HR related terms in our HR Glossary Section like Full-TIme Equivalent (FTE), Revenue Per Employee (RPE), Employee Retention etc.
You can also download other useful HR templates like Revenue Per Employee Calculator, Monthly Attrition Report, Cost Per Hire Calculator, Employee Resignation Schedule and many more from our website.
We thank our readers for liking, sharing and following us on different social media platforms.
If you have any queries or suggestions please share in the comment section below. I will be more than happy to assist you.