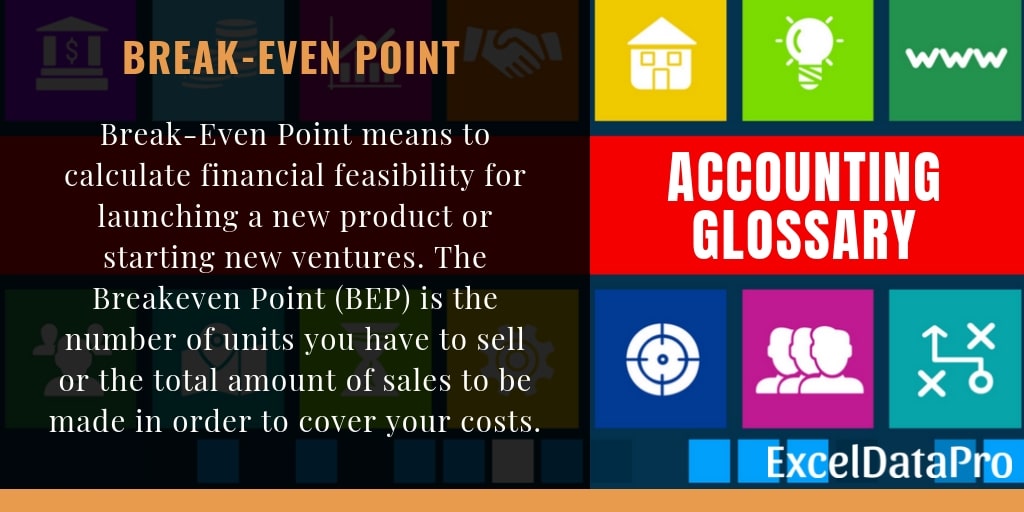 Break-Even Point means to calculate financial feasibility for launching a new product or starting new ventures.
Usually, the Breakeven Point (BEP) is the number of units you have to sell or the total amount of sales to be made in order to cover your costs.
It can also be defined as the point at which a business will start generating profits. Hence, you can consider it the point at which Total Cost equals to Total Revenue.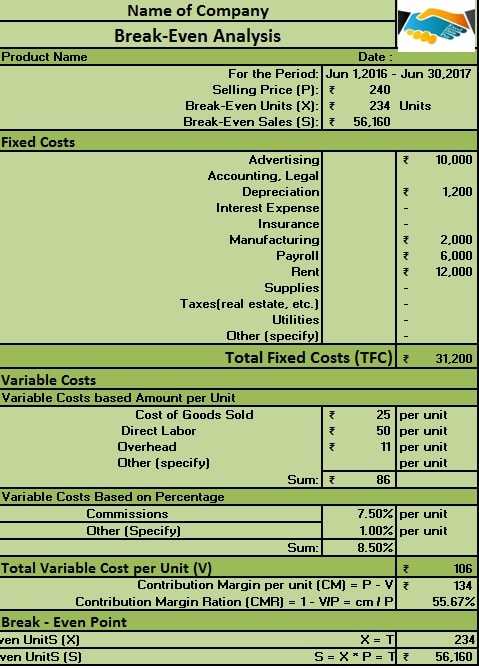 Calculation of a breakeven point (BEP) is based on the linear Cost-Volume-Profit (CVP) Model. It is a practical tool for simplified calculations and short-term projections.
All types of break-even analysis are based on basic equation mentioned below.
Break Even Equation
Total Cost (TC) = Total Revenue (TR).
TC = Total Fixed Cost (TFC) + Total Variable Cost (TVC).
TR = Selling Price Per Unit (P) X No. of Units Produced and sold (X).
P-V = Contribution Margin per unit (CM).
CMR = Contribution Margin Ratio = (P – V) / P.
Breakeven point can be found in two ways; first in terms of physical units and second in terms of sales/revenue.
 1. BEP in terms of Physical units
This method is preferred by manufacturing units. Here BEP will be the number of units sold to cover all the fixed and variable expenses of production.
At this point, a firm neither makes any losses nor makes any profit. It is the meeting point of the revenue and cost curves.
Formula:
Breakeven Point = Total Fixed Costs  / Contribution Margin

Contribution Margin = Sales Price – Average Variable Cost

For example, fixed cost of a manufacturing unit is Rs. 100,000. Selling Price is Rs. 700 and variable cost is Rs. 300.
Applying the above formula calculations will be as below:
BEP = Rs. 100,000 / (700-300) = Rs. 100,000 / 400 = 250 units
Thus, the company needs to sell 250 units to reach the Breakeven point.
2. BEP in terms of Sales/Revenue
Firms with multiple products firms cannot measure the BEP in terms of units. It is convenient for them to find the BEP in terms of total amount of sales/Revenue.
Contribution margin (sales value—variable costs) would be equal to fixed costs.The contribution margin is expressed as a ratio to sales.
Formula:
Breakeven Point = Total Fixed Costs / Contribution Ratio
Contribution Ratio = Total Revenue – (Variable Cost/Total Revenue)
The formulas for calculating the break-even point are relatively simple. But, it becomes difficult when it comes up with the projected sales, projecting future sales price and calculating the fixed and variable costs.
Download our ready to use excel template with preset formulas for calculating the Break-Even Point from the link below:
If you have any queries or questions, share them in comments below. I will be more than happy to help you.