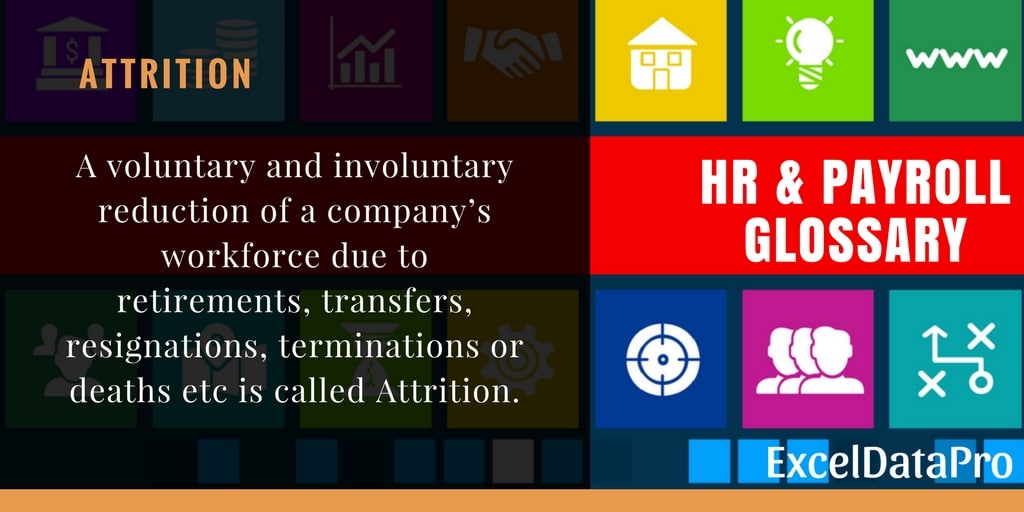 Attrition means the reduction in the number of employees of an organization through resignation, retirement or death.
In other words, it is defined as a voluntary and involuntary reduction of a company's workforce due to retirements, transfers, resignations, terminations or deaths.
Causes of Attrition
Lack of growth opportunities.
Lack of appreciation.
Non-cooperative team members.
Long working hours.
Health and Aging problems
Inability to handle the extensive pressure from management.
Motherhood for female employees.
Employees pursuing Higher Studies.
Employees starting their own business etc.
Generally, most of the employees leave withing the first two years of tenure.
HR professionals design and implement company compensation programs and motivation systems to keep the employees happy. This helps to prevent them from leaving the company.
Higher the number of employees leaving the company means higher cost to the company. Recruitments, hiring processes, training of employees and paperwork etc are some of the expenses due to attrition.
Currently, it is one of the critical problems faced by the HR managers.
An employee considers many aspects while working for a company. For example, company's goodwill, perfect pay structure, future growth, working environment, colleagues and future stability etc.
According to a survey, 70% of the working class in India is unhappy due to any one aspect mentioned above which causes high attrition.
HR professionals prepare the Attrition Report monthly or yearly to monitor and rectify the causes of attritions in the organizations.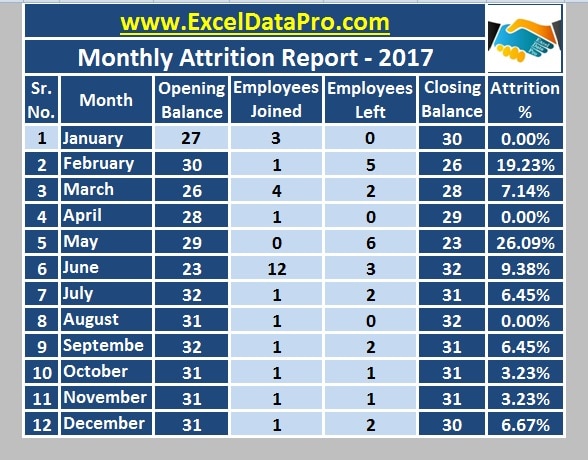 Click on the link below to download our ready to use template:
Employee Attrition Report template
If you have any queries please share in the comment section below. I will be more than happy to assist you.