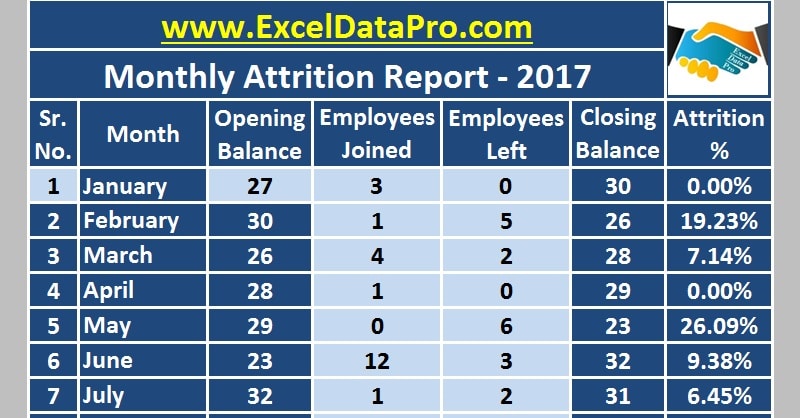 Use this Online Employee Attrition Rate Calculator to get the desired metric in just a few clicks or download a free template in Excel.
Employee Attrition Rate Calculator
No. of employees left during a period
Employee Count at the end of the period
Employee Attrition Rate :

%
Employee Attrition Report is a ready-to-use template in Excel, Google Sheets, Apple Numbers, and OpenOffice Calc to calculate Employee Attrition Rate.
HR professionals prepare the Attrition report monthly or yearly to monitor and rectify the causes of attritions in the organizations.
What is Attrition?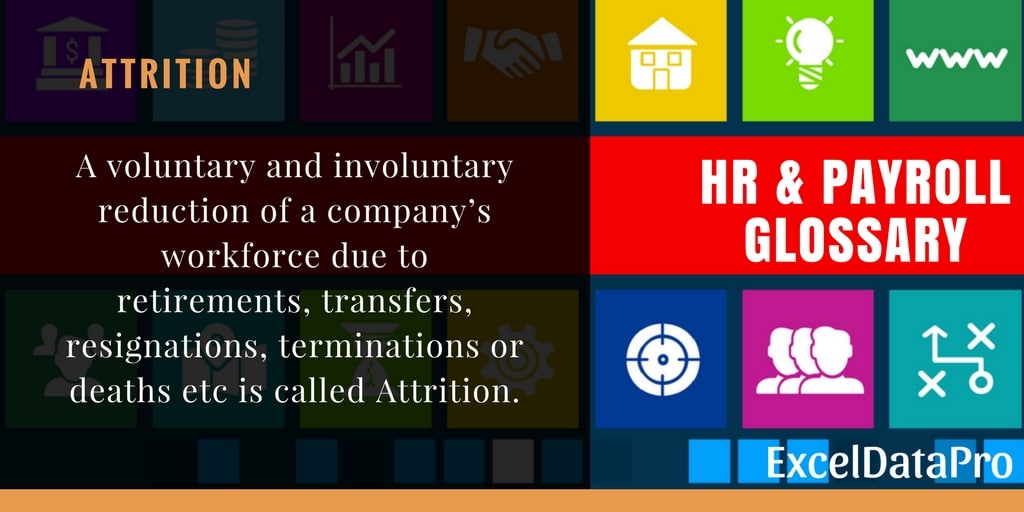 In other words, attrition is defined as a voluntary and involuntary reduction of a company's workforce. This reduction is due to retirements, transfers, resignations, terminations, or deaths.
Types of Attrition
There are 4 types of attrition which are as follows:
Voluntary Attrition
Voluntary Attrition means employees willingly leaving the company due to personal or professional reasons. It is one of the most common types of attrition. Voluntary attrition includes leaving jobs for better prospects, retirement, or relocation.
Involuntary Attrition
Involuntary Attrition is when an employer initiates the termination of employees for misconduct, merger, or acquisitions. Often structural changes or production line changes also initiate involuntary attrition. Even economic slowdown is also a cause of involuntary attrition.
Internal Attrition
The movement of employees from one department to another refers to internal attrition. This includes moving of employees within the company for growth. It includes moving of employees to higher designations or other departments that fit their talent.
Demographic Attrition
Demographic Attrition refers to the loss of a specific group of employees.  This includes specific age, sex, ethnic minorities, people with disabilities, veterans, or older professionals. The cause of such attrition is due to bad work culture or structural changes in the organization.
What is Attrition Rate and How To Calculate The Attrition Rate?
The attrition rate means calculating the proportion of employees leaving an organization over a specific period. A normal rate of attrition is expected in normal business operations.
But a high rate of attrition leads to many problems and a lack of workforce. HR professionals design and implement company compensation programs and motivation systems.
This helps them to keep the employees happy and attrition rates low. Keeping the attrition rates as low as possible helps to save money.
You can save money that is to be spent on advertising for hiring, training, and completing paperwork for new employees.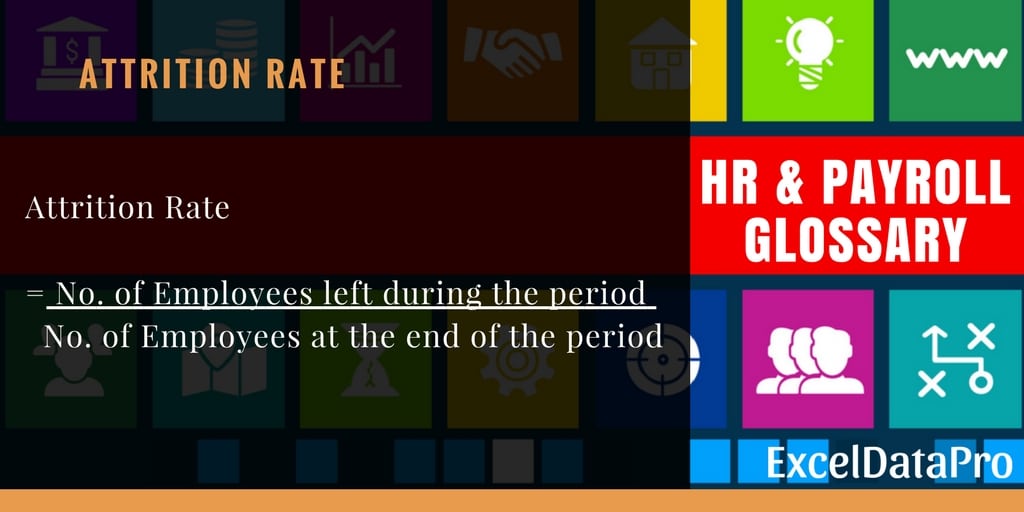 Monthly Employee Attrition Report Template
We have created a Monthly Employee Attrition Report Template with predefined formulas. Just enter the number of employees leaving and joining the organization in the respective cells. The template automatically calculates the attrition rate for you.
With this template, you can easily monitor the monthly attrition rate of your organization and take relevant measures to decrease them.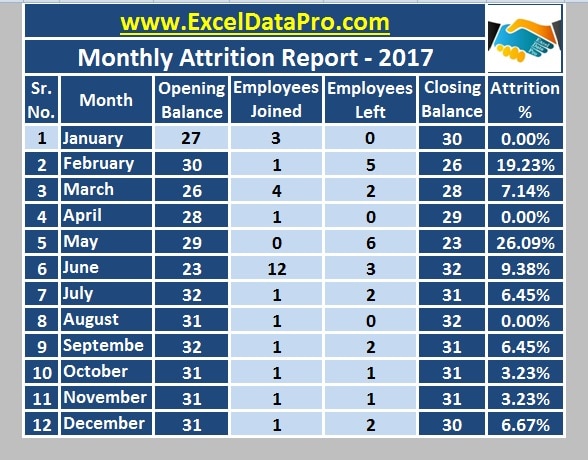 Excel Google Sheets Open Office Calc Apple Numbers
Click here to Download All HR Metrics Excel Templates for ₹299.
Important Note: To edit and customize the Google Sheet, save the file on your Google Drive by using the "Make a Copy" option from the File menu.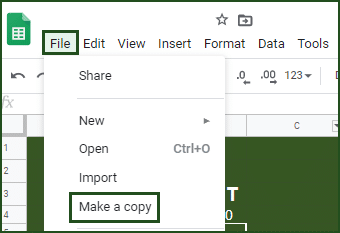 Additionally, you can download HR Metrics Templates like New Hire Turnover Rate Calculator, Retention Rate Calculator, and Turnover Cost Calculator from here.
Let us discuss the contents of the template in detail.
Contents of the Employee Attrition Report Template
This template consists just of 2 sections: Header Section and Data Input Section.
Header Section
The header section consists of the company name, company logo, and heading of the sheet "Monthly Attrition Report – 2017".

Data Input Section
Data Input Section consists of the following subheadings:
Sr. No.: Enter Serial Number. Just enter number "1" in the light blue colored cell. It will automatically display the following numbers as per the formula =1+B4 and so on.
Month: Name of Month from January till December.
Opening Balance: Opening balance of the employee count at the start of January. You just need to enter the opening balance of the first month. Later months automatically display balance according to the formula.
Opening Balance of current month = Closing Balance of previous Month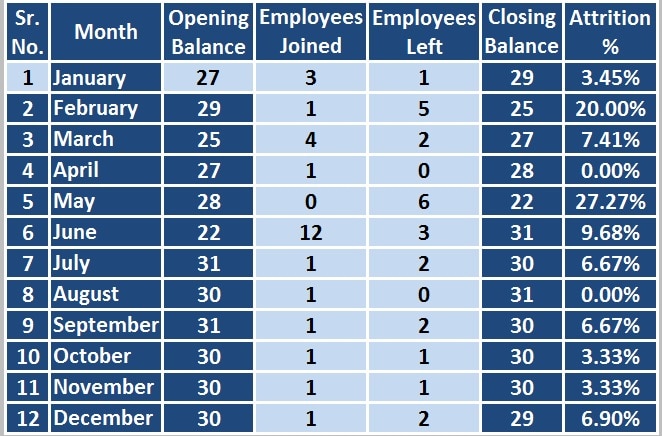 Employee Joined: Here you need to enter the number of employees joined in the respective month.
Employees Left: Here you need to enter the number of employees left in the respective month.
Closing Balance: The template displays the current headcount of the employees at the end of each month.
Closing Balance = Opening Balance + Employees Joined – Employees Left.
The formula applied here is =IF(E4="","",D4+E4-F4).
Attrition %: Attrition rate shows the proportion of employees left during the respective month.
Attrition Rate = No. of employees left / Closing Balance of Employee Count
The formula applied here is =IF(G4="","",F4/G4).
To calculate the yearly attrition rate following formula will be applied:
Total Employees left during the year / Total number of employees working X 100.
Causes of Attrition
Lack of growth opportunities.
Lack of appreciation.
Non-cooperative team members.
Long working hours.
Health and Aging problems
Inability to handle the extensive pressure from management.
Motherhood for female employees.
Employees pursuing Higher Studies.
Employees starting their own business etc.
Generally, most of the employees leave within the first two years of tenure.
An employee considers many aspects while working for a company. For example, the company's goodwill, perfect pay structure, future growth, working environment, colleagues and future stability, etc.
According to a survey, 70% of the working class in India is unhappy. Thus there is a higher rate of attrition in India due to either one of the reasons mentioned above.
5 Ways To Reduce The Attrition Rate
HR professionals design and implement company compensation programs. They also organize motivation systems to keep the employees happy. This helps to prevent them from leaving the company.
Higher the number of employees leaving the company means higher costs to the company.  These expenses include recruitments, hiring processes, training of employees and paperwork, etc.
Currently, it is one of the critical problems faced by HR managers. Here are five ways that an help you reduce the attrition rate:
Defining and articulating your purpose to your employees can help you reduce attrition. When your employees know what drives the business, it builds commitment and dedication in them.
Optimizing the recruiting process can help a lot in reducing attrition. A talent match is necessary as it saves the company from a lot of unnecessary expenses.
Benefits other than salary play an important role in attrition. Often employees will accept a lower salary package with more additional benefits. Meeting the needs of your employees beyond the office can help us reduce attrition.
A cooperative work atmosphere or workspace culture can also help to reduce attrition. Employees tend to stay longer in companies where they have mental peace.
We thank our readers for liking, sharing, and following us on different social media platforms.
If you have any queries please share in the comment section below. I will be more than happy to assist you.
Frequently Asked Questions
Does an inaccurate job profile contribute to attrition rates?
Yes, an inaccurate job profile contributes to attrition rates. Thus, failing to construct a proper hiring profile, it disappoints the qualified candidates.
What is Poaching and how it affects the attrition rate?
Poaching means to pull talented and performing employees of your competitor. Usually, talented employees are prone to pull a lot of attention. Other companies approach performing employees with attractive offers of salary and benefits. Thus, poaching causes a loss of employees resulting in higher rates of attrition.
How enhancing training programs can help reduce attrition?
The training period enhances team collaboration and bonding between employees. It makes them feel a part of something big and thus, helps to retain employees.
How flexibility of work timing help to lower attrition?
Generally, employees the rigidness of the schedule makes the employee missing important social and personal events. Over time, this results in lower job satisfaction.