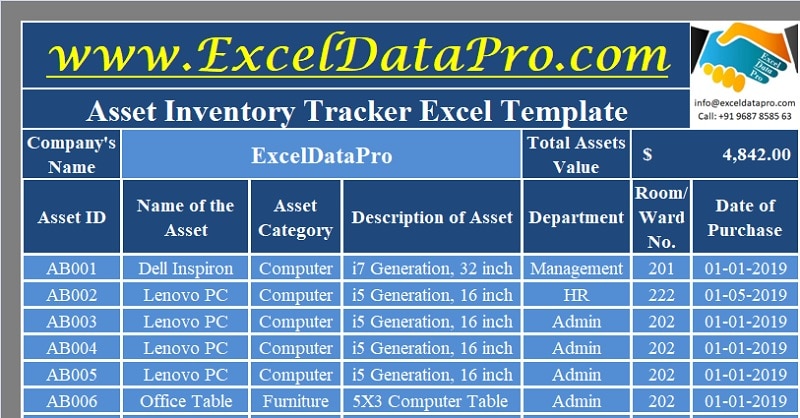 Asset Inventory Tracker is a ready-to-use excel template that helps you to manage records and track your personal or company's assets.
You can record more than 500 assets in one sheet. Additionally, It also displays the total value of your asset at any given point.
Moreover, you can find relevant details of each asset by using the quick asset tracker. Just insert the asset id and it will display all details related to that asset.
Asset management is different from stock inventory. The basic difference between them is one is used to do business and other assists in the smooth running of the business.
Asset Inventory Tracker Excel Template
We have created a simple and easy Asset inventory and tracker with predefined formulas and formatting that helps you to record more than 500 personal/company assets.
Furthermore, it also consists of a Quick Asset Tracker, where you can search for details of any asset by search the asset by its unique ID.
Click here to download the Asset Inventory Tracker Excel Template.
You can also download the Inventory Control Register and School Assets Inventory and Issuance Register. Many more templates are given on the left side of the article.
Now let us discuss the contents of this template and how to use it.
Contents of Asset Inventory Tracker Excel Template
This template consists of 2 sheets:
Asset Inventory
Quick Asset Tracker
Asset Inventory
In this sheet, you need to record each asset of your company with all relevant detail. It is designed in such a way that you can record all the minute details of the asset.
Personal assets include extra house, commercial properties, personal equipment, etc. Whereas, company asset includes all the assets purchased for running an organization. It includes office furniture, computers, routers, godowns, office vehicles, etc.

At the top, insert your company's/individual's name. Just beside this, there is total asset value. As you make an entry in the inventory sheet along with its price detail it will update the amount in this cell.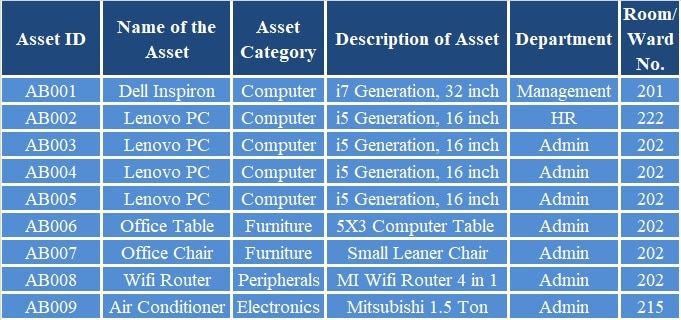 This sheet consists of the following columns:
Asset ID
Name of Asset
Asset Category
Description of Asset
Department
Room/Ward No.
Date of Purchase
Seller's/Supplier's Name
Guarantee (in Months)
Warranty (In Months)
Purchase Price
Installation Charges (if applicable)
Total Cost of Asset
Model No.
Serial No
Remarks

Insert relevant details applicable to your asset in the above-mentioned heads. Add assets as and when you purchase the asset and don't forget to remove when you discard.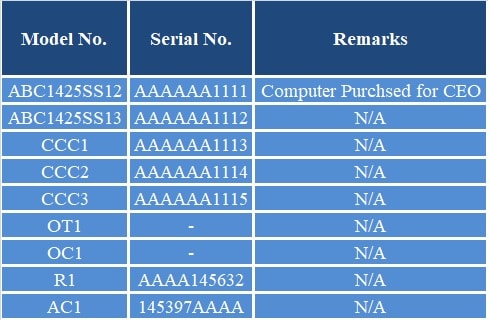 Quick Asset Tracker
Once you have a lot of assets it is hard to scroll through the sheet and look for the relevant details. To simplify this we have created the quick asset tracker where you can simply find details of assets in just seconds.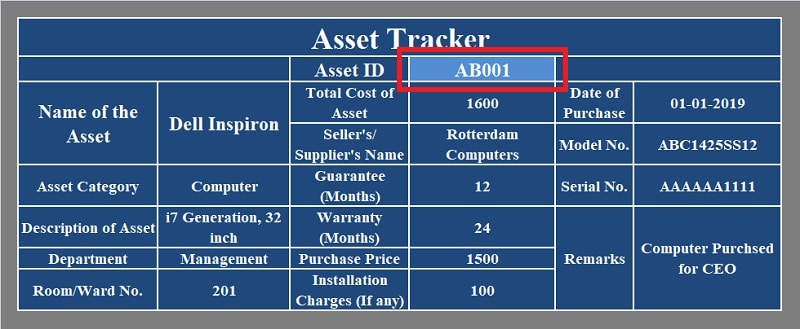 In the previous sheet, each asset is given a unique ID. All you have to do is to enter the asset ID and click enter. It will automatically fetch all the details of that particular asset using the VLOOKUP Function.
That's it.
Asset Management Tips
Here some tips that can be helpful in effective asset management:
Define any and all assets. Keep a record of all assets along with their prices.
Set up a proper process for acquiring new assets.
Don't buy whatever is requested. Check thoroughly the need and then buy.
Before importing data from other systems, be careful and always recheck.
Design a loss prevention plan for your assets. The need of every business is different. Make sure it suits your operations.
Make decisions maximizing your ROI.
Develop a smart and consistent auditing plan for the least expected scenarios.
Share your management strategy across all departments.
Diversify your SKU attributes.
Provide adequate systems training to staff for proper and maximum utilization of your equipment and to save unnecessary damages.
We thank our readers for liking, sharing and following us on different social media platforms.
If you have any queries please share in the comment section below. We will be more than happy to assist you.