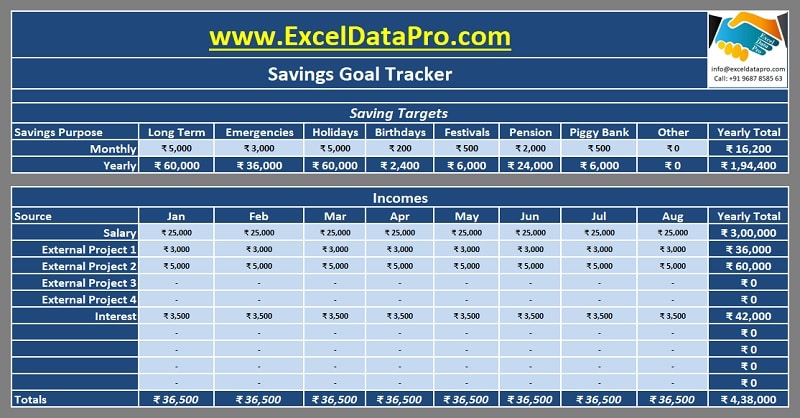 Savings Goal Tracker is a ready-to-use Excel Template that helps you to plan your savings of multiple purposes based on your income sources and expenses.
Additionally, it helps you to plan a monthly amount to spare for multiple purposes. It also helps you to keep a track of the amounts deposited for each purpose every month.
Furthermore, it also displays the difference between your income and expense and the deficit amount to fulfill your savings goals.
Why Saving is Important?
First and Foremost, to become financially independent.
Acquire assets or pay for the mortgage.
Get out of debt.
Prepare for unforeseen expenses.
Raise your life standard.
Plan a well-funded vacation.
Prepare for Retirement or early retirement.
Develop new skills or fund your higher education.
Buying equipment for business.
Startup a business.
Tips to Save More Out of Your Hard Earned Money
Become financially literate.
Frame your financial goals.
Make a budget and plan your savings.
Make efforts to increase your earnings.
Avoid Debt Traps.
Limit or avoid using Credit Card unnecessarily.
Buy what you need and not what you desire.
Invest in skills and education.
Try to make wealth rather than income.
Savings Goal Tracker Excel Template
We have created a simple and easy Saving Goal Tracker Template to manage your income-expenses, plan your savings goals and track the progress of your saving goals.
Click here to download Savings Goal Tracker Excel Template.
Click here to Download All Personal Finance Excel Templates for ₹299.
You can download other financial analysis templates like Credit Card Payoff Calculator, Savings Goal Tracker, Income Tax Calculator FY 2018-19 and Loan Amortization Template.
Let us discuss the contents of the template in detail.
Contents of Saving Goal Tracker Excel Template
This template consists of  sections:
Saving Planner
Income Register
Expense Register
Actual Savings Register
Saving Tracker Chart
Savings Planner
The saving planner consists of the purpose of savings such as long term, holidays, mortgage, purchase of a car, motorbike, etc. You can plan a monthly amount for each purpose and a yearly average of savings that you want to make.
Insert the desired amount against the respected column.

It is better to save first and then spend what is left behind rather than saving what is left behind after spending. SO plan your savings first.
There are two columns for each head; one is monthly and another is yearly. You need to only enter the monthly amount and it will automatically multiply it with 12 for getting the yearly amount.
Income Register
In this section, insert the income from all sources such as salary, external projects, interest income, rent, etc.
Insert every amount month-wise from Jan to Dec. Insert or change the heads according to your needs.

In the end, the monthly totals and line total are given for your ready reference.
Expense Register
The expense register records your monthly expenses of each month. This helps you to keep an eye on your expenses and further helps you to curb the unnecessary expenses.

You have to record each expense made by you during the month. It includes grocery, fuel, utility bills, telephone, EMI's, credit card payments, etc.
Lastly, a row displaying the difference amount is given. It displays the difference between income and expenses. As you can see in the image, the first month shows the amount in red.

It means that month you have spent more than your income. There will be no money to save. Usually, this does not happen, but just given for an example.
Saving Goal Tracker
After planning, earning and spending, its time to save. So, execute the plan that you made.
Important Note: Make sure you spend in limit so that you have enough money to save for your goals. It is recommended that this step should be taken before spending.
Disburse the amount to respective accounts so that you can have a check anytime you want. Soon after the disbursement, record them in this section.

Saving Goal Tracker Charts
We have created a column graph that will display the progress of your savings goal. It display the amount each of your saving goals has reached in graphical form.

This savings goal tracker will help you easily plan your savings, make you debt-free and give you financial freedom.
We thank our readers for liking, sharing and following us on different social media platforms.
If you have any queries please share in the comment section below. We will be more than happy to assist you.