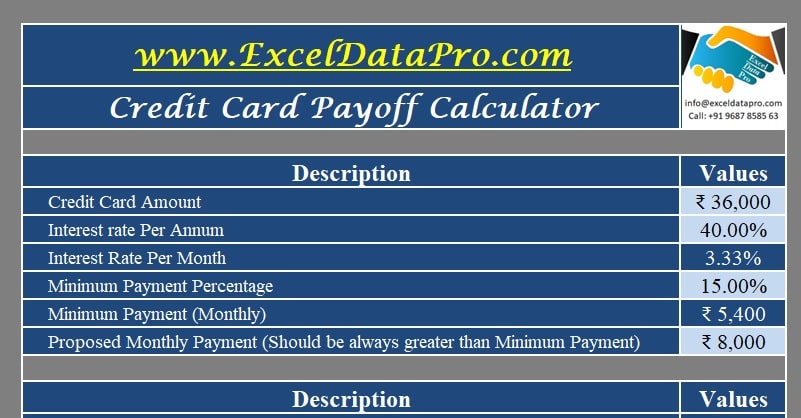 Credit Card Payoff Calculator is an excel template that helps you calculate the number of installments to pay off your credit card outstanding amount.
In addition to the above, it also calculates payments based on two types of payment modes. One is minimum balance payment and the other is the proposed payment.
Furthermore, it calculates the difference of interest that you will pay in each mode.
Lastly, it also consists of Credit Card Payment Log for a whole year that you can use to manage details of payments and other relevant details.
How to Easily Pay Your Credit Card Debt?
Follow these simple and easy tactics to avoid or pay off your credit card debt:
Use a credit card when necessary.
Plan your spendings. Spend on Credit Card that you can pay off in full.
Only use credit cards that have the least interest rates.
Spend on things that are necessary and not what you want.
For multiple cards, make minimum payments regularly.
Make a payment plan and stick to it.
Plan your spends so as to pay off your outstandings.
Use the Avalanche Method or the Snowball method that is convenient for you to pay off the amount.
Use the Balance Transfer Card to save on interest.
Read the below guide to managing your credit card efficiently
How To Manage Your Credit Card Efficiently?
Credit Card Payoff Calculator Excel Template
We have created a simple and easy Credit Card Payoff Calculator Excel Template that helps you calculate the duration of payoff and also the interest amount to be paid against each payment mode.
Click here to download Credit Card Payoff Calculator Excel Template.
Click here to Download All Personal Finance Excel Templates for ₹299.
You can download other templates like Savings Goal Tracker, Income Tax Calculator FY 2018-19 and Loan Amortization Template.
Contents of Credit Card Payoff Calculator Excel Template
This template consists of 2 sheets:
Credit Card Payoff Calculator.
CC Payment Log.
Credit Card Payoff Calculator
This template consists helps you calculate months to pay off your debt based on the mode you choose for payment.
Ideally, there are 3 ways to make payments:
By paying the minimum amount.
By paying a proposed amount above the minimum.
Full Payment.
Paying the minimum amount will give elongate the tenure and interest payments will be higher.
Whereas paying a proposed amount higher than the minimum will decrease the interest and also the tenure.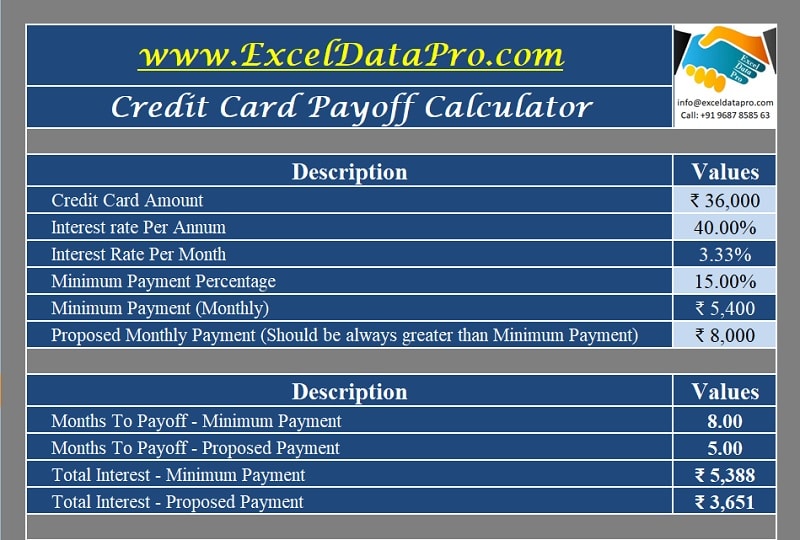 You need to enter the following details:
Credit Crat Amount
Interest Rate Per Annum
Monthly Minimum Percentage
Proposed Monthly Payment
Important Note: The proposed monthly payment should always be higher than the minimum amount.
When you enter the above figures, the template automatically calculates the following:
Interest Rate Per Month
Monthly Minimum Payments
Months To Payoff – Minimum Payment
Months To Payoff – Proposed Payment
Total Interest – Minimum Payment
Total Interest – Proposed Payment
Additionally, the template displays the above data in graphical format.
Payoff Months Graph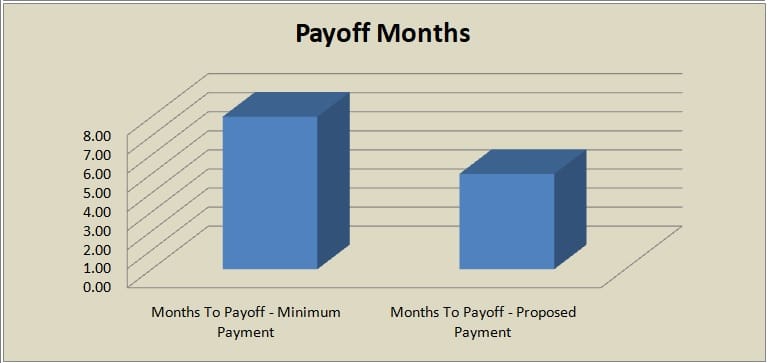 Interest Payable Graph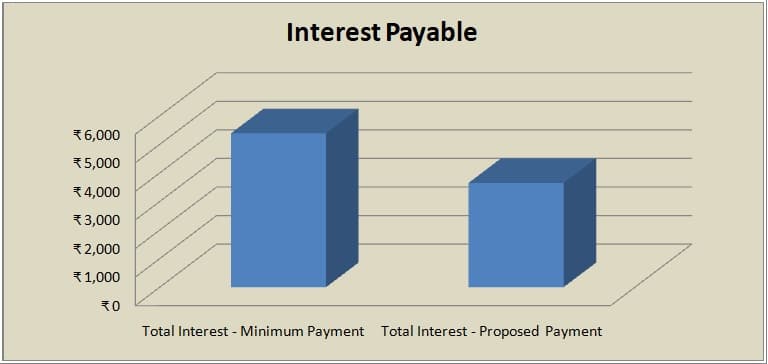 CC Payment Log
The credit card payment log manages the data of payment, usage, and interest for a whole year.
Initially, you need to enter the Per annum interest rates, monthly interest rates, Minimum payable percentage, total card limit and interest on cash advances.
Furthermore, it consists of the following column heads:
CC Balance: Enter the amount against the month you want to start for. You need to enter only the first one. Rest it will carry forward according to the usage and interest calculations.
Minimum Due: This field is auto-populated according to the percentage we insert in the top row.
Due Date: Date on which the payment is due.
Payments: Actual payments made.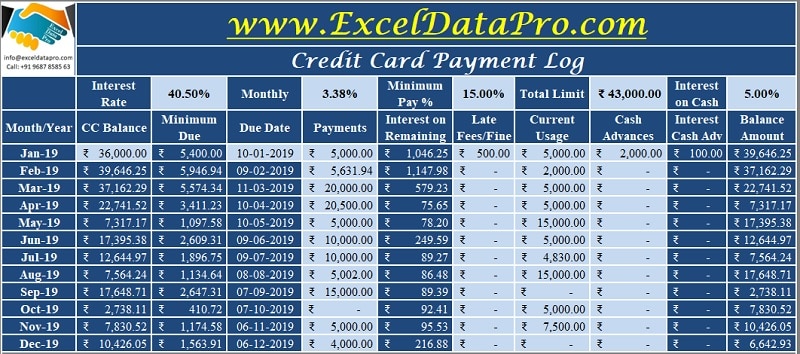 Interest on the remaining Amount: The template auto-populates this field.
Late Fees/Fines: Enter fines and late fees if any.
Current Usage: Usage of the current month of the credit card.
Cash Advance: Insert amount if withdrawn any cash advances.
Interest on Cash Advances: Interest on cash advances is auto calculated according to the percentage provided.
Balance Amount: This field is auto-calculated. It is the sum of all the amounts used and pending from the payments.
Balance = Outstanding – Payments + Interest on Remaining + Late Fees/Fines + Current Usage + Cash Advances + Interest on Cash Adv. 
In the end, it also displays the graphical chart of your payments and your payable credit card balances.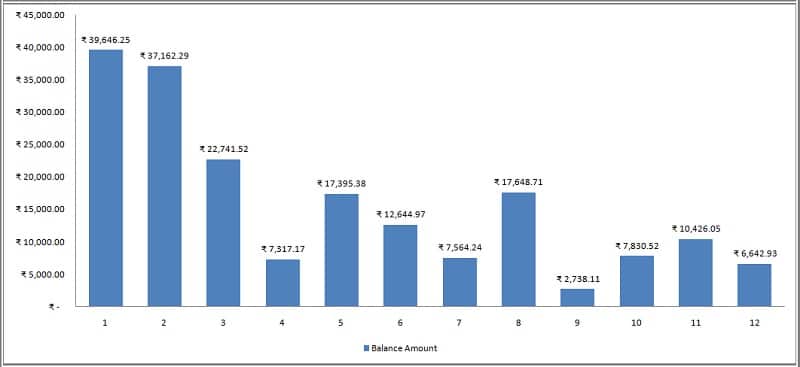 This template can be helpful to individuals, companies, credit managers and other relevant professionals.
We thank our readers for liking, sharing and following us on different social media platforms.
If you have any queries please share in the comment section below. We will be more than happy to assist you.