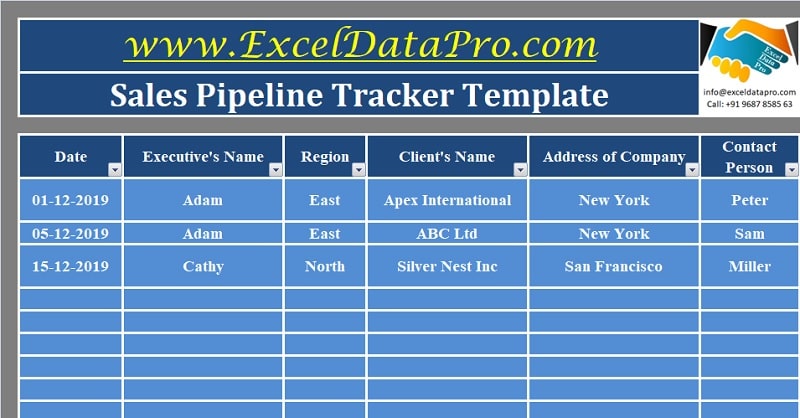 Sales Pipeline Tracker is a ready-to-use excel template that helps you track probable sales estimates from the customers/clients in the pipeline.
Additionally, you can generate multiple reports based on different criteria like probability, client, sales volume, etc.
Moreover, management can use this template to scrutinize and prioritize sales opportunities reviewing these reports.
Pipeline Sales Management helps to forecasts sales based on the probability of finalizing each sales calls. It also provides an eagle-eye view of the sales activity and their performance.
Sales Pipeline Tracker Excel Template
We have created a simple and easy Sales Pipeline Tracker Excel Template with predefined formulas and formating.
Furthermore, you can define priority, probability and projected closing date, and further actions. You can forecast sales projections record details and status of the deal.
Click here to download Sales Pipeline Tracker Excel Template.
Click here to Download All Sales and Marketing Excel Templates for Rs 199.
Additionally, you can download other sales templates like Sales Performance Evaluation Template, Sales Campaign Planner, Sales Lead Follow-up Planner, Online Sales Tracker, Daily Sales Report, Sales Revenue Analysis, Consolidated Annual Sales Report and much more from our website.
Let us understand the contents of the template and how to use this.
Contents of Sales Pipeline Tracker Excel Template
This template consists of 3 sheets: Sales Pipeline Tracker, Printable Sales Pipeline Tracker, and Salesperson List.
Salesperson List
Insert names of the salesperson in your sales team and their applicable region. The template prepares a dropdown list from these names in the Sales Pipeline Tracker Sheet.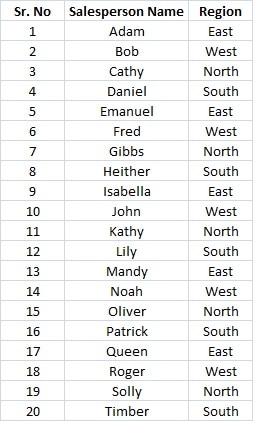 Pipeline Tracker

You can micro-manage data about the sales in your pipeline with this sheet. This sheet consists of the following columns:
Date: Current date.
Executive Name: Select the name of the executive from the dropdown list.
Region: This section auto-populates the region as defined in the salesperson list. It uses the VLOOKUP function in excel.
Client's Name: Enter the name of the probable sales client.
Company Address: Insert address details.
Contact Person: Enter the name of the contact person in that organization.

Designation: Enter the designation of the contact person with whom the sales deal is discussed.
Contact No: Insert contact number of the concerned authority.
Anticipated Sales Volume: Enter the projected/anticipated sales volume from the client.
Pipeline Stage: Insert the stage on which the discussion is taking place with the concerned authority. Example: rate negotiation or product demo.
Client Concerns: Insert the concerns from the client related to the product.
Anticipated Closing Date: Enter a proposed date of closing.
Priority: Enter the priority of the deal. Define a range from 1-5 or 1-10. Where 1 is most important and 5 or 10 are least important.
Sales Probability: Insert the probability of sales in terms of percentage that is how likely the deal is going to close.
Status: Final status of the deal during that month.
Your Sales Pipeline Tracker is ready. You can generate reports depending on multiple criteria such as client-wise, probability-wise,  priority-wise, etc.
All the headings in this sheet consist of filter tables. Select your desired criteria and you can generate reports in just a few clicks.
Printable Tracker
The printable sheet is the replica of the Sales Pipeline Tracker. This is sheet auto-populates according to the data entered in the previous sheet. It saves money in printing as it is in greyscale.

You can print and use this sheet as a printable format and give the sheets to your salesperson who can make the manual entry.
To do so, create a copy of the sheet and delete data in all columns. Set the print area and then print the sheet in landscape mode.
Click here to download Blank Printable Pipeline Tracker.
This sheet can be useful to sales managers, sales executives and team leaders to manage and track their pipeline sales.
We thank our readers for liking, sharing and following us on different social media platforms.
If you have any queries please share in the comment section below. We will be more than happy to assist you.