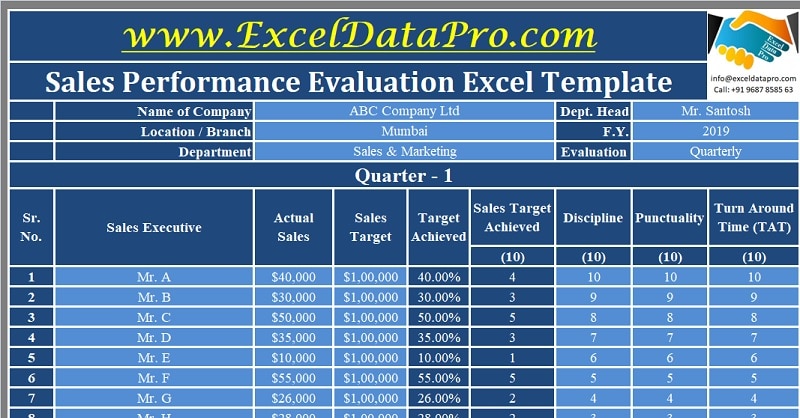 Sales Performance Evaluation Template is a ready-to-use excel template that helps you evaluate the sales activity of your sales team. You can evaluate on a monthly, quarterly, half-yearly and yearly.
Insert the sales figures for each sales executive and give a rating from 1-10 for each attribute.  The template automatically evaluates the sales performance in percentage and provides ranks to each employee as per their performance.
Such evaluations can help the team to stay motivated and disciplined. Moreover, it helps to identify low performers and make plans for the training.
Sales Performance Evaluation Excel Template
We have created a simple and easy Sales Performace Evaluation Excel Template with predefined formulas and ranking system.
Just enter the sales, targets, and points according to the sales executive's performance and it will automatically prepare the report for you.
Click here to download the Sales Performance Evaluation Excel Template.
Click here to Download All Sales & Marketing Excel Templates for ₹299.
Additionally, you can download other sales templates like Sales Campaign Planner, Sales Lead Follow-up Planner, Online Sales Tracker, Daily Sales Report, Sales Revenue Analysis, Consolidated Annual Sales Report and much more from our website.
Let us understand the contents of this template in detail and how you can efficiently use this template.
Contents of Sales Performance Evaluation Excel Template
Enter the company name, location or branch name, Department, name of department head, Year and Evaluation duration. Select the evaluation duration from the dropdown list.

This template consists of 2 sheets; Sales Performance Evaluation Sheet and Quarterly Charts Sheet.
Sales Performance Evaluation Sheet
In this section, insert the sales figures of individual sales executives against the given target. Allocate points for the attributes. That's it and you are done.
We have created this template for a quarterly basis as it is mostly done in marketing industries. You can do this on a monthly, half-yearly or yearly basis. You can also use this sheet for a team-wise evaluation.
For monthly you need to copy the format for months. Change the headings accordingly. Hal-yearly and yearly can be done using the same sheet, you just need to change the heading as per your needs.
This sheet consists of two sections; the Sales Data Section and Evaluation Section.
Sales Data Section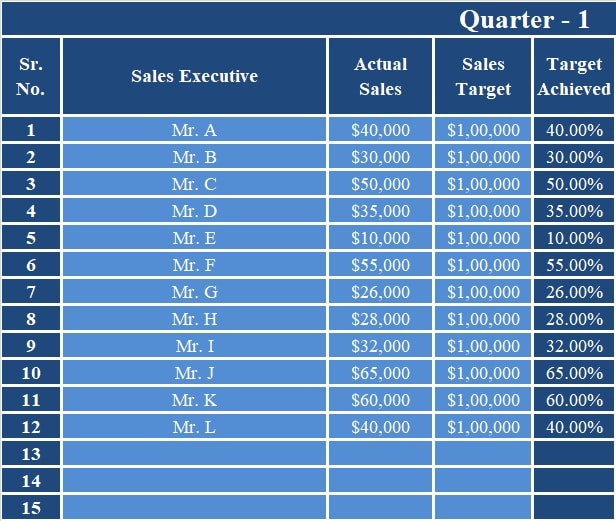 Sales Data section consists of the following columns for each quarter:
Sr. No: Serial number
Sales Executive: Name of sales executive/team member.
Actual Sales: The sales made by the respective salesperson in terms of dollars during that specific period.
Sales Target: Target issued by the team leader to each salesperson.
Target Achieved: Target achieved in terms of percentage.
Evaluation Section

The evaluation section consists of 10 attributes for evaluation. Enter points between 1 -10 where 10 is the most satisfactory.
It consists of the following columns for each quarter:
Sales Target Achieved: THis section is auto calculated depending on the target achieved percentage. For each 10 percent, there is one point. Thus, 100% or above gets 10 points, 90-99 gets 9 points and so on.
Allocate points from 1-10 for each of the below attributes where 10 is most satisfactory.
Discipline
Punctuality
Turn Around Time (TAT)
Team Work Participation
Work Efficiency
Work Accuracy
Constructive Initiatives
Interpersonal Abilities
Time Management
The grand total column displays the total of all points.
Lastly, the rank column displays the ranks based on the grand total of each sales rep.
The sheet consists of similar columns for the remaining 3 quarters with similar functionality.
Quarterly Charts
The chart sheet consists of charts for each quarter displaying the sales performance of your sales team.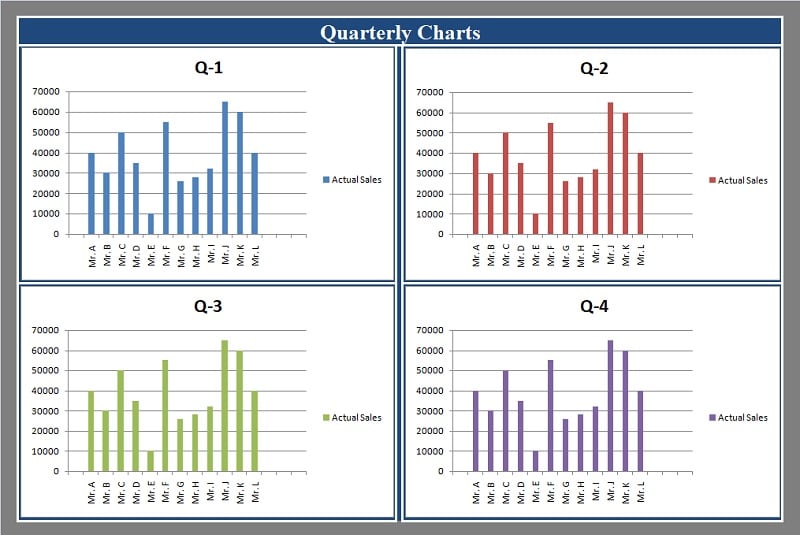 Thus, this template can be a useful resource for performance evaluation for team leaders, sales managers, and SME owners.
We thank our readers for liking, sharing and following us on different social media platforms.
If you have any queries please share in the comment section below. We will be more than happy to assist you.