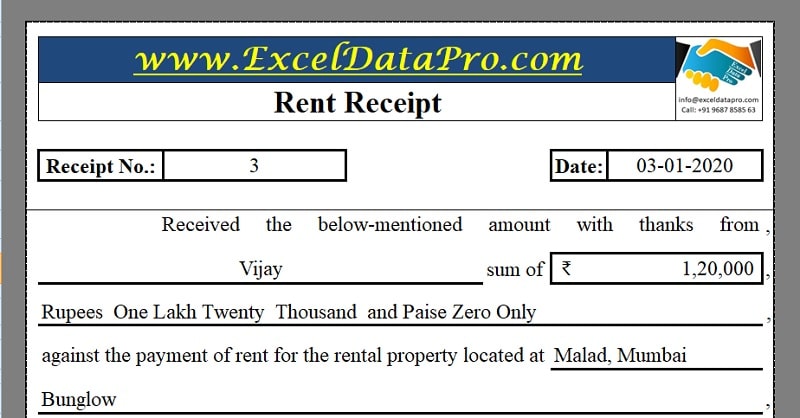 Rent Receipt Template is a ready-to-use excel template to issue a receipt of rent collected from the tenant and maintain the record of the same.
In addition to the above, it also consists of a Tenant Ledger where you can record the incoming rent along with each tenant detail and particulars of the payments.
Furthermore, it consists of a printable version that you can print and use for issuing a receipt for the rent received.
Usually, real estate agents and individuals who have multiple properties to maintain and manage have to keep a record of everything.
When it comes to micromanaging these details, it becomes tough. Many times rents have been paid but not accounted for. Sometimes some fraud happens then these receipts can be useful for both tenants and landlords.
To avoid discrepancy it is always advisable to demand or issue a receipt. This template can be useful to real estate agents, property investors, and real estate companies.
Rent Receipt Excel Template
We have created a simple and easy Rent Receipt Excel Template with predefined formulas and formats. Print and issue your receipt in less than a minute.
Insert the details of rent received along with payment details. Go to the receipt template. Type in the receipt number and it is ready to print.
Click here to download Rent Receipt Excel Template.
Click here to Download All Personal Finance Excel Templates for ₹299.
In addition to the above, you can also download other personal finance templates like Investment Tracker With ROI, Savings Goal Tracker, Household Budget, Credit Card Payoff Calculator and Personal Income Expense Tracker from our website.
Let us discuss the contents of this template and how to use it.
Contents of Rent Receipt Excel Template
This template consists of 3 sheets: Tenant Ledger, Rent Receipt and Printable Rent Receipt.
Tenant Ledger
At the top, insert the name of the landlord and his PAN No. or TAX number.

This is the main sheet of all three sheets in this template. This sheet consists of 3 sections: property details, tenant details, and receiver's details.
Property detail section consists of the following heads:
Receipt No: This cell consists of a predefined custom format. As you insert 1 it displays along with predefined prefix.
Date of Receipt: Insert the date on which you receive the payment.
Property No: Property id.
Property Address Line 1 & 2: Property Address.
Type: Property Type (Godown, factory, Row House, Shop, Bungalow).

Tenant & Rent details section consists of the following:
Monthly Rent: Insert the rent per month for the respective property.
Tenant' Name: Name of the Tenant.
Rent From and To: Enter the dates of the months for which the tenant pays.
No. of Months: This cell is auto-populated and counts the number of months automatically.
Total Rent: This cell is also auto-populated and displays the total rent for the applicable months.
Rent Received: Enter the amount received from the tenant. Sometimes they pay less or more hence enter the amount manually.
Balance Amount: This cell displays the balance amount. If it is less or more it will subtract and display the amount in this cell. If it is 0 then it will display NIL.
Mode of Payment: Insert mode of payment. ( Cash, Cheque, Demand Draft, NEFT, IMPS, UPI, etc.
Cheque/DD/UTR/Transaction No: Insert the cheque number, dd number or transaction id in this column.
Dated: This field is required mostly for Cheques and Demand Drafts. But you can enter the transaction details also for NEFT.

Receiver Details section consists of the following:
Receiver's Authority: Title of the receiver. It can be any of these; solicitor, landlord, manager, trustee, etc.
Receiver's Name: Enter name if and only if it is different from the landlord.
Payee's Name: This field is applicable only when the payee is other than the tenant himself. Insert their name.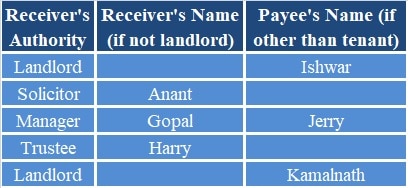 Rent Receipt
The rent receipt sheet requires only one entry. Insert the receipt number and it will automatically fetch the details from the tenant ledger.

That's it and your receipt is ready to print.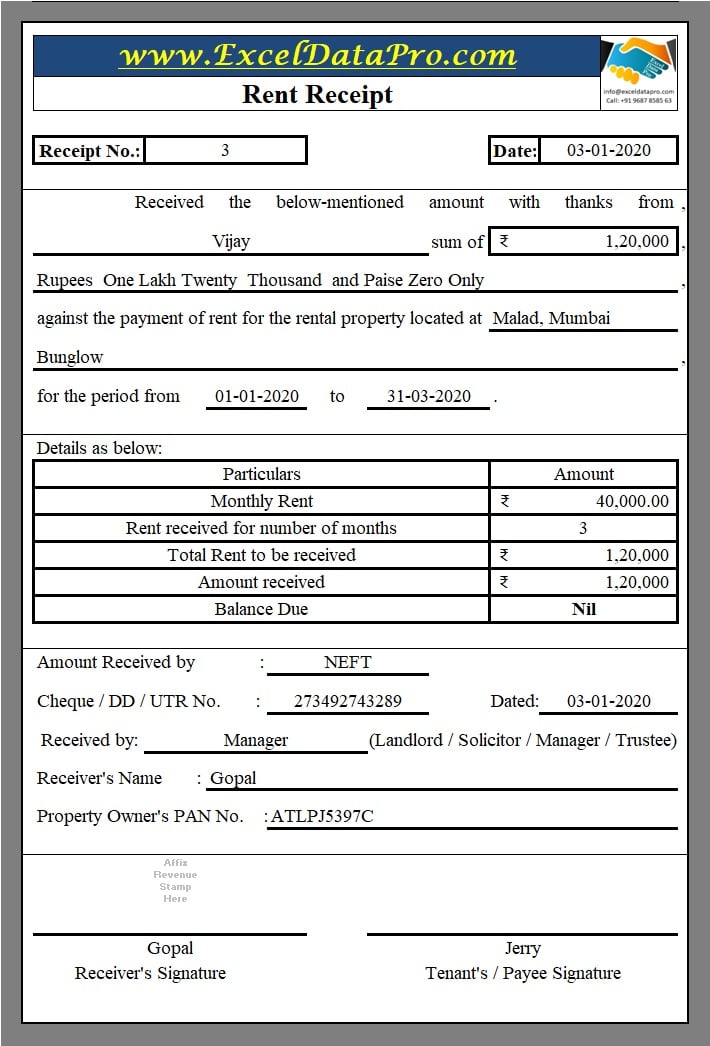 Printable Rent Receipt Format
This section is for those who want to issue handwritten receipts. Just change the company name and logo and print the file.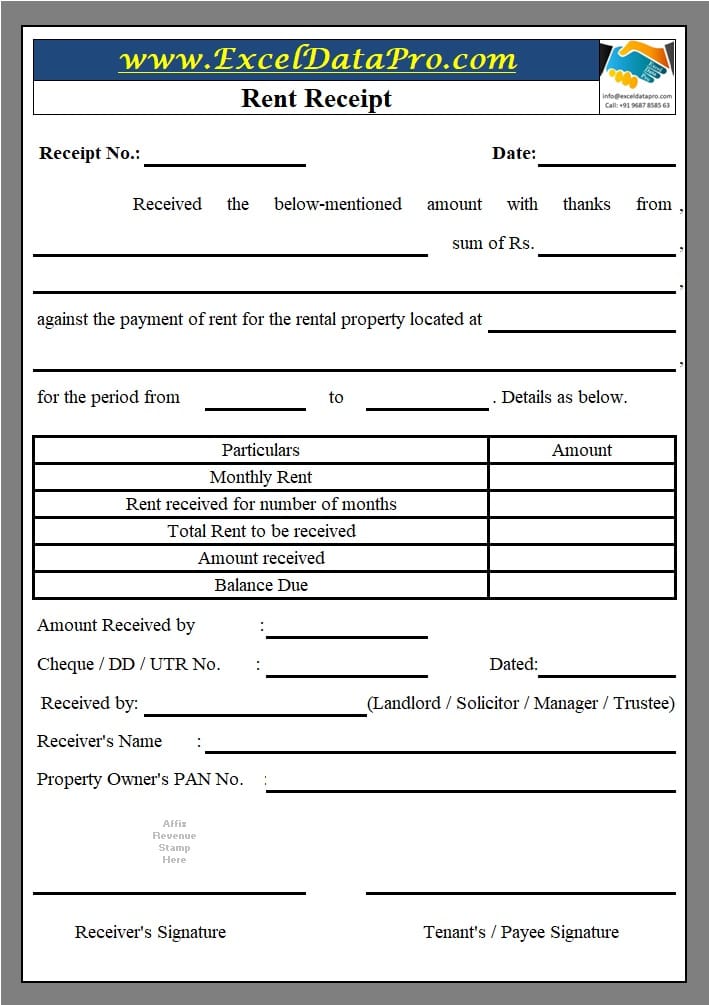 Insert data manually and give the receipt to your tenant.
Click here to download the Printable Rent Receipt Format.
We thank our readers for liking, sharing and following us on different social media platforms.
If you have any queries please share in the comment section below. We will be more than happy to assist you.