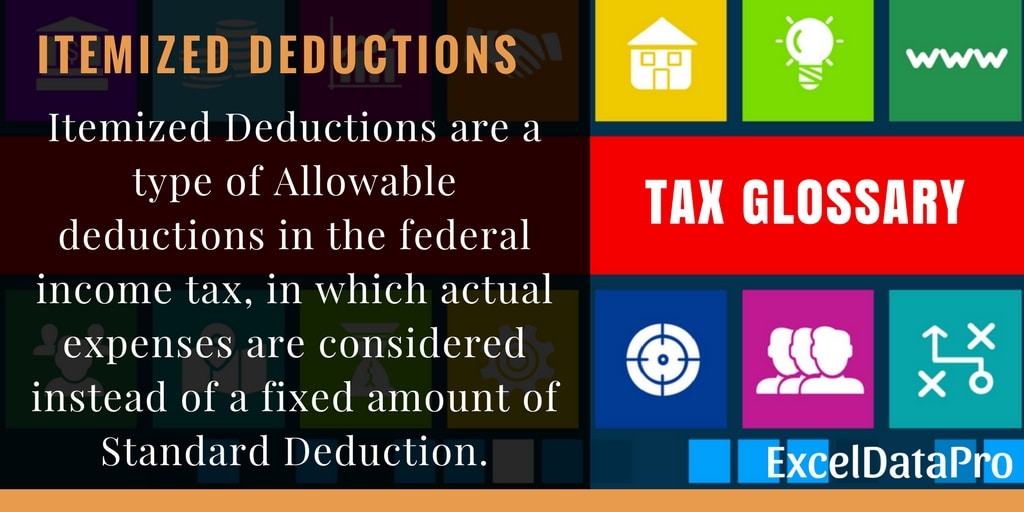 What are Itemized Deductions?
Itemized Deductions are a type of Allowable deductions in the federal income tax, in which actual expenses are considered instead of a fixed amount of Standard Deduction.
Taxpayers are allowed to choose any one type of allowable deductions in Form 1040 of Federal Income Tax.
They can either choose the amount of standard deduction fixed by IRS or choose to go for itemized deductions.
Which Expenses are claimable under Itemized Deduction?
Generally, some of the itemized deductions which a taxpayer can claim are in following categories:
Medical and Dental Expenses and some of the medical insurance premiums exceeding the 10% amount of your AGI
State and Local Income Taxes.
Stae and Local Sales Taxes.
Real Estate Property Taxes.
Personal Property Taxes. (eg. registration fees of a motor vehicle)
Home mortgage Interests.
Interest paid on Investments. (eg. margin interest)
Gifts to charities and Churches.
Donations in Cash to Charities and Churches.
Losses due to casualty or theft.
Non-reimbursed Employee expenses by your employer.
Fees paid for Tax Preparation.
Gambling Losses to the extent of gambling winnings.
What are the limitations of Itemized Deductions?
The Federal Tax Authority limits the itemized deductions when the AGI of a taxpayer exceeds a certain limit based on his filing status.
These limits are called Phase out limits for Taxpayers or Pease Limitations of Itemized Deduction.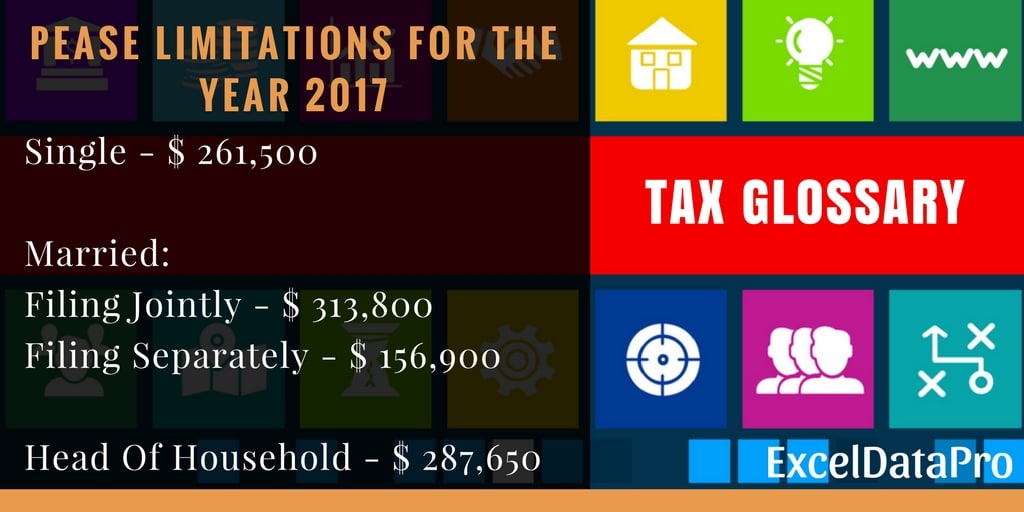 Pease Limitations for the year 2017
Single – $ 261,500
Married Filing Jointly – $ 313,800
Head Of Household – $ 287,650
Married Filing Separately – $ 156,900
Source: www.forbes.com
You can calculate your AGI with our Adjusted Gross Income Calculator.
You can also download other excel templates like Traditional IRA Calculator, Roth IRA Calculator and Income Statement Projection for easy calculations.
When to choose for Itemized Deduction?
When deciding to go for itemized deduction keep following points in mind:
Total of the all the itemized deductions is higher than the standard deduction limit. This will lower your taxable income and thus save you money.
The taxpayer must have proper documents to present as and when demanded to support your claim for that particular tax period.
When you are a victim of casualties like fire or a victim of federal disasters like flood or wind during the tax period.
High mortgage interest payments or real estate taxes on your home.
A tax advisor will be helpful to you while deciding to go for itemized deduction. They will calculate your taxes in both the ways and suggest you the best option to go for.
We thank our readers for liking, sharing and following us on different social media platforms.
If you have any queries please share in the comment section below. I will be more than happy to assist you.