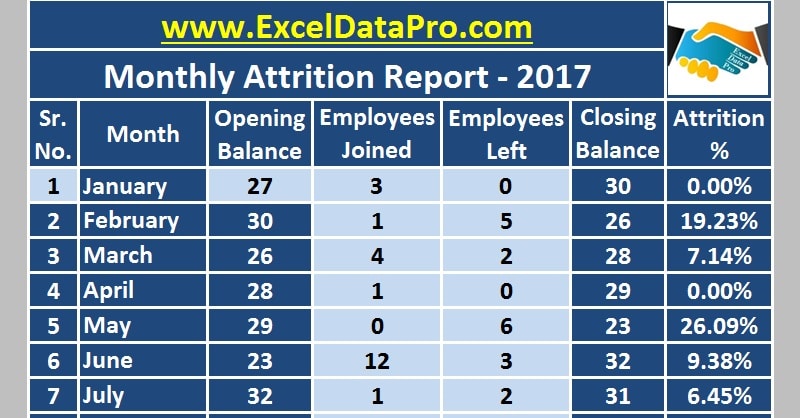 HR professionals prepare the Attrition report monthly or yearly to monitor and rectify the causes of attritions in the organizations.
What is Attrition?
Attrition means the reduction in the number of employees of an organization through resignation, retirement or death.
In other words, attrition is defined as a voluntary and involuntary reduction of a company's workforce due to retirements, transfers, resignations, terminations or deaths.
How to calculate Attrition Rate?
Attrition rate means to calculate the proportion of employees leaving from an organization over a specific period of time. It is also known as employee turnover rate.
A normal rate of attrition is expected in normal business operations. But a high rate of attrition leads to many problems and a lack of workforce.
HR professionals design and implement company compensation programs and motivation systems to keep the employees happy and attrition rates low.
Keeping the attrition rates as low as possible helps to save money. Money spent on advertising for hiring, training and completing paperwork for new employees is saved.
We have created an Excel template of Attrition Report with predefined formulas.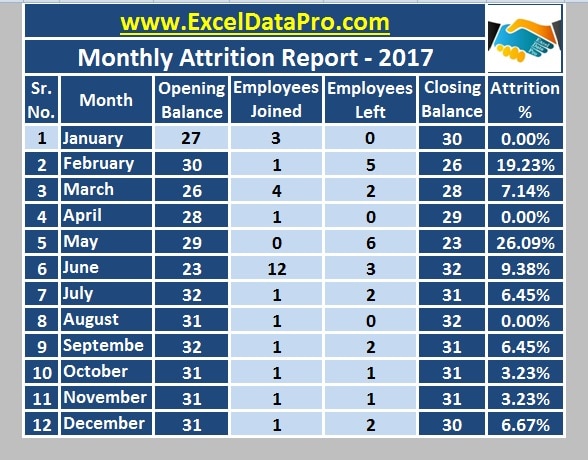 Just enter the number of employees leaving and joining the organization in the respective cells and it will automatically calculate the attrition rate for you.
With this template, you can easily monitor monthly attrition rate of your organization and take relevant measures to decrease them.
Click here to Download Monthly Employee Attrition Report Excel Template.
Click here to Download All HR Metrics Excel Templates for Rs 199.

Mac users can now download the same attrition report in Apple Numbers from the link below:
Yearly Attrition Report Apple Numbers Template
Additionally, you can download HR Metrics Templates like New Hire Turnover Rate Calculator, Retention Rate Calculator, and Turnover Cost Calculator from here.
Let us discuss the contents of the template in detail.
Contents of the Employee Attrition Report Template
This template consists just of 2 sections
Header Section.
Data Input Section.
1. Header Section
Header section consists of the company name, company logo and heading of the sheet "Monthly Attrition Report – 2017".

2. Data Input Section
Data Input Section consists of following subheadings:
Sr. No.: Enter Serial Number. Just enter number "1" in light blue colored cell and it will automatically display the following numbers as per the formula =1+B4 and so on.
Month: Name of Month from January till December.
Opening Balance: Opening balance of the employee count at the start of January. You just need to enter the opening balance of the first month. Later months automatically display balance according to the formula.
Opening Balance of current month = Closing Balance of previous Month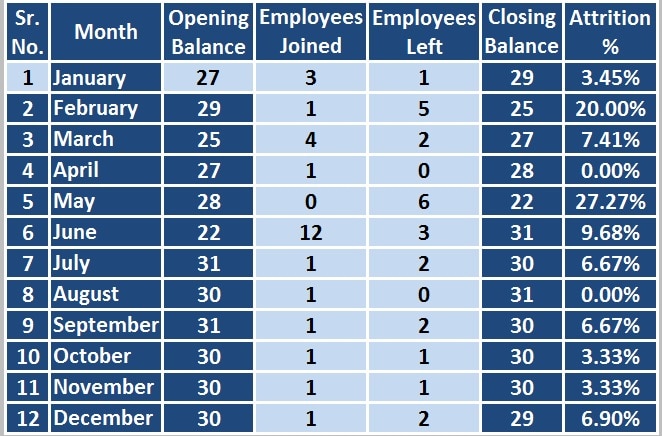 Employee Joined: Here you need to enter the number of employees joined in the respective month.
Employees Left: Here you need to enter the number of employees left in the respective month.
Closing Balance: The template displays the current headcount of the employees at the end of each month.
Closing Balance = Opening Balance + Employees Joined – Employees Left.
The formula applied here is =IF(E4="","",D4+E4-F4).
Attrition %: Attrition rate shows the proportion of employees left during the respective month.
Attrition Rate = No. of employees left / Closing Balance of Employee Count
The formula applied here is =IF(G4="","",F4/G4).
To calculate yearly attrition rate following formula will be applied:
Total Employees left during the year / Total number of employees working X 100.
We thank our readers for liking, sharing and following us on different social media platforms.
If you have any queries please share in the comment section below. I will be more than happy to assist you.