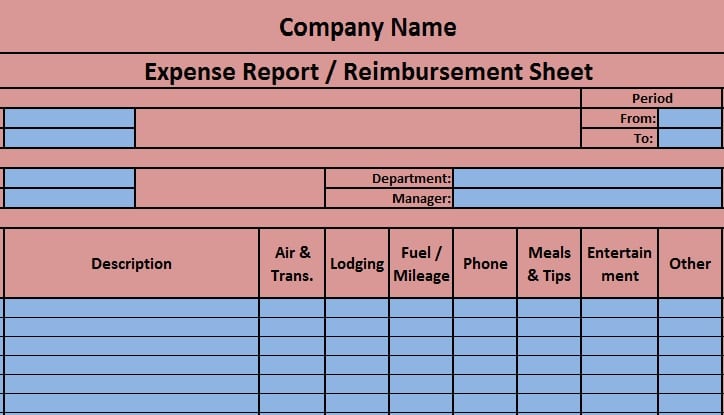 An expense report template is a very useful document to keep track of business expenses for an employee's business trip, a particular department, or any project for a company. It provides a quick track of expenses and relevant documentation.
This template can be used for reimbursement purposes for business trips or expense tracking and can also be helpful to analyze expenses for a department or a project.
Analytical study of expenses can be useful for companies to cut costs on unnecessary expenses and increase profits.
I have created a simple Expense Report template that can be used to quickly input details of specific expenses incurred obtain approvals from department heads and higher authorities as and when required.
Click here to Download the Expense Report Excel Template.
Click here to Download All Accounting Excel Templates for Rs 199.
You can also download Salary Sheet, Profit and Loss Account, and Invoice Template.
Let's discuss in detail about the Expense report template.
Template Content
The expense report template contains 2 parts which are mentioned below:
Header Part
Data Input Part
1. Header Part
Row 1 and Row 2 = Cells B2 to L3 are merged cells. Enter your Company/Business Name.
Row 3 = Heading of sheet "Expense Report or Reimbursement Form". Cells B4 to L4 merged.
Row 5 and Row 6 = Cell B5 consists of Purpose for which expense report is made. It can be for a particular project, department or a business trip by an employee, etc.
Cell B6 consists of Statement number. On the right-hand side, cell J5 and J6 consist of the period of the expense report.
Row 8 and Row 9 = Contains employee and department details like Name of employee, Employee Id, Department name and Manager's name.
Let's call it the header part. You can see the preview of it in the image below:


2. Data Input Part
Row 11 = Consists of subheadings for Data Input. Cell B11 to L11 Data Part. This section contains subheadings like Date, Description of expenses, different heads for different kinds of expenses and other miscellaneous expenses. The last column is for Total.
Row 12 to Row 22 = Cell C12 to K22 is the Data Input section.
Row 23 = Consist of expense wise Totals.
Row 24 to Row 26 = In this section on the left-hand side we have authorized signatory and on the right-hand side, we have calculations for reimbursement.
Cell L24 reflects the subtotal of expenses and L25 reflects the Advance amount paid by the Accounts department or any other authority. The Reimbursement total = Expenses – Advance.
The formula applied here is =L24-L25.
You can see the preview of it in the image below: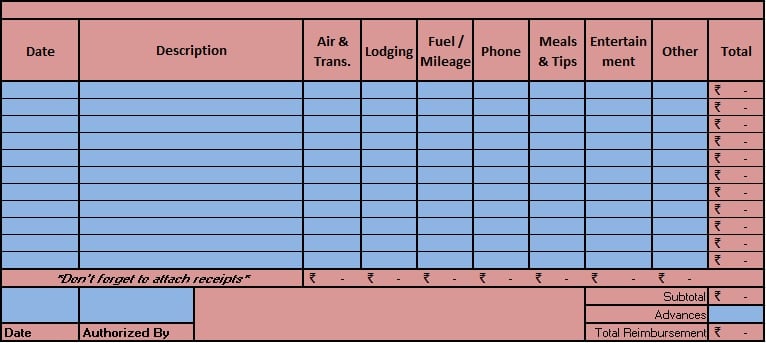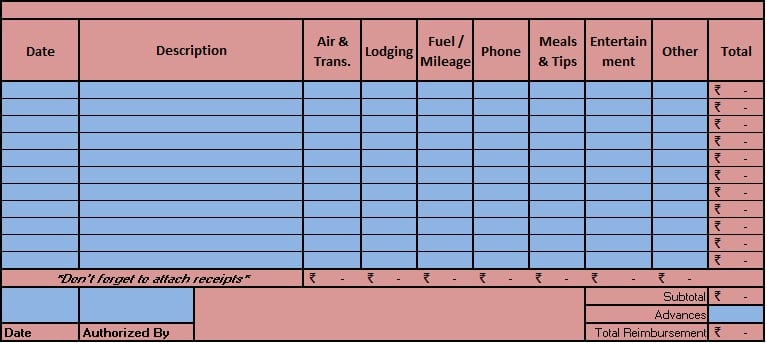 We would like to express our gratitude to our viewers for encouraging us by liking and sharing our content on different social media platforms, especially facebook viewers.
If you have any queries share them in the comments below and I will be more than happy to help you.