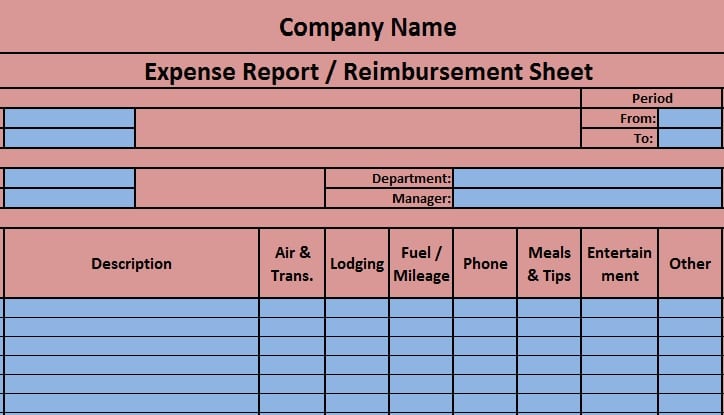 The Expense Report Template is a ready-to-use template in Excel, Google Sheets, and Open Office Calc to keep track of personal and business expenses.
This template can be used for reimbursement purposes for business trips and can also be helpful to analyze expenses about a specific department or a project.
Thus, the analytical study of expenses can be useful for companies to cut down costs on unnecessary expenses and increase profits.
What is the Expense Report?
An expense report is a reimbursement form that a company uses to track its business spending. It helps you to keep track of business expenses for an employee's business trip, a particular department, or any project for a company. It provides a quick track of expenses and relevant documentation.
An employee prepares the expense report against the actual spending made by him/her for the business. The employee submits the expense report for approval. An employee must attach the receipts of expenses along with the report.
Furthermore, the authorized personnel examines the expense report for accuracy and validity. After approval, the employer pays to the employee if the claim is in line with guidelines and reimbursement policies.
Elements of an Expense Report
Components of an expense report might vary from business to business. Here are common elements of an expense report:
Purpose of expenses such as meeting a client, survey of the market,  procurement of goods, purchase of machinery, etc.
Employee details along with Employee ID, department, and the reporting authority.
Period of Expense Report.
Date of the actual occurrence of the expenses.
Description of the expenses.
Amount of expenses.
Expense Heads.
Details of advances if applicable.
Purpose of Expense Report
Generally, businesses allow their employees to spend money to enhance their business. The employer reimburses the expenses to the employees.
Being a business owner, it is necessary to ensure that the expenses are as per the company policy. For proper recording of expenses, an employee prepares an expense report. Usually, companies keep it mandatory for the employees to attach the receipts.
Uses of Expense Report
Reimbursement of expenses paid by an employee on behalf of the company.
Reporting and recording business expenses.
Tax purposes. Business expenses reduce tax liability.
Businesses use the expense report for analytical purposes.
It helps the management to curb unnecessary overheads.
Expense reports help to save fraudulent use.
Expense Report Template
We have created a simple Expense Report template that helps you to quickly input details of specific expenses incurred obtain approvals from department heads as and when required.
Excel Google Sheets Open Office Calc
Click here to Download All Accounting Excel Templates for ₹299.
Important Note: To edit and customize the Google Sheet, save the file on your Google Drive by using the "Make a Copy" option from the File menu.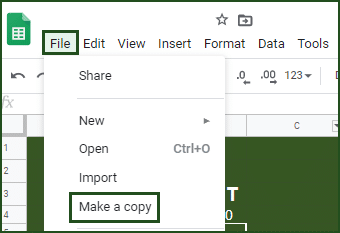 Additionally, you can download other accounting templates like Cash Book, Petty Cash Book, and Purchase Return Book.
Let's discuss in detail about the Expense report template.
Content of Expense Report Template
The expense report template contains 2 parts: Header Section and Data Input Section
Header Section
Cells B2 to L3 are merged cells. Enter your Company/Business Name.
Heading of sheet "Expense Report or Reimbursement Form". Cells B4 to L4 merged.
Moreover, Cell B5 consists of Purpose for which expense report is made. It can be for a particular project, department, or business trip by an employee, etc.
Cell B6 consists of Statement number. On the right-hand side, cell J5 and J6 consist of the period of the expense report.
In addition to the above, it also contains employee and department details like Name of employee, Employee Id, Department name, and Manager's name.
Let's call it the header section. You can see the preview of it in the image below:

Data Input Section
This section consists of subheadings for Data Input. Cell B11 to L11 Data Part.
This section contains subheadings like Date, Description of expenses, different heads for different kinds of expenses, and other miscellaneous expenses. The last column is for Total.
Cell C12 to K22 is the Data Input section. In the end, it consists of expense wise Totals.
In this section, the left-hand side consists of a section for the authorized signatory whereas the right-hand side consists of the summary for reimbursements.
Furthermore, Cell L24 reflects the subtotal of expenses and L25 reflects the Advance amount paid by the Accounts department or any other authority.
Therefore, Reimbursement = Expenses – Advance.
The formula applied here is =L24-L25.
You can see the preview of it in the image below: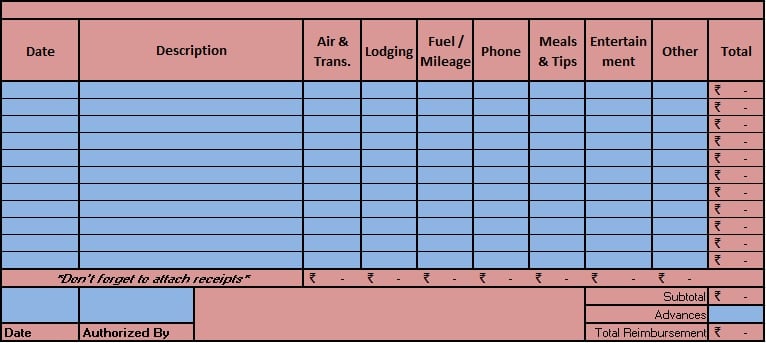 We would like to express our gratitude to our viewers for encouraging us by liking and sharing our content on different social media platforms, especially facebook viewers.
If you have any queries share them in the comments below and I will be more than happy to help you.
Frequently Asked Questions
How long should an employee get to turn in an expense report to their employer?
Usually, each company has a policy. Most companies provide a reasonable amount of time to employees after returning from their trip. Generally, businesses consider 2 weeks as a reasonable amount of time for settling back at routine and oblige with their task of reporting.
What does it mean to itemize an expense report?
Itemizing an expense report means categorizing expenses and providing subtotal for each head.
Are receipts mandatory for expense reports?
The paper receipts and expense reports consist of the information which verifies the amount, date, time, place, and purpose of expenses. Hence, it is mandatory to attach receipts to the expense reports.
Do companies reimburse for tips?
Reimbursement of the tips is subject to company policy. Usually, companies reimburse for reasonable tips given to waiters, taxi drivers, and baggage handlers.
Can an employer withhold expense reimbursement?
An employer cannot refuse reimbursements. But, a common tactic that an employer uses to withhold is to linger the approval of reimbursement for expenses.
Is reimbursement an expense or income for the employee?
No, reimbursement is not an income. When an employee receives expense reimbursement, it is the money spent from his pocket.
Can a company refuse to pay expenses?
Yes, if an employee fails to provide accurate records or receipts for the claim, an employer can refuse to reimburse the expenses.