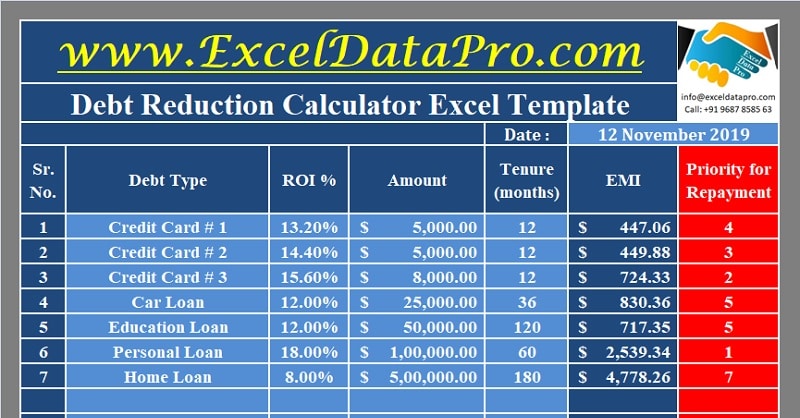 Debt Reduction Calculator is a ready-to-use excel template that helps you calculate your total debt and helps you design a payoff plan for debt reduction.
Usually, many of us are trapped in debt. It can be anything such as credit cards, educational loans, car/auto loan or home mortgage loans.
Debt is nothing but borrowing from your future salary. No doubt your possession, for the time being, will increase but later you are stuck with lots of repayments and a lot of stress too.
By managing your money properly, you can easily pay off your debts sooner than expected. This ready-to-use template can help you design your debt repayment/reduction plan with the least efforts.
Debt Reduction Calculator Excel Template
We have created a simple and easy-to-use Debt Reduction Calculator Excel Template with predefined formulas that can help you create a debt repayment and also saving a lot of interest payments.
Click here to download the Debt Reduction Calculator Excel Template.
Click here to Download All Personal Finance Excel Templates for ₹299.
You can also download other personal finance templates like Savings Goal Tracker, Household Budget, Credit Card Payoff Calculator and Personal Income Expense Tracker from our website.
Let us understand how to use the template in detail.
Contents of Debt Reduction Calculator Excel Template
This template consists of 2 templates:
Debt Calculator
Additional Accumulation Sheet
Important Note: Insert data only in light blue colored cells. Dark blue cells consist of formulas.
Debt Reduction Calculator
There are 2 sections in this sheet: Debt Calculation with monthly Installments and Debt Re-payment Fund Allocation.
Insert the date on which you calculate this debt repayment schedule.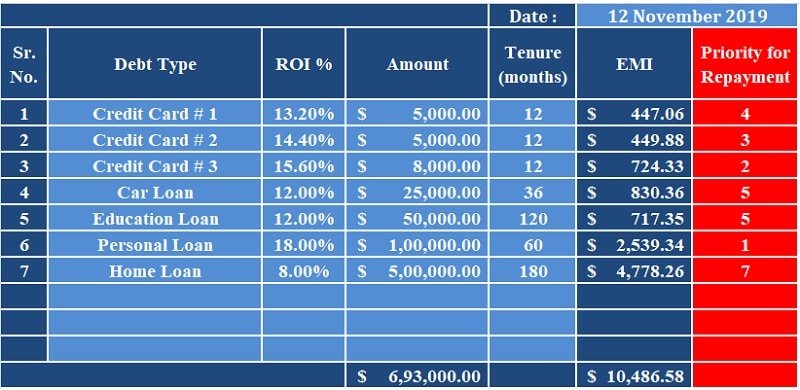 Debt Calculation with monthly installments consists of the following columns:
Sr. No: Serial Number. This cell consists of predefined formulas. It will be auto-populated as soon as you enter data in the next column.
Debt Type: Insert all the types of debt you have in this column. Examples: Credit card, Home mortgage, auto/car loan, personal loan, etc.
RIO %: Insert the rate of interest percentage applicable to the debt.
Amount: Enter the outstanding amount of that type of debt at the time of evaluation.
Tenure (Months): Enter the tenure in terms of months for each type of debt.
EMI: EMI stands for Equated Monthly Installments. It consists of a predefined formula and hence calculates the installment using PMT Function.
In case you don't know the ROI, then you can directly insert the monthly installment amount.
Priority: This column defines the priority of repayment automatically from the highest rate of interest to lowest interest rates.
At the end of this section, the total amounts of debt and monthly installments are given.
Debt Re-payment Fund Allocation section consists of the allocation of funds remaining out of your monthly income.

The key to a peaceful and wealthy life is to clear your debt on priority. It is suggested that clearing debts must be given more priority even than savings.
Hence allot the maximum amount from your income to clear your debts at the earliest.
Additional Accumulation Sheet
If your allocation of funds is higher than the required installments then you can plan an additional pay off by investing the remaining amount in some recurring balance savings schemes.
This will not only accumulate the principal amount but also provide additional interest on it. Hence, this will allow you to pay off your debt earlier than the actual tenure.
In this sheet, you only need to only 3 details:
Name of the Recurring Deposit Scheme.
RIO percentage per annum.
The Month you start your recurring deposit.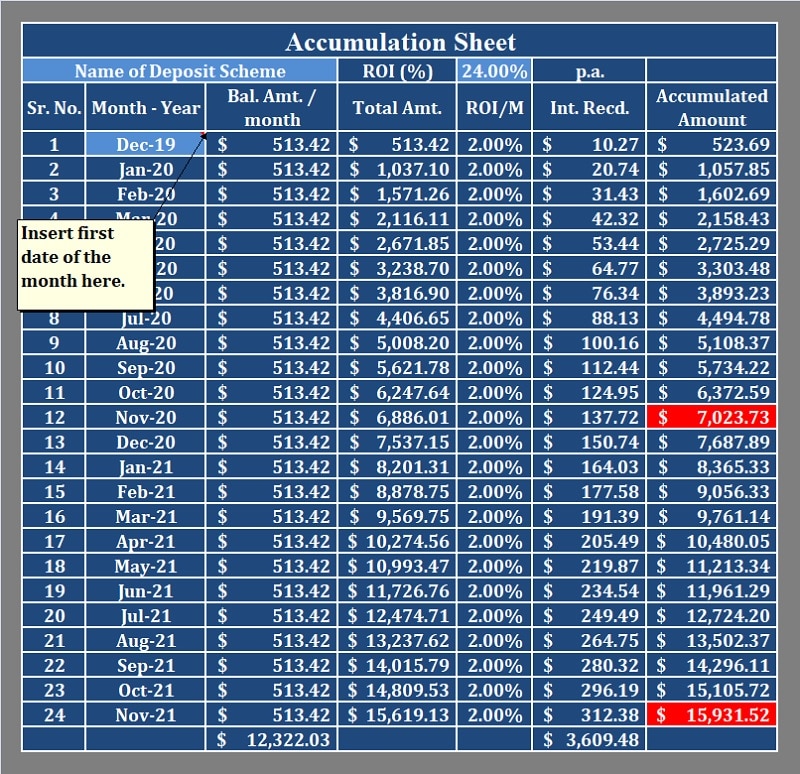 The sheet consists of predefined formulas. Thus, it automatically fetches the remaining balance amount from the previous sheet that is left after payments of installments.
Furthermore, it calculates monthly ROI, interest received and total accumulated amount at the end of every month.
Therefore, you can know in which month and when you can pay off any of your debts all in one go.
My personal opinion in this repayment is that first pay off your credit cards as they have higher interest rates and usually are small amounts.
As in the given data, we have highlighted the 12th and 24th month.  It shows the additional accumulated amount.
According to this example, you can pay off your car/auto loan all in one go in just the next 24 months whereas the tenure is 3 years.
If you are not able to save and accumulate the extra money and barely paying your installments, then here are some tips that will help you pay off debts.
Tips To Pay Off Your Debt
Pick up a side hustle.
Avoid any extras like going out to eat, cable television, or unnecessary spending.
Sell off unnecessary possessions.
Get s part-time job.
Ask for lower interest rates on your credit cards and negotiate other bills.
Try transferring credit card balances to lower interest rates as and when available.
Drop expensive habits like restaurant lunches during work hours or fast foods.
Monitor your shopping habits. Don't buy unnecessary things.
We thank our readers for liking, sharing and following us on different social media platforms.
If you have any queries please share in the comment section below. We will be more than happy to assist you.