Definition – Child Tax Credit
Child Tax Credit is a provision of US Federal Income Tax Law, where parents having dependent children under the age of 17 can claim a tax credit up to $1000 per qualifying child.
Like other tax credits, the Child Tax Credit is a type of credit which reduces your tax liability and help the parent or guardians to easily raise their dependent children.
Eligibility Criteria for Child Tax Credit
The child claimed as dependent on must be under the age of 17 at the end of tax year.
Child can be cany of the following: daughter, son, stepdaughter, stepson, foster child, adopted child, grandchild or a descendant of siblings
The child must not have provided more than half of their own support.
A child must be claimed as your dependent on your federal income tax return.
He/She must be US citizen, US National or a US Resident Alien.
He/She must have lived with you half of the tax year.
Above mentioned are the points for a qualifying child. The income of filer also is a major factor for obtaining this credit.
Income Eligibility for Child Tax Credit
If your MAGI (Modified Adjusted Gross Income) reaches a certain threshold the credit begins to phase out. For each $1,000 of income above the threshold, your available child tax credit is reduced by $50.
Source: www.irs.gov
Child Credit Phaseout Income Limit
The tax filers should keep in mind that this amount is not your taxable income. It is your Modified Adjusted Gross Income.
To Calculate your MAGI you can use our Modified Adjusted Gross Income Calculator.
For the tax year 2017, the phaseout limit is according to the filing status.
Single Filers, Head of Household, Qualifying widow/widower – $ 75,000.
Married Filing Jointly – $ 110,000.
Married Filing Separately – $ 55,000.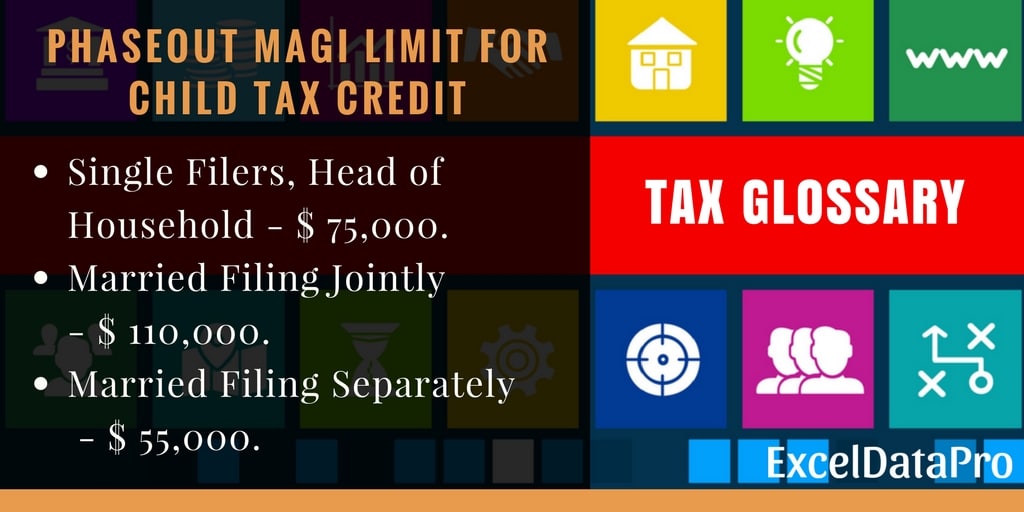 In case, the amount of your Child Credit is higher than the tax liability, the taxpayer might be able to claim the Additional Child Tax Credit. Check your eligibility in IRS Form 8812.
We have created an excel template to calculate the Child Tax Credit. You can estimate your credit using this template.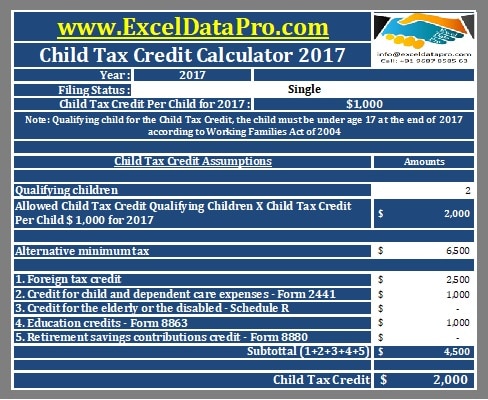 You can download excel templates like Simple Tax Estimator, Itemized Deductions Calculator, and Income Statement Projection for easy calculations.
We thank our readers for liking, sharing and following us on different social media platforms.
If you have any queries please share in the comment section below. I will be more than happy to assist you.