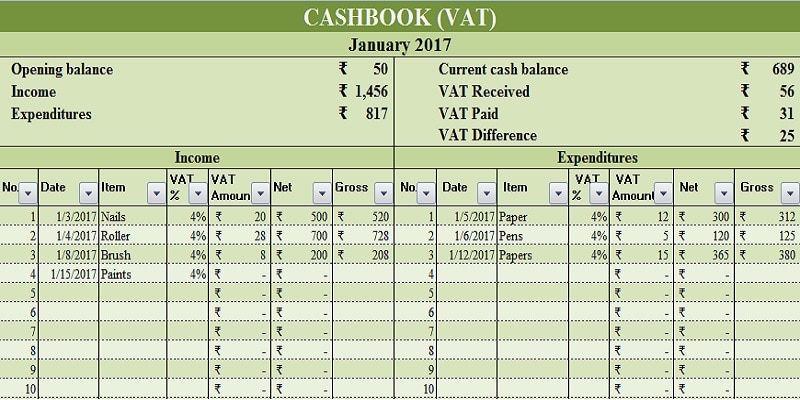 A Cash Book Template is a document which contains all cash receipts and payments, including bank deposits and withdrawals.
In simple terms, Cashbook is a book of entry which records all the transactions pertaining to cash receipts and payments in chronological order.
Business systems have changed in recent years. Many taxes have been introduced which were not there in olden times. Taxes like Service Tax, VAT, Sales Tax etc.
What is VAT?
A value-added tax (VAT) is a type of general consumption tax that is collected incrementally, based on the value added, at each stage of production. In some countries, it is known as goods and services tax.
VAT  is ultimately paid by the end consumer. Dealers collect VAT on their sales, retain the tax paid on their purchases.
Thus, the difference of VAT received and VAT paid is calculated. The balance of VAT is paid to the Government.
VAT %  differs from one state to another in India. To know more about this you can visit the below link:
Since July 2017 GST has been implemented. For GST related templates click on the link below:
I have created a Cash Book Template with VAT calculation. With this Cash Book Template, you can efficiently and easily record the daily transactions with VAT.
The Cash Book Template with VAT is useful for Accounts Assistant, Accountants, Audit Assistants etc.
Click here to Download the Cash Book With VAT Excel Template.
Click here to Download All Accounting Excel Templates for Rs 199.

Furthermore, it generates transaction wise and tax percentage wise report in few clicks. Click on the drop-down menu and select the name of the name or tax % you want the report for and click OK.
You can download other accounting templates like Trial Balance, Cash Flow Statement and Balance Sheet here.
Let's discuss the template contents in detail.
Content of Cash Book Template With VAT
This template consists of two sections:
Header Section and
Data Input Section
1. Header Section
In Header section, the first row consists of Heading of Book Cash Book (VAT) and the second-row consists the Current month.

Row 3 to Row 6 contains the computation of the cash book. These include Opening Balance, Income, Expenditures, Current Balance, VAT received, VAT Paid and the difference of VAT.
Thus, all the above computations are linked to the cell showing totals of the respective head in the table.
2. Data Input Section
This section has two part incomes and expenditures. Both has same columns with similar headings and formulas.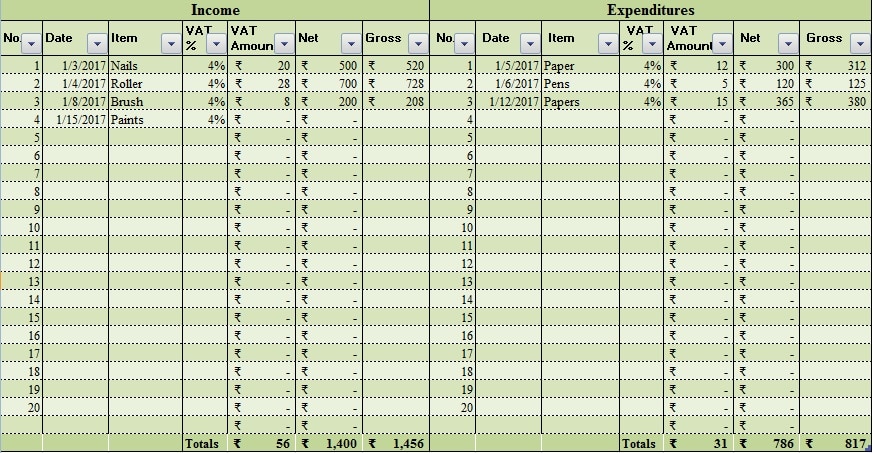 It contains serial number, date, item, VAT %, VAT Amount, Net Amount and Gross Amount.
You need input date, item, VAT % and the Gross amount paid or received. VAT Amount and Net Paid or received is calculated automatically.
Note: The formula applied for Net Amount is =Table2[[#This Row],[Gross]]*100/104. The Simple unitary method of Mathematics is applied.
If you change the VAT % then u need to change the last part of the formula. Last part of the formula is (100+Vat %). So if your VAT % is 5 or 7 then the last number changes from 104 to 105 or 107 respectively.
All the subheadings in data input section are created with a table. Thus, it allows you to generate a VAT % wise, date wise etc query/report as required.
You need to simply click on the drop down button in subheading and select the criteria of the report.
We thank our readers for liking, sharing and following us on different social media platforms, especially Facebook.
If you have any queries or questions, share them in comments below. I will be more than happy to help you.