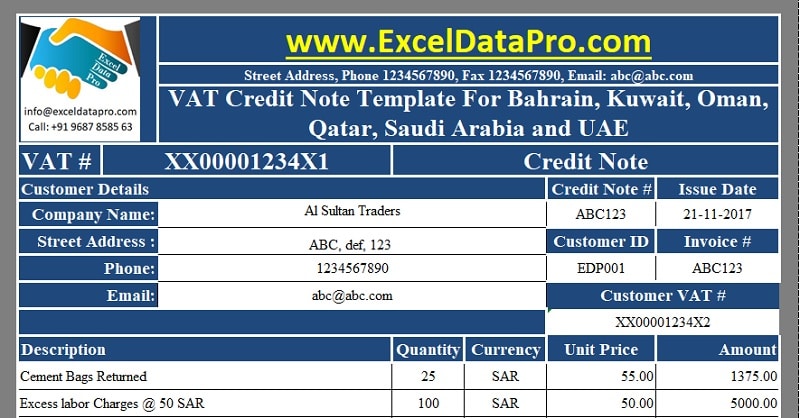 VAT Credit Note Template for all GCC countries is an excel template, which can be used to issue VAT compliant credit note to your customers.
As per accounting rules, a credit note is a document that supplier issues in case of overbilling or return of goods against a particular invoice.
Value Added Tax is expected to be implemented across GCC from 1st Jan 2018. Thus, all businesses processes and accounting systems have to be VAT compliant.
Goods return or reductions in billing decrease the VAT liability of a business. This is because the goods or services supplied have been reduced by that amount.
We have created a simple and ready to use excel template of VAT Credit note with predefined formulas.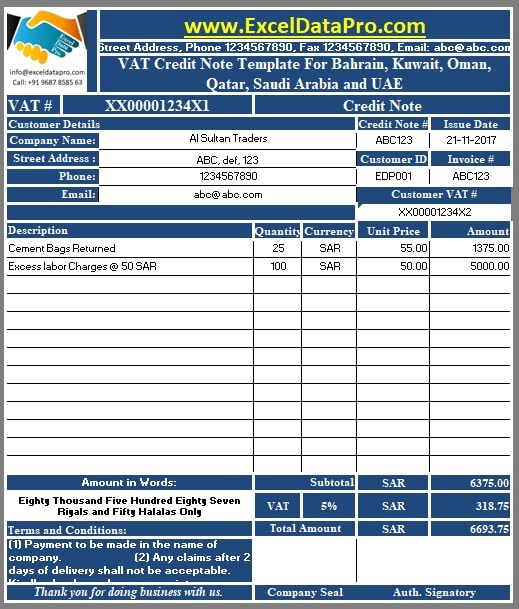 Users from all six GCC countries; Bahrain, Kuwait, Oman, Qatar, Saudi Arabia and UAE can use this template.
Just select your desired country and it will automatically change the currency according to your selected country.
This template can be useful to retailers, wholesalers, accountants, freelancers, accounts assistants etc.
Click here to Download VAT Credit Note Template for Bahrain, Kuwait, Oman, Qatar, Saudi Arabia and UAE.

Additionally, you can also download other accounting templates like VAT Invoice Template, VAT Invoice Template in Arabic, and Cash Book with VAT from here.
Before proceeding to the contents of the template, you need to select your country from the box given beside the VAT Credit Note template. See image below for reference.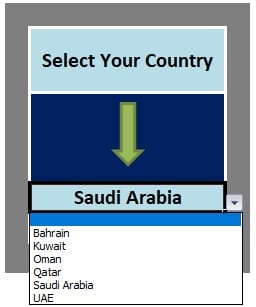 When you select your country, the system will automatically change relevant currency in the template. You don't have to change it manually.
Now, let us discuss the contents of the template in detail.
Contents of VAT Credit Note Template
There are two sheets in this template:
VAT Credit Note Template
Customer Sheet
The VAT Credit Note template consists of credit note template.
Customer Sheet
Customer sheet contains the following columns for the details of customers:
Name
Address,
Phone
Email address
Customer ID
VAT number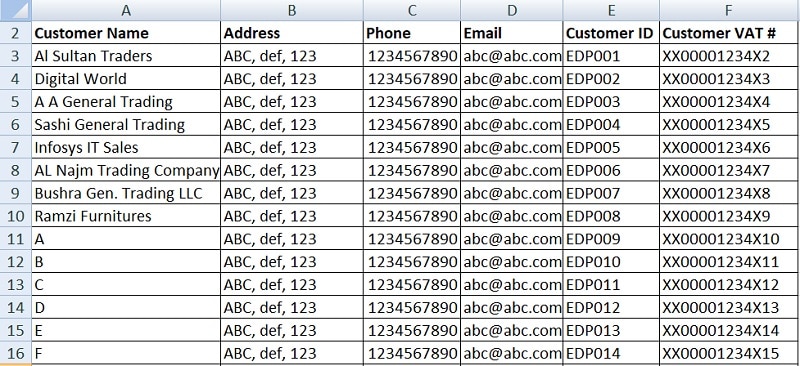 This sheet is linked to VAT Credit Note template customer detail section using VLOOKUP and Data Validations functions.
VAT Credit Note Template
The VAT Credit Note Template consists of 4 sections:
Header Section
Customer Details Section
Product Details Section
Other Details Section
1. Header Section
Header section consists of the company logo, company name,  address, company's VAT number and heading as "Credit Note".

2. Customer Details Section
Data validation creates the drop-down list from which you can select the customer name. Other customer details will be automatically updated in customer section with the help of Vlookup.

In addition to the above, the customer details section consists of the Credit note number, Credit Note date, and Invoice Number against which the Credit note is issued.
 3. Product Details Section
A user needs to enter the details of products returned, their unit price etc.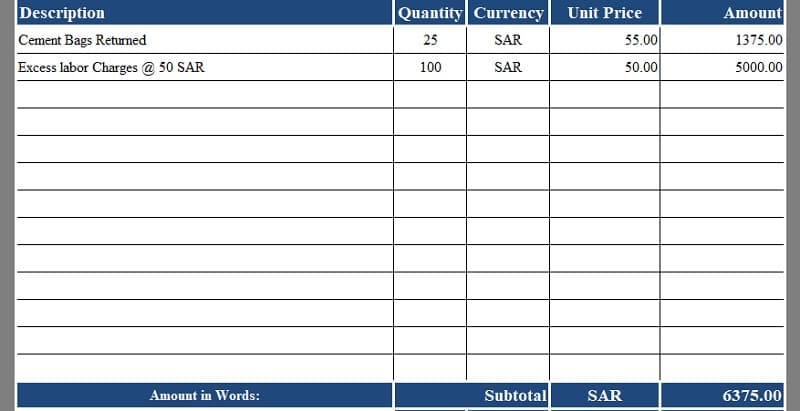 The total invoice amount is calculated using the below formula:
Quantity X Unit Price = Amount.
Furthermore, there is a subtotal line below the amounts which makes the total of above line using the SUM Function.
4. Other Details Section
Other details section consists the VAT computations, Total Invoice Amount, Amount in Words and Terms & Conditions.
Apart from that, this section contains the Thank You greeting, Company seal and Authorized Signatory
The VAT computations have been configured with redefined formulas. Thus, it will automatically calculate the VAT amount on the total amount of the bill.
Amount = Subtotal Amount X VAT Percentage
Free VAT Invoicing Software
InvoiceCRM is a VAT Invoicing Software specially designed for GCC Countries by us.
You can use the link below to Try Demo of this Software:
With this software, you can issue the invoice, credit note, and debit note.
This software is totally FREE until January 2019. You just need to register your username an password by sending an email to support@invoicecrm.com
Additionally, we also design custom accounting and invoicing software according to your requirements.
We thank our readers for liking, sharing and following us on different social media platforms.
If you have any queries please share in the comment section below. We will be more than happy to assist you.