The SUM Function is a built-in function in Microsoft Excel. This function falls under the category of Math/Trig Function. It is used as a worksheet function in Excel. As SUM Function is a worksheet function, we need to enter the SUM function as part of a formula in a cell of a worksheet.
The SUM function allows you to add 2 or more numbers together. Sum function can be directly applied to sets of number separated by a comma or more than two cells separated by a comma.
Syntax for SUM Function:
=SUM(number,number,number,…) OR =SUM(Cell Number, Cell Number, …)
We have created the infographics for SUM Function. This is a step by step process to for learning excel functions easily.
Excel consists of many inbuilt functions which are helpful in the analytical and statistical study of number.
Simply follow the instructions in the infographics below: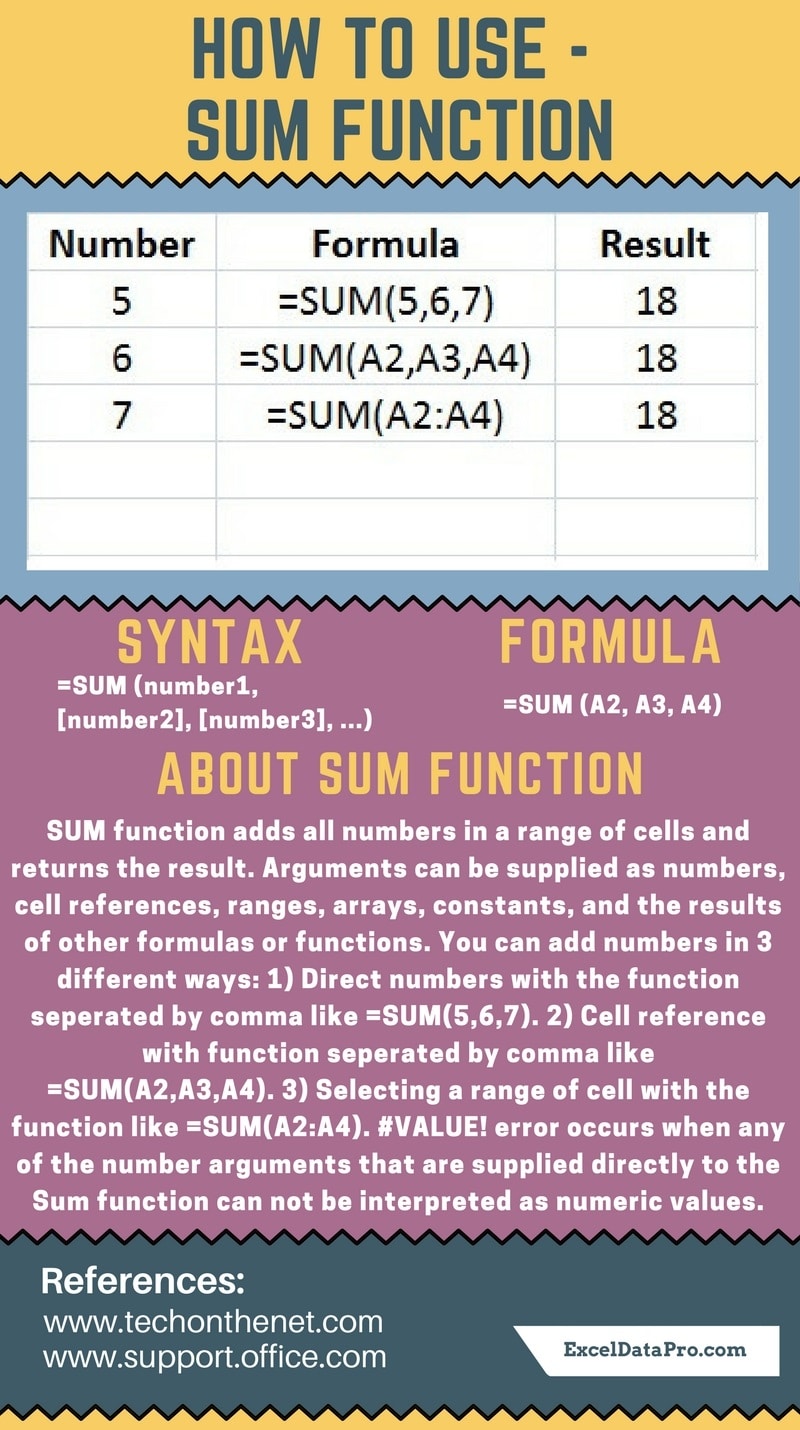 Let's understand adding 2 or more numeric values separated by a comma. For example, let us add 25+35+24.
In Excel sheet put the equal sign and then write SUM and open a bracket and put above three values separated by a comma and then close the bracket and press enter. Excel will calculate and give us the total as shown in the infographics above.
Formula:          =SUM(25,35,24)                      Answer: 84
For using SUM formula for two or more cells separated by a comma instead of putting numeric value us need to put cell. =SUM(B2,B3,B4).
You can also find downloadable accounting templates like Accounts Receivable With Aging, Accounts Payable With Aging, Salary Sheet and many other useful templates on our website.
We thank our readers for liking, sharing and following us on different social media platforms.
If you have any queries please share in the comment section below. I will be more than happy to assist you.