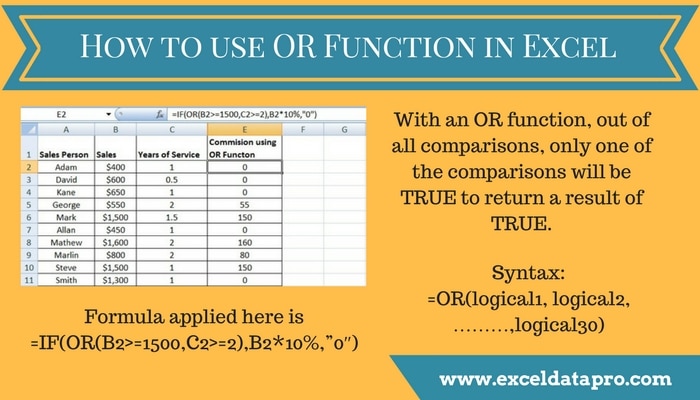 Just like the IF function that we learned in our previous article "10-basic-excel-functions-everyone-know", OR function is a logical function in Excel. This function is used for logical comparison within an IF function.
In OR function, out of all comparisons, only one of the comparisons will be TRUE to return a result of TRUE.
Syntax for OR Function
=OR(logical1,logical2,……….logical30)
The maximum number of logical comparisons allowed in OR Function is 30.
Each logical comparison will be separated with a comma. Please remember that these 30 comparisons are allowed as long as it does not exceed 1,024 characters in total. If it exceeds then less than 30 conditions will be allowed.
We have created the infographics for OR function. This is a step by step process to for learning excel functions easily.
Excel consists of many inbuilt functions which are helpful in the analytical and statistical study of number.
Simply follow the instructions given in the image below: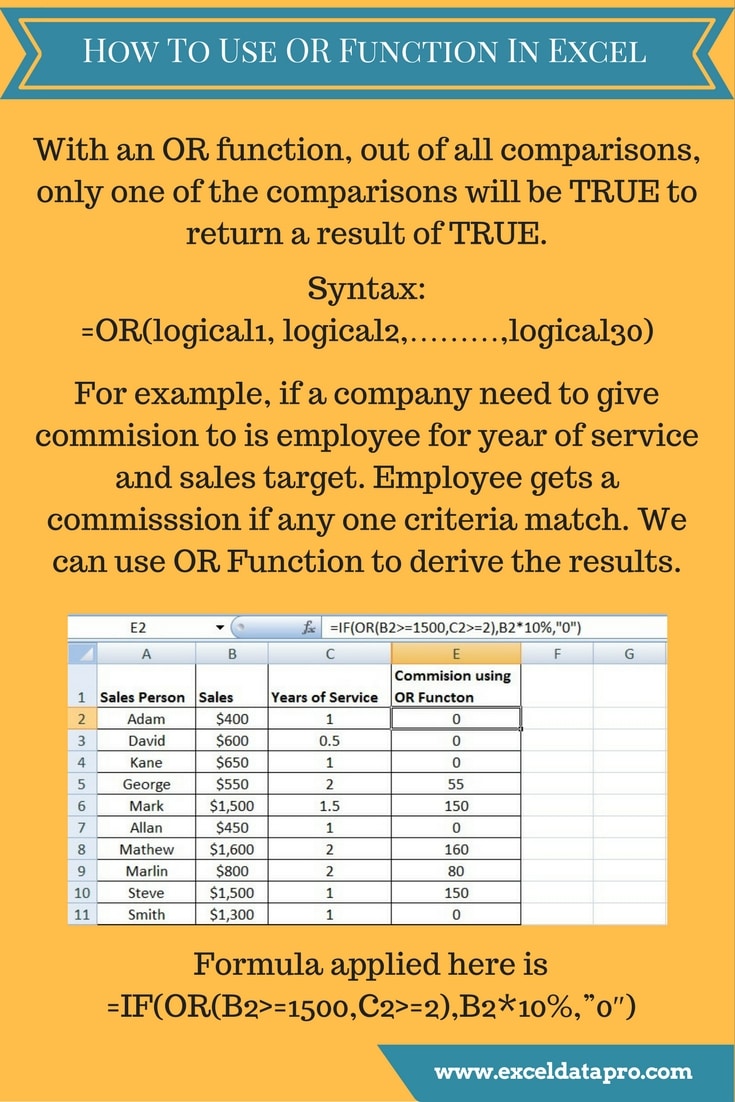 Using OR function, an employee gets 10% commission if he fulfills any one of the two conditions. Either he reaches the $1500 target OR he has worked for the company for 2 or more years.
Formula applied here is =IF(OR(B2>=1500,C2>=2),B2*10%,"0″).
Therefore, he gets his 10% commission if even if he did not reach the sales target sales of $1,500. Here he gets it because his tenure is over 2 years. See image above.
Thus, OR Function is a very useful tool for making comparisons with IF Functions.
You can also find downloadable templates for accounting process like Profit and Loss Account, Balance Sheet, and Trial Balance.
We thank our readers for liking, sharing and following us on different social media platforms.
If you have any queries please share in the comment section below. I will be more than happy to assist you.