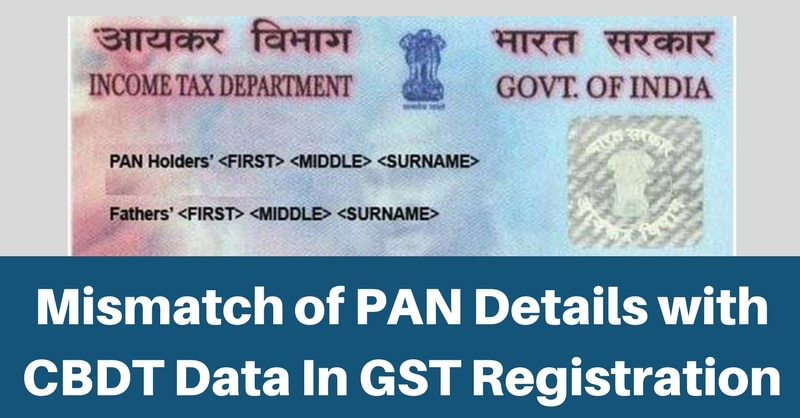 During the GST registration process, many people face problems due to Mismatch of PAN details with CBDT data in GST Registration.
CBDT stands for Central Board of Direct Taxes.
The main reason for this to happen is that, while applying for PAN you might have given a different name to be displayed on the PAN Card.
For Example, I applied for PAN. My actual name in the form as per Aadhar Card is Sumeet Rahul Singh. In the PAN registration form, I preferred to keep my display name on the PAN card as Sumeet R. Singh.
While doing GST registration, if I enter my name as Sumeet R. Singh the GST portal will display an error message of mismatch of PAN details with CBDT data.
Solution to this error is very simple. Below we will discuss the step by step process in detail.
Solution to Mismatch of PAN Details with CBDT Data In GST Registration
Follow the steps given below while you are opting for new GST registration and have the issue of mismatch of PAN details with CBDT Data.
1. Go to Know Your PAN  website of Income Tax Department.
2.Enter all the mandatory fields like Surname, Status, Date of Birth, Mobile Number etc and click on Submit.
3. An OPT will be sent to your provided mobile number.
4. Enter the OTP and click on Validate button. It will display your details.
5. Fill the exact details as shown here to your online GST registration form.
You can download GST templates like GST TRAN-1, GST Input Output Tax Report, and GST Export Invoice from here.
We thank our readers for liking, sharing and following us on different social media platforms.
If you have any queries please share in the comment section below. I will be more than happy to assist you.