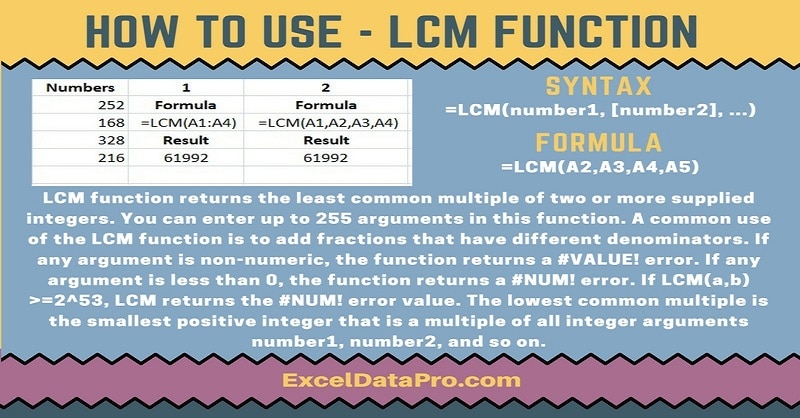 LCM function returns the least common multiple of two or more supplied integers.  The LCM is the smallest positive integer that is a multiple of all integer arguments number1, number2, and so on.
This is an inbuilt function in Excel and falls under the category of Math/Trig Functions. Excel has two useful functions for work with fractions: LCM & GCD.
The LCM gives the new denominator for adding or subtracting fractions with different denominators.
GCD finds the common factor required to reduce a fraction to its simplest form.
Syntax for LCM Function
=LCM(number1,[number2],…)
Arguments
Number1, [number2]: Number1 is required, subsequent numbers are optional. You can enter up to 1 to 255 values for which you want the least common multiple.
If any of the supplied numbers are decimals, these values are truncated to integers.
We have created the infographics for the LCM Function. With the help of these infographics, you can easily learn step by step process for using this excel functions.
Furthermore, Excel consists of many inbuilt functions which are helpful in the analytical and statistical study of number.
Simply follow the instructions in the infographics below: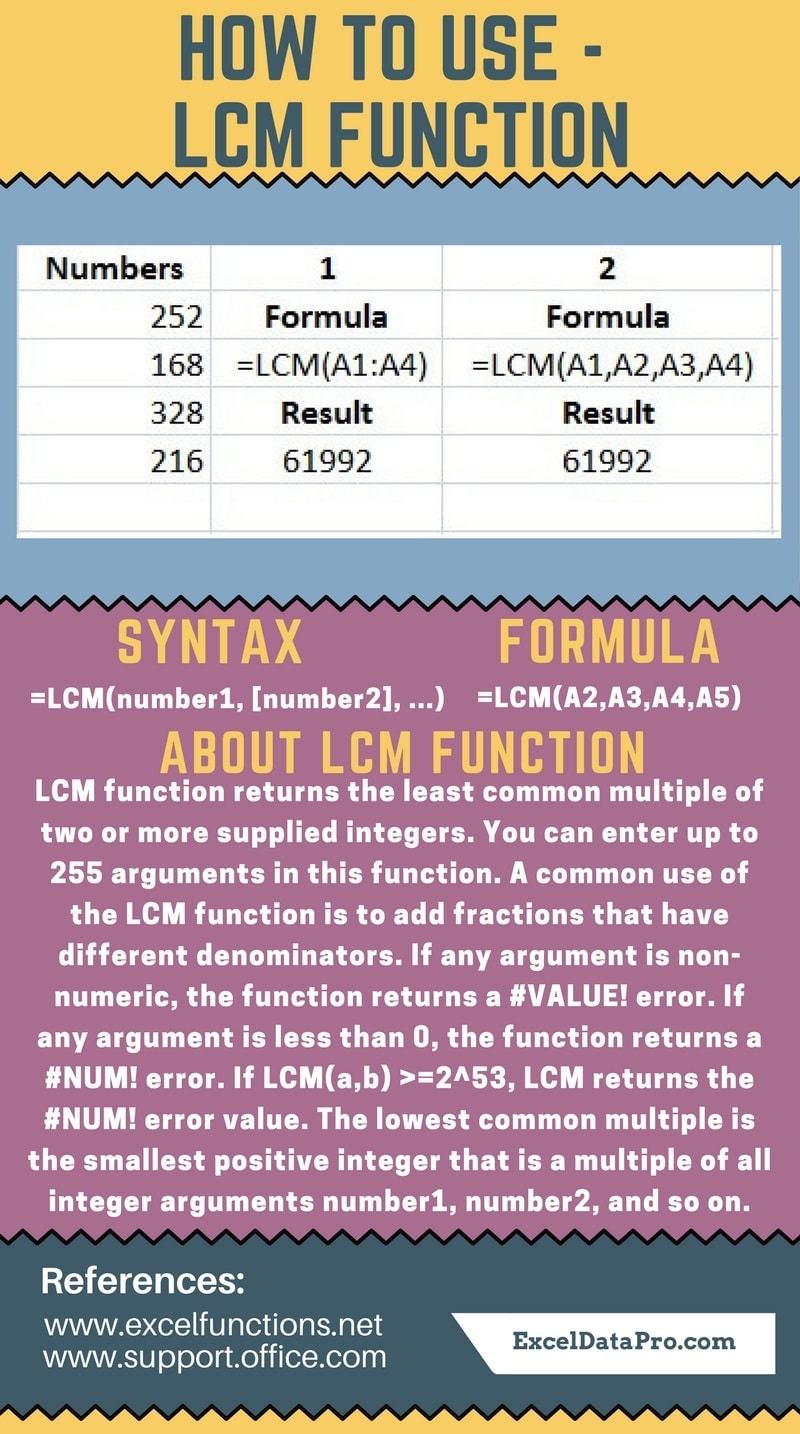 As part of our math classes, we no doubt had to compute the Lowest common multiple or the Greatest common divisor.
Things got difficult when the teacher threw up six, seven, or ten numbers. Fortunately, Excel makes calculating the least common multiple rather easy. All you need to do is put the numbers in a range of cells.
If these functions are not available, you can run the Setup program to install Analysis ToolPak.
After you install the Analysis ToolPak, you must enable it by using the Add-Ins command on the Tools menu.
Errors
#NUM! error occurs if any of the supplied number arguments are less than zero.
#VALUE! error occurs if any of the supplied number arguments are non-numeric.
To learn other function like ACCRINT, AMORLINC and ZTEST Functions, please click on the name of the function.
Additionally, you can download other accounting templates like Break Even Analysis Template, Salary Sheet Template and Invoice with GST Template from here.
We thank our readers for liking, sharing and following us on different social media platforms.
If you have any queries please share in the comment section below. I will be more than happy to assist you.