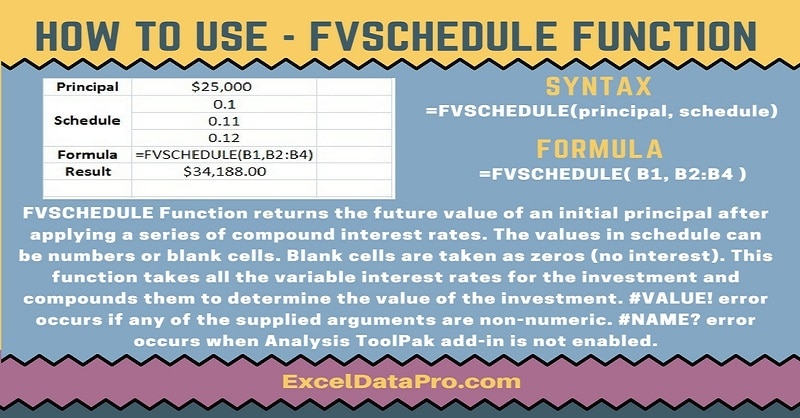 FVSCHEDULE Function returns the future value of principal amount after applying a series of compound interest rates.
You can use FVSCHEDULE to calculate the future value of an investment with a variable or adjustable rate.
This function includes all the variable interest rates for an investment and determines the future value of an investment by compounding them.
Sometimes, we make investments into Fixed Deposits that have different interest rates for different tenures.
For example, We invest money into a fund that gives a return of 2% for the first year, 4% for the second year, and 5% for the third year.
In such case, you can use the FVSCHEDULE function to determine the future value of your investment.
Syntax for FVSCHEDULE Function
=FVSCHEDULE(principal, schedule)
Arguments
Principal: Invested amount/Present Value/Lump sum amount invested/Principal value of an investment.
Schedule: Schedule of interest rates which apply each period.
The values in schedule can be numbers or blank cells. Blank cells are taken as 0 or no interest.
We have created the infographics for the FVSCHEDULE Function. With the help of these infographics, you can easily learn step by step process for using this excel functions.
Furthermore, Excel consists of many inbuilt functions which are helpful in the analytical and statistical study of number.
Simply follow the instructions in the infographics below: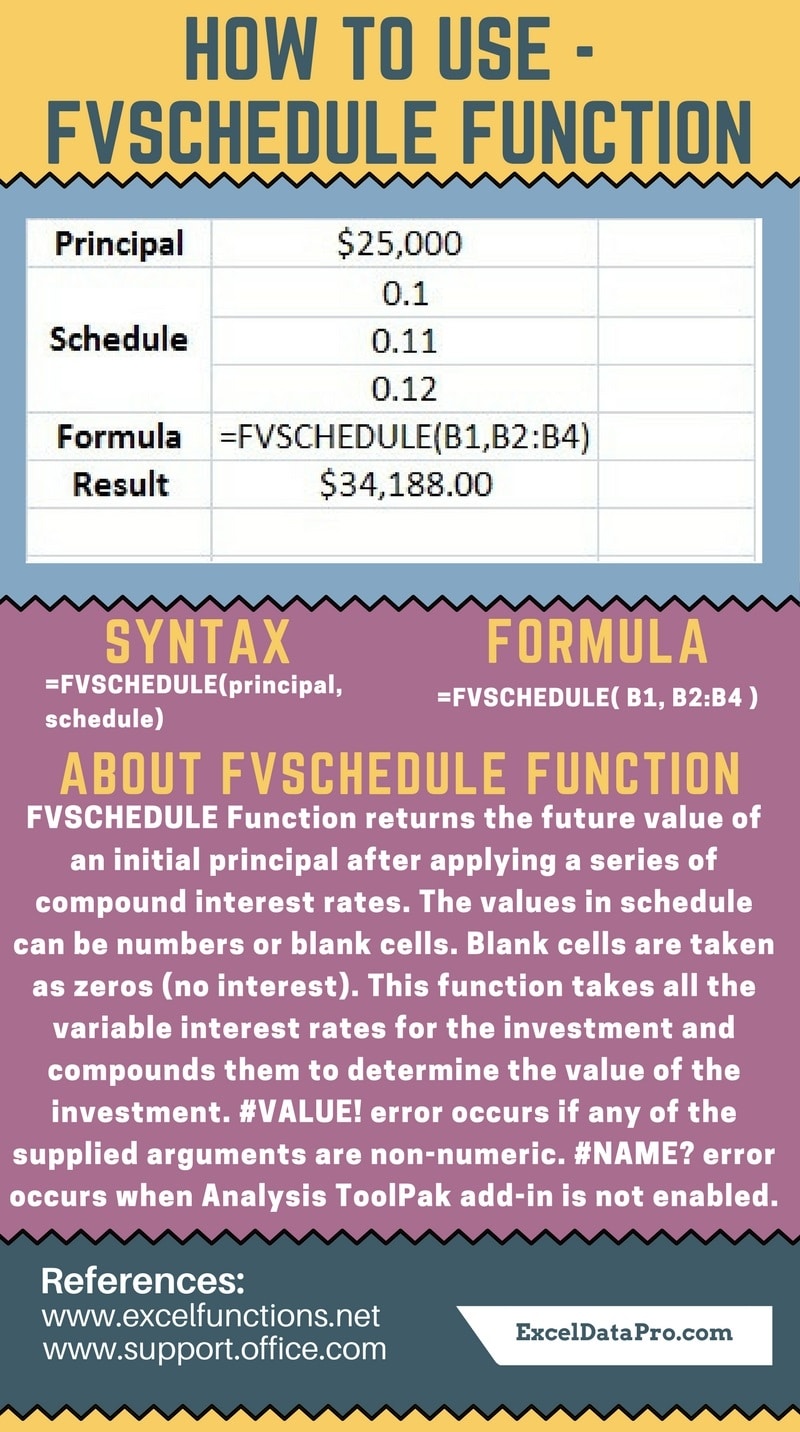 Note: The values specified for the Principal and Schedule arguments must be numeric or an error is returned.
For example, if the interest rate is 10% you need to indicate that rate as a decimal value of 0.1.
Errors
#VALUE! error occurs when any of the supplied arguments are non-numeric.
#NAME? error occurs when Analysis ToolPak add-in is not enabled.
To learn other function like CUMPRINC, ACCRINTM and PRODUCT Functions, please click on the name of the function.
Additionally, you can download other accounting templates like Break Even Analysis Template, Salary Sheet Template and Invoice with GST Template from here.
We thank our readers for liking, sharing and following us on different social media platforms.
If you have any queries please share in the comment section below. I will be more than happy to assist you.