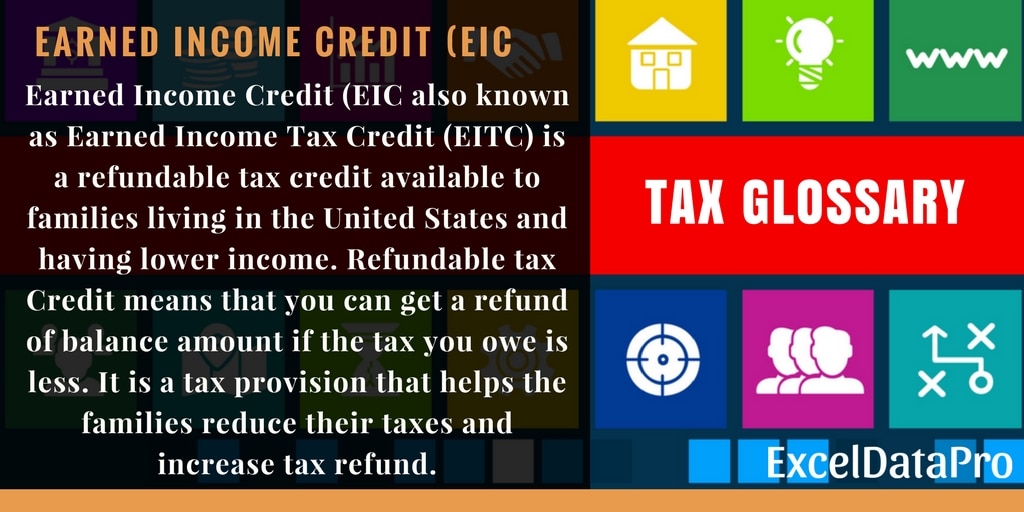 Definition – Earned Income Credit (EIC)
Earned Income Credit (EIC also known as Earned Income Tax Credit (EITC) is a refundable tax credit available to families living in the United States and having lower income. Refundable tax Credit means that you can get a refund of balance amount if the tax you owe is less.
The threshold of income is decided by IRS and amount of credit differs each year. It is a tax provision that helps the families reduce their taxes and increase tax refund.
Earned income means the taxable income and wages that you have received from self-employment or job. Self-employment can be running your own business and also running a farm.
According to IRS, last year about 27 million people took benefit of EIC. On an average, each individual got the benefit of $2500 in taxes.
Eligibility for Earned Income Credit (EIC)
To claim EIC, you must meet all the following conditions:
You, your spouse (if you file a joint return), and all others listed on Schedule EIC, must have a Social Security number that is valid for employment and is issued before the due date of the return including extensions.
Must have earned income from working for someone else or owning or running a farm or business.
Your filing status cannot be married filing separately.
Must be a U.S. citizen or resident alien all year (If you are a nonresident alien married to a U.S. citizen or resident alien, see Publication 519, U.S. Tax Guide for Aliens).
Cannot be a qualifying child of another person.
Cannot file Form 2555 or Form 2555 EZ (related to foreign earned income).
Your AGI and investment income limits must be under the threshold limit (income limits change each year).
Have a qualifying child.
If you do not have a qualifying child:A. Age must be between 25 and 65 at the end of the year.B. Live in the United States for more than half the year, and not qualify as a dependent of another person.
Investment income for the year must be $3,450 or less for Tax Year 2017.
If you qualify for EITC, you have to file a tax return with the IRS, even if you owe no tax or are not required to file.
Source: www.irs.gov
EIC Income Phaseout Limits For 2017
The phase-out income limits for claiming EIC by a single/married taxpayer depending on the number of children is given in below: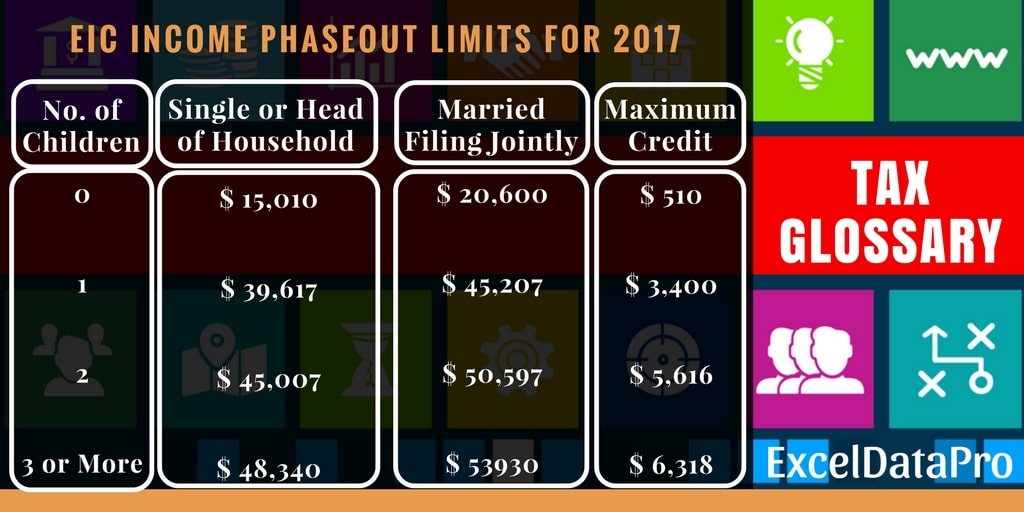 Please see IRS Publication 596  for more information on EIC.
We have created some useful tax calculators like Simple Tax Estimator, Itemized Deduction Calculator, 401k Calculator etc.
These templates can help you easily calculate your federal income tax. These templates are free to download and easy to use with no limitations.
Disclaimer: Interpretation of the above topic is for education purpose and cannot be considered as a legal advice. It is highly recommendable to consult a CPA or tax consultant before you plan for Earned Income Credit.
We thank our readers for liking, sharing and following us on different social media platforms.
If you have any queries please share in the comment section below. I will be more than happy to assist you.