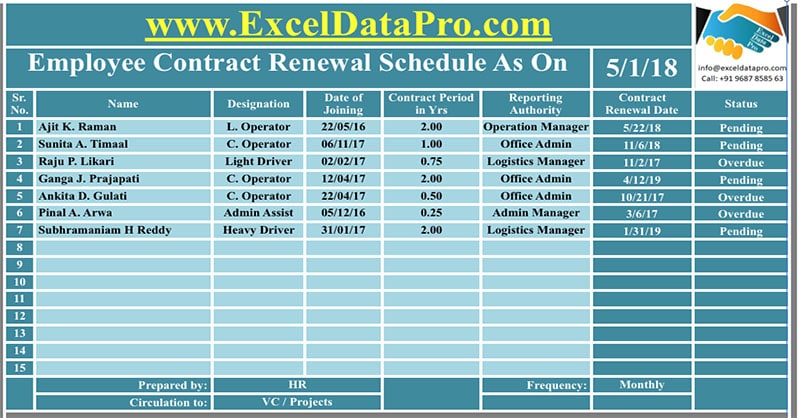 Contract Renewal Schedule Apple Numbers Template is a template created in Numbers Application for Mac Users. It is an HR document that records the contract renewal dates of employees at a given date and provides the status whether it is renewed, pending or overdue.
What is Contract Renewal Schedule?
Many companies have both kinds of employees; Fulltime employees and Contractual Employees. Usually, big corporates hire some employees for a particular project or for a replacement of employees that have been on long leave or for some other reason. These employees are contractual employees.
They have a date on which the contracts need to be renewed. Thus to manage the data of contractual employees, we have created a simple and easy-to-use Contract Renewal Schedule Apple Numbers Template.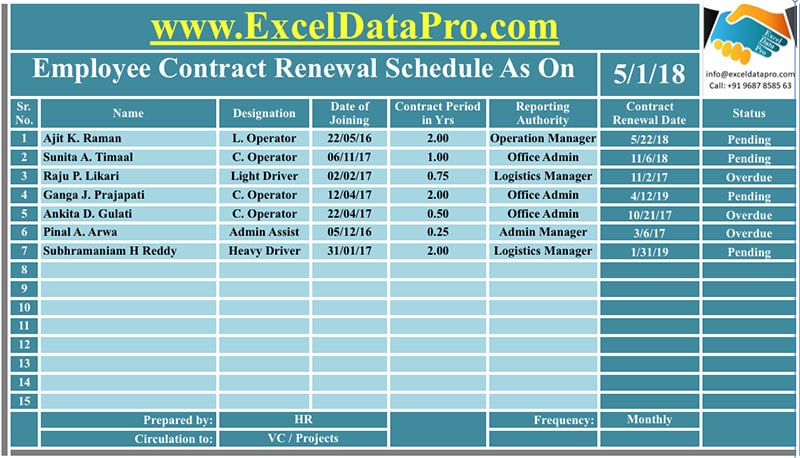 Click here to download Contract Renewal Schedule Apple Numbers Template
In addition to the above, you can also download other HR templates in Apple Numbers like Salary Sheet Apple Numbers Template, Cost Per Hire Calculator Apple Numbers Template, Over Time Calculator Apple Numbers Template and much more.
You can download the same in Microsoft Excel from the link below:
Contract Renewal Schedule Excel Template.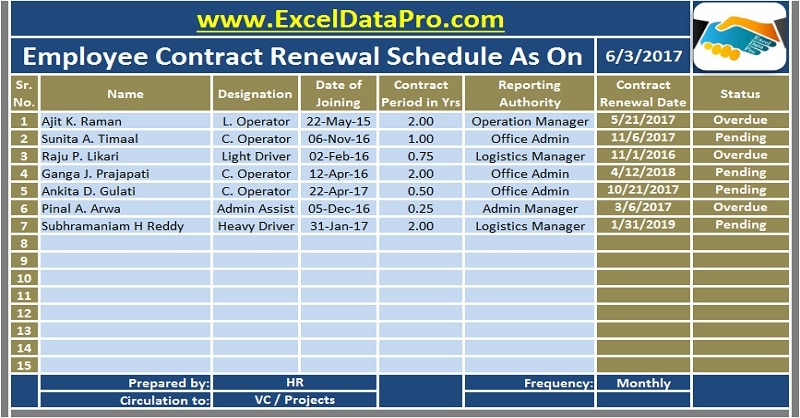 You can also download HR Templates in Excel like Salary Sheet, Salary Slip, Age Calculator, Attrition Report etc from our website.
Let us discuss the template in detail.
Contents of Contract Renewal Schedule Apple Numbers Template
contents of Contract Renewal Schedule Apple Numbers Template consists of 3 sections:
Header
Contract Details
Circulation Details
1. Header
The header consists of your company name, company logo, heading of the sheet an date on which it is prepared.

By default using, it will display the current date of your computer as it contains predefined TODAY function.
2. Contract Details
Contract details consist columns for entering following details of contractual employees:
Sr. No: Serial Number
Name: Name of the contractual employee.
Designation: Designation of Contractual employee.
Date of Joining: Date on which the contractual employee was hired and joined the organization.
Contract Period: Duration of the contract.

Reporting Authority: The designation of the authority under which the employee is serving.
Contract Renewal Date: you need not enter anything in this column. It will automatically calculate the last date of contract according to the joining date and duration of contract and display in this column.
Status: This column will display the status of the renewal. If it has been done you can set it blank. Till the date of the contract it will show pending and after the date passes it will display overdue as shown in the image below.
3. Circulation Details
Whenever the reports are circulated by the HR department they need to inform the higher authorities and the channel to which it has been circulated.  Lastly, you can enter the details of circulation of the report.

Thus, this template can be very helpful to HR assistants, HR professionals, and owners of small firms who hire such contractual employees.
We thank our readers for liking, sharing and following us on different social media platforms.
If you have any queries please share in the comment section below. I will be more than happy to assist you.