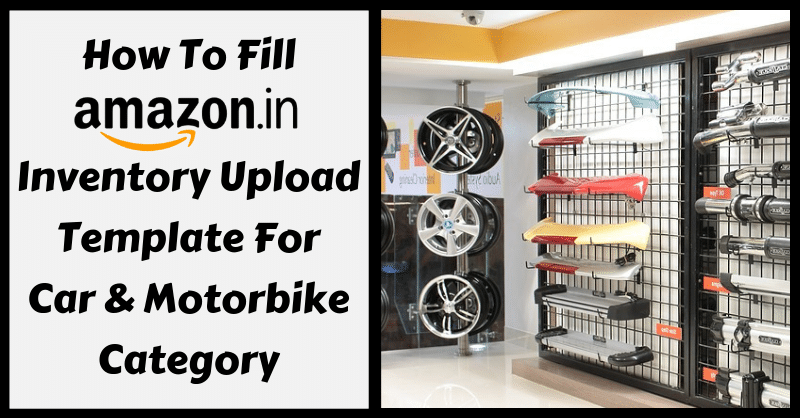 Car & Motorbike Category products are manufactured in millions of variety. It is hectic and you cannot afford to invest an enormous amount of time & energy behind uploading every single variety of products to the Amazon India seller portal.
The solution is simple. Use an excel inventory template that will help you add an unlimited stock of products along with required accessories in no time. But How?
In this blog we will discuss uploading, checking & adding car & motorbike products to Amazon India using an excel file.
All necessary steps are given with images so that you can understand better and add products to your seller account hassle-free.
First, let us see what type of automobile products can be added to the car & motorbike category.
List of Products in the Car & Motorbike Category:
Automotive Services
(Audio & Electronics Installations, Services & Repairs, Tires & Wheels)
Car & Motorbike Care
(Brake Care, Cleaning Kits, Convertible Top Cleaners, Engine Care, Fillers, Adhesives & Sealants, Glass Care, Headlight Restoration Kits, Interior Care, Paint & Exterior Care, Rim Care, Rust Converters & Rust Removers, Rust Prevention, Sponges, Cloths & Brushes, Tyre & Rim Care)
Car & Vehicle Electronics
(Accessories, Car Electronics & Motorcycle Electronics)
Car Accessories
(Exterior Accessories, Interior Accessories & Winter Goods)
Car Parts
Alternators, Batteries & Accessories, Brakes, Car Styling & Body Fittings, Drive & Transmission, Drive Belts, Engine & Engine Parts, Exhaust & Exhaust Systems, Filters, Fuses, Ignition & Tools, Interior Fittings, Lights, Bulbs & Indicators, Sensors, Starters, Steering & Suspension, Switches & Relays, Windscreen Wipers & Parts)
Car Tyres & Rims
(Accessories, Alloy Wheels (Request approval), Hubcaps & Wheel Covers, Rim Care, Tyre & Wheel Tools, Tyre Care, Wheels, Tyres & Tubes)
Gifts & Merchandise
(Apparel, Backpacks & Bags, Badges & Emblems, Gift Sets, Key Rings, Lighters, Patches, Pins, Scale Models & Signs)
Motorbike Accessories & Parts
(Accessories, Batteries, Boots & Luggage, Brakes, Chassis, Drive & Gears, Engines & Engine Parts, Exhaust & Exhaust Systems, Filters, Frames & Fittings, Fuel Supply, Helmets, Horns, Lighting, Protective Gear & Clothing, Seat Covers, Seats, Tyres & Rims)
Navigation Devices
(Car GPS, Motorcycle GPS & Truck GPS)
Oils & Fluids
(Additives, Antifreeze, Brake Fluids, Greases & Lubricants, Oils & Power Steering Fluids)
Paintwork
(Additives, Brake Calliper Lacquer, Cleaners, Covering Materials, Grinding Materials, Paint Guns & Accessories, Paint Workshop Facilities, Painter Work Protection, Painting Pens, Painting Tools, Primers, Putty & Polyester Resin, Spray Cans, Tapes & Reflectors, Topcoat & Clear Paints & Touch-Up Paints)
Transporting & Storage
(Cables & Adaptors, Loading Ramps, Rear Racks & Accessories, Roof Racks & Boxes, Tensioning Belts, Trailers & Warning Flags)
Vehicle Tools
(Battery Tools, Engine Tools & Equipment, Jacks, Torque Wrenches, Tyre & Wheel Tools)
Other (Car & Motorbike)
How to Download Amazon Inventory File for Car & Motorbike Category?

Log in to your Amazon India seller account.
Click on Add Products via Upload under the Inventory tab.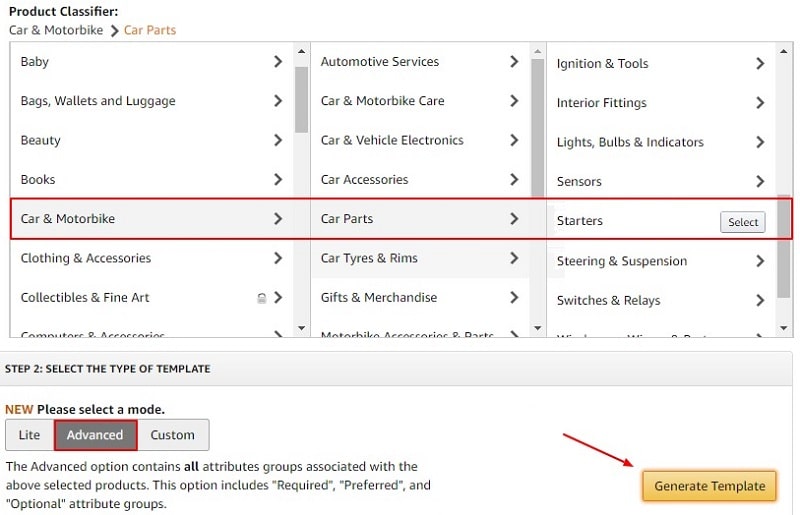 Scroll down to the Product Classifier option
Find Car & Motorbike category. For easy understanding, we have taken "Starters" as an example.
Choose the product sub-category. Click the "Select" button
Select the template mode as "Advanced".
Click "Generate Template". A product inventory excel file will be downloaded.
Check your download folder to locate the file.
How to Fill Excel Inventory File for Car & Motorbike Category?
We have taken the "Starters" as the product example to help you understand the filling and uploading of excel template. This downloaded excel file for Car & Motorbike Category will consist of 7 worksheets, out of which only the "Template" sheet is to be filled. Rest of the sheets are only for reference purpose.
There are total of 10 sections in the Starters Excel Template. These sections remain the same (with a minor change in the sequence of field columns) for any Car or Motorbike product excel sheet that you download.
Required product information
Images
Variation
Basic product details
Discovery
Product enrichment
Dimensions
Fulfillment
Compliance
Offer
A detailed explanation of the necessary attributes and fields relevant to the product is given below. Leave irrelevant fields blank.
PS: A seller can upload an excel template with irrelevant fields blank in it.
1. Required product information

Product type: Describe the type of product. For example, Starters, Tyre rims, etc.
Seller SKU: The inventory identification number given to the product.
Brand name: The brand name of the product.
Item name: The name of the product aka a short product title.
Product ID: Write the 12, 14 or 16 digit numerical value of the product ID.
Product ID type: Select UPC, EAN, GCID, ASIN etc. from the drop-down list.

Manufacturer: The name of the product manufacturer.
Manufacturer part number: This is a kind of product model number. Refer the product packing.
Standard price: The selling price of the product.
Quantity: Enter the quantity of the product.
Item condition: State the item condition. For example new, used, refurbished, etc.

Shipping Template: Write Migrated Template here.
Number of items: Give the total number of items to be packed in a single order.
Maximum retail price: Provide the MRP of your product.
Main image URL: Insert the main product image URL.
2. Images

Insert other images of car & motorbike category product with white background & high definition zoomable quality.
Useful Tip for Amazon Images
Upload all the product images on Google Drive or Dropbox or any other could platform. Generate shareable links of the images. Copy these links & paste them here. You have total 3 column space to insert image URLs.
3. Variation
Variation is an important section in Car & Motorbike Category because when you add the main product to your Amazon inventory there will be an additional accessory to be listed along with it. Hence, to list and sell an accessory a seller need not make a separate listing. To add an accessory, Variation shall be used. But keep in mind that Variation must be used only to list an accessory and not the main product.

Parentage: Describe whether the product is a parent or child.
Parent SKU: Provide the SKU of the main product.
Relationship type: The relationship of the main product with the product you are adding using this file.
Variation theme: Define the product variation theme. For example, size, colour, material, etc.
4. Basic Product Details

Update delete: Enter Update or Partial Update if updating current product details or adding a totally new product. Use "Delete" if you want to completely remove a product listing.
Product description: Describe the product in brief. Write the main features only.
Model number: Refer product for product model number given by the manufacturer.
Recommended browse nodes: See valid value tab in the excel sheet for browse nodes.
Inner material type: The type of material used for the inner lining of the product.
Outer material type: The type of material used for the outer lining of the product.
5. Discovery

Key features: Indicate the most important features of the product in short sentences or phrases.
Search terms: You Get a total 5 space to write searchable keywords.
Catalogue number: Alphanumerical catalogue ID for the collection.
Platinum Keywords: This section is to insert keywords, but only for platinum Amazon sellers.
OEM equivalent part number: Original Equipment Manufacturer (OEM) part number given by the manufacturer. This is different from the actual part number. See the product packing.
Filament type: Fitment Type means whether the item is universal that is it fits all vehicle or requires vehicle specific information like Year/Make/model to determine fit.
6. Product enrichment

Size & size map: Specify the size of your product.
Colour & colour map: The colour of the product & other available colour variety.
Material type: The material of the product from which it is made.
Manufacturer warranty description: A text-based description regarding product warranty.
What is in the box: Describe what is included in the package.
7. Dimensions

Item volume unit of measure: The measuring unit of the product volume capacity.
Volume: The volume capacity of the product.
Item weight unit of measure: The measuring unit of the product weight.
Item weight: The weight of the product in numerical.
Item dimension unit of measure: The measuring unit of the product dimensions.

Item length, height & width: Specify the length, height & width of the product.
Website shipping weight unit of measure: Select GR, KG, OZ or LB from the drop-down list.
Shipping weight: The final weight of the product after packing.
8. Fulfillment

Fulfillment centre ID:  Select AMAZON_IN or DEFAULT for fulfillment centre ID.
Package length, width & height: Specify the package height, width & length at the fulfillment centre.

Package dimensions unit of measure: Write the package dimension unit of measure in CM, FT, IN, M, MM.
Package weight: The package weight including the packaging.
Package weight unit of measure: Specify the package weight unit in LB, OZ, KG, Milligrams, GR, etc.
9. Compliance

External rolling noise: The external rolling noise of the product measured in decibels not more than 80 decibels. It may lead to health problems.
Warnings: Write safety warnings while using a battery operated product.
Legal disclaimer description: Indicate a short legal disclaimer about using a battery run product.
Batteries are included: State whether your product includes batteries or not.
Is this product a battery or does it use batteries?: Specify whether the product is itself a battery or runs on a battery.

Battery composition: Refer the battery packing for battery composition info.
Lithium content (grams): The lithium content in the battery. Refer the battery packing.
Country/region of origin: The country where the product originated.
External testing certification: Specify the name of the body/organization that has certified your products.
Battery type/size: The size and type of battery in the product. Total 3 column space.

Number of batteries: Give the total number of batteries used to operate the product.
Battery weight (grams): The total battery weight excluding any cover or product.
Battery weight unit of measure: The measuring unit of battery weight.
Number of lithium metal cells: The lithium metal cell content in the battery. Refer the battery packing.

Number of lithium-ion cells: Describe the total number of lithium-ion cells in the battery.
Lithium battery packaging: Select values from the drop-down list depending on the how the battery is contained in the product. For example, batteries only, with equipment, pre-installed in the equipment, etc.
Watt hours per battery: Specify the total run time of the battery in hours.
Lithium battery energy content unit of measure: The measuring unit of battery in watt-hours.

Lithium battery weight unit of measure: The measuring unit of lithium battery weight.
Applicable dangerous goods regulations: Certain products are regulated as dangerous goods. Here you need to select values from the drop-down list. You have total 5 column space.
UN number: The UN number is Hazmat United Nationals Regulatory ID. You can get the UN details from the manufacturer or in the safety data sheet. For example, UN1920.
Safety data sheet (SDS) URL: Insert the URL of the safety data sheet. It can be found on the manufacturer website.

Flashpoint (°c)?: The flashpoint details are found in the safety data sheet or on the battery packaging.
HSN code: Write the 4 digit HSN code as per the GST regulation.
Categorisation/GHS pictograms: Select appropriate value from the drop-down list. For example, explosive, toxic, oxidizing, corrosive, etc. You get total 3 column space.
10. Offer

Package quantity: The number of packages in a single order.
Product tax code: Specify the product tax code available of sales.
Launch, release & restock date: Write the launch, release & restock date of the product if any.
Useful Tip for Launch, Release & Restock Dates
The launch, release & restock dates can be left empty. This information is optional to be filled by a seller. Generally, the product launch & release date will be the current date on which you are adding a product to the inventory. These dates can be changed later on if a seller wishes to.
Is discontinued by the manufacturer?: Select true or false from the drop-down.
Sale price: The price at which a seller offers a product on SALE.
Sale start & end date: The date when you want to start & end a sale.
Offer condition note: If item condition is not "New" then describe the condition here in brief.

Handling time: Time needed to pick, pack & ship the product.
Max aggregate ship quantity: Give the maximum number of products shipped in single order.
Can be gift message: If you can print a gift message then select True or else False.
Is gift wrap available?: If the product is available in gift wrap then select True or else False.

Has expiration date: Describe the expiration date of the product.
List price: Manufacturer's suggested list price for the product.
Stop selling date: The date after which your product will be unavailable for selling.
Max order quantity: Indicate the largest quantity that a buyer may purchase in a single order.
Offering release date: The date when the product is available for buyers to order.
How to Upload Your Inventory File?
The excel worksheet that you have prepared for the Car & Motorbike Category will have some errors which need to be rectified before final upload. Moreover, Amazon India itself doesn't entertain an excel file that has errors. so, let us check the file first.
Steps to Check Your Inventory File:

Keep your excel inventory file ready.
Select Inventory Files in File Type.
Click Choose File in File to Check section.
The email alert is optional, you can skip it.
Click Check my File & refresh the page.
Go to Monitor Upload Status to see the file validation process.
If there are any errors in the bulk upload file than correct them and repeat the above steps till your file is error-free. The next step is to upload the Amazon India validated excel worksheet for a final add-on to the inventory.
Steps to Upload Your Inventory File: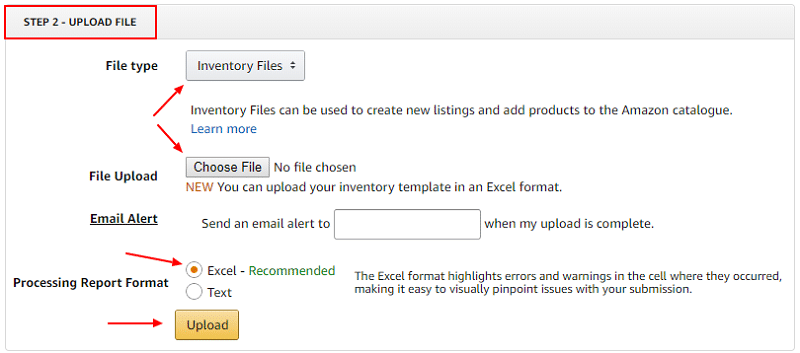 Keep File Type Inventory Files.
Click Choose File in File Upload option.
The email alert is optional, you can skip it.
Select Excel radio button in Processing Report Format.
Click Upload & refresh the page.
Go to Monitor Upload Status to see the product upload process.
We can conclude that using a single excel stock template a seller can add an unlimited number of products & accessories in the Car & Motorbike Category.
Click below to create targetted Ad Campaign
Step-By-Step Guide Create Manual Targeted Ad Campaigns on Amazon India
Amazon India sellers can browse easy to use bulk upload excel template in other important Amazon India Product Listing Categories like Clothing & Accessories, Computer & Accessories, Mobile & Accessories, Kitchen & Home Appliances, Beauty, Grocery & Gourmet Foods, Sports, Fitness & Outdoors, Jewellery, Health & Personal Care, Office Products, Toys & Games, Video Games & Books to list & sell relevant category products.
If you aren't able to find your product in the "Product Classifier" section, then use an Amazon Product Flat File to bulk upload your inventory stock.
Additionally, you can also download free and ready-to-use Business Excel Templates in different categories like accounting, HR, Payroll etc that will be helpful for the smooth running of your business.
Happy Selling on Amazon India.
We thank our readers for liking, sharing and following us on different social media platforms.
If you have any queries or suggestions please share in the comment section below. I will be more than happy to assist you.