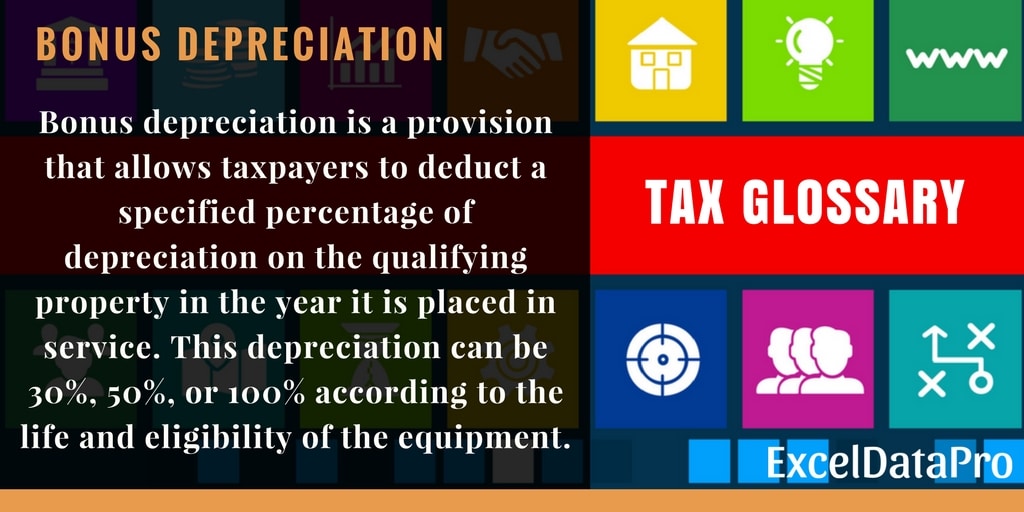 Bonus Depreciation – Definition
Bonus depreciation is a provision that allows taxpayers to deduct a specified percentage of depreciation on the qualifying property in the year it is placed in service.
This depreciation can be 30%, 50%, or 100% according to the life and eligibility of the equipment.
Bonus depreciation can be claimed along with Section 179 deduction. But the depreciation will be calculated on the balance amount remaining after deducting section 179 deduction amount.
For example;
The value of the property is $ 650,000. Section 179 deduction can be claimed up to $ 500,000 in the year 2017 and the bonus 50% depreciation for 2017.
Thus, the Bonus amount of depreciation will be calculated on $ 150,000 which is the balance amount after deducting $ 500,000 from $ 650,000.
In the case above, the depreciation amount will be $ 75,000.
Types of Properties Eligible
MACRS property with a recovery period of 20 years or less.
Depreciable computer software.
Water utility property.
Qualified leasehold improvement property.
Eligibility Criteria for Property
As a business, you can claim bonus depreciation on only properties that are new and are used by your(taxpayer's company.
In other words, any property is previously used but newly acquired by a company would not be eligible for the bonus depreciation.
The reason behind this is:
Firstly, it is not new.
Secondly, the previous user most likely already claimed depreciation on the said property.
In addition to the above, tax-exempt property and property owned and used by the taxpayer outside the United States do not qualify for such depreciation.
30% Depreciation
50% Depreciation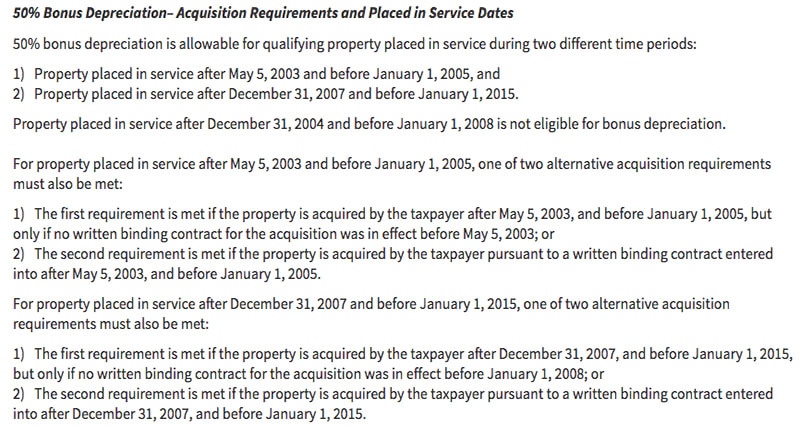 100% Depreciation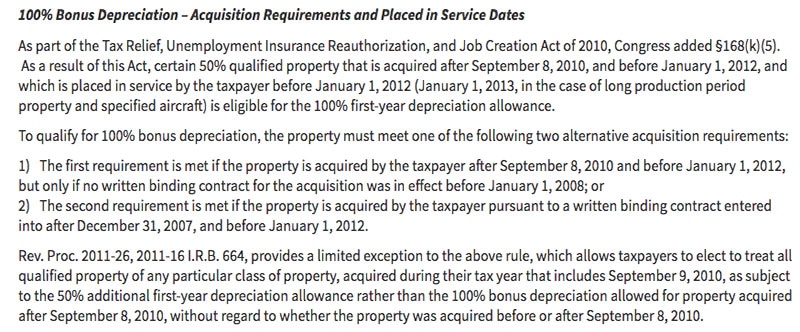 Reference: www.irs.gov
Limits of Bonus Depreciation for 2017
Businesses of all sizes can depreciate 50% of the total cost of the acquired property as long as it has been placed in service during 2017.
In 2018, the bonus depreciation will phase down to 40%. Bonus depreciation applies to only to new equipment and has no cap on the amount that can be depreciated under this provision.
Conclusion
Bonus Depreciation is of great advantage to small and medium-sized businesses. It helps them to save money on their tax bill as well as encourages them to acquire more property and beat the competition in the market.
You can use IRS Form 4562 to record bonus 50% depreciation and other types of depreciation.
We have created some useful tax calculators like Simple Tax Estimator, Itemized Deduction Calculator, 401k Calculator etc.
These templates which can help you easily calculate your federal income tax. These templates are free to download and easy to use with no limitations.
Disclaimer: Interpretation of the above topics is for education purpose and cannot be considered as a legal advice. It is highly recommendable to consult a CPA or tax consultant before going for bonus depreciation.
We thank our readers for liking, sharing and following us on different social media platforms.
If you have any queries please share in the comment section below. I will be more than happy to assist you.