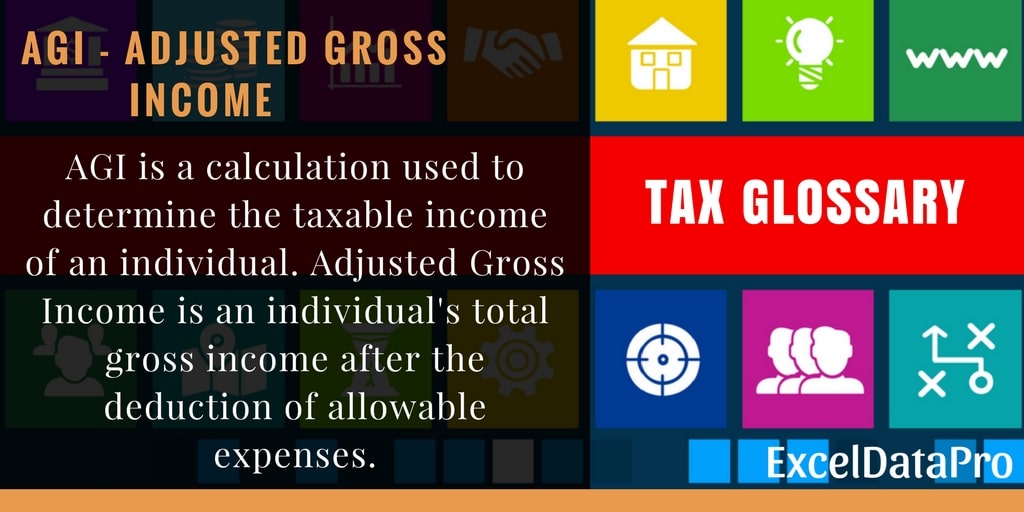 Definition: AGI – Adjusted Gross Income
AGI – Adjusted Gross income is a calculation used to determine the taxable income of an individual.
Adjusted Gross Income is an individual's total gross income after the deduction of allowable expenses.
These allowable expenses are those that are claimable on the federal income tax returns according to IRS.
The allowable deductions used to derive Agi are ALL above the line. It means that they are deducted prior to tax exemptions for military service, dependent status, etc.
AGI is also used for calculating MAGI – Modified Adjusted Gross Income. To know more about MAGI click on the link below:
MAGI – Modified Adjusted Gross Income
How to Calculate AGI?
The simple formula to calculate AGI is as follows:
Gross Income(GI) – Allowable Deductions = AGI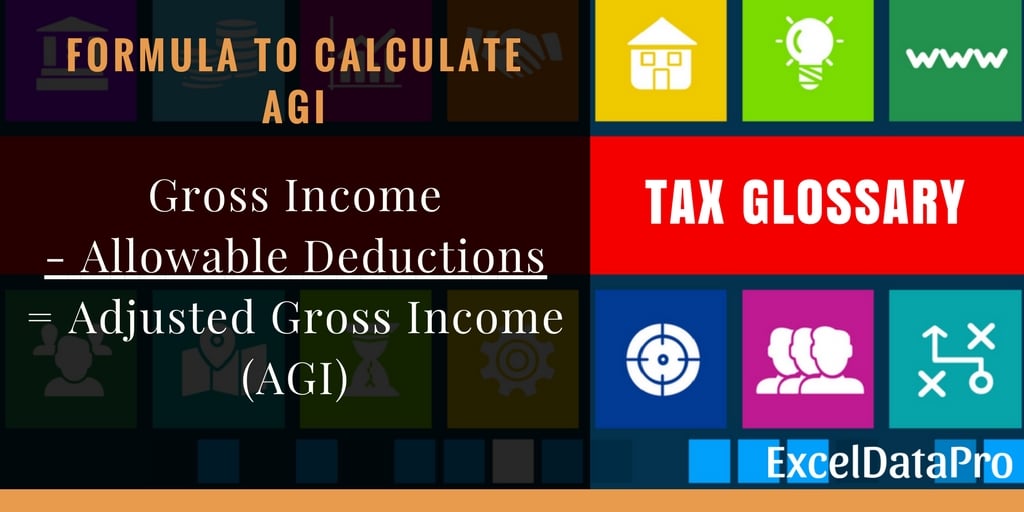 To download AGI Calculator Excel Template, click on the link below:
Adjusted Gross Income Calculator
Gross Income
Gross income is the total of your income from any of below-mentioned sources:
Wages.
Income from Interest & Dividend.
Alimony received.
Income from Business Partnerships.
Taxable Pensions.
Social Security benefits.
Income from Rent.
Capital Gains of Investments.
Income from Royalties Income.
Unemployment compensation.
Farm Income.
Allowable Deductions
Allowable expenses may include any of the following:
Business Expenses.
Expenses related to rents & royalties.
Losses from the sale or exchange of property.
Education Expenses and student loan interests.
Payment made for Alimony.
Contributions to retirement or savings plans (eg. Traditional IRA).
Contributions to the Medical savings account.
Self-employment tax 50 %.
Health Insurance expenses for the self-employed.
You can find the list of these allowable deductions in Federal Tax Returns form 1040 at the end of the first page.
See Image below for reference:
Hence you can derive your AGI with the above formula.
Conclusion
Usually, an individual pays more attention to taxable income while preparing your tax returns.
It is also necessary for an individual to pay attention to AGI – Adjusted Gross Income, because:
AGI is the basis of several tax thresholds.
AGI determines the eligibility for certain tax credits.
For most State taxes, AGI is the starting point.
You can download excel templates like Traditional IRA Calculator, Roth IRA Calculator and Income Statement Projection in Excel for easy calculations.
We thank our readers for liking, sharing and following us on different social media platforms.
If you have any queries please share in the comment section below. I will be more than happy to assist you.