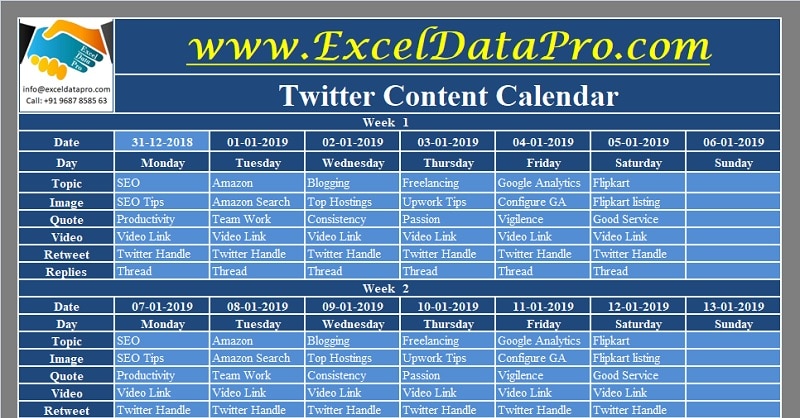 Twitter Content Calendar is a ready-to-use excel template to plan week-wise tweets on twitter for all 52 weeks to increase fan following and popularity on twitter.
Twitter is considered best for real-time conversations. Proper planning and execution of your tweets, retweets, and replies to queries can help you gain popularity on twitter and also help to gather followers.
While planning your tweets you have to be specific. Research for the trends pertaining to that day in your niche, what types of tweets work in your industry, timely replies, proper hashtags, etc in your post.
This sheet will help you to plan and execute week-wise twitter content for a complete year.
If you are a blogger or a small business owner, you might be doing all the tasks by yourself. Having limited time and resources makes it difficult to manage your social media presence.
Twitter Content Calendar Excel Template
We have created a simple and easy-to-use Twitter Content Calendar that can help you plan a week-wise posting calendar for a complete year. You can maintain your social media presence on a consistent and timely basis with this content calendar.
Click here to download the Twitter Content Calendar Excel Template.
Click here to Download All Social Media Marketing Excel Templates for Rs 199.
You can download other social media templates like Instagram Content Calendar, Facebook Content Calendar, Social Media Content Calendar, and Editorial Blogging Schedule.
Let us discuss the contents of the template in detail.
Contents of Twitter Content Calendar Excel Template
This template consists of 2 sheets:
Weekly Tweet Planner
Automated Content Count Summary
Weekly Tweet Planner
This sheet consists of 52 slots one for each week. Just insert the start date in the first light blue colored cell. The template will automatically fetch dates for the whole preceding year along with the respective weekday using the TEXT Function.
Make sure you insert the date which starts on Monday. For example, 1/1/2019 is Tuesday. Thus, insert 31/12/2018 as the first date as it starts on Monday.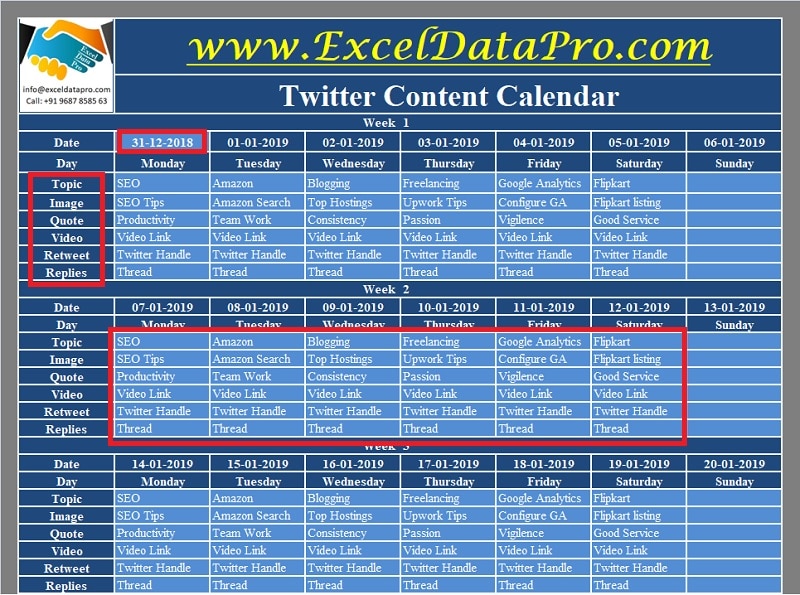 Content Types
You can plan different types of tweets like textual, video, image, quote, etc. The template consists of following heads for content types:
Topic: Define the topic you want to post for that particular day. For example, if you have multiple categories on your blog, choose a day for each.
In this sheet, we have given the example of an internet marketing company and their topic for Monday is SEO, Tuesday is Amazon,
Image: You can post images of your content also on twitter. Add the image title. We have taken as SEO Tips as an example in this sheet.
The best example to follow image-based marketing on twitter you must check out Larry Kim on Twitter.
Quote: For posting textual quotes, define the quote category. For example, Marketing, Motivation, Teamwork, etc.
Video: You can also upload a video as a tweet with related hashtags and description. Enter the title/topic of the video you need to post. Example: Video Link
Retweet: Retweets play an important role in your twitter marketing. Insert twitter handles of those people or companies that you retweet.
Replies: Replies to your tweets or other people's tweets, questions or queries can help you make popular. Example: a Twitter thread or twitter handle whom you reply.
This way you can swiftly plan your twitter content calendar.
Automated Content Count Summary
This sheet gets auto-populated according to the data inserted in the Tweet Planner. Thus, you don't require any kind of entry on this sheet.
Creating slots of 4 weeks in one to create a month, this sheet displays a summary of all 52 weeks. It displays the number of posts made in that duration.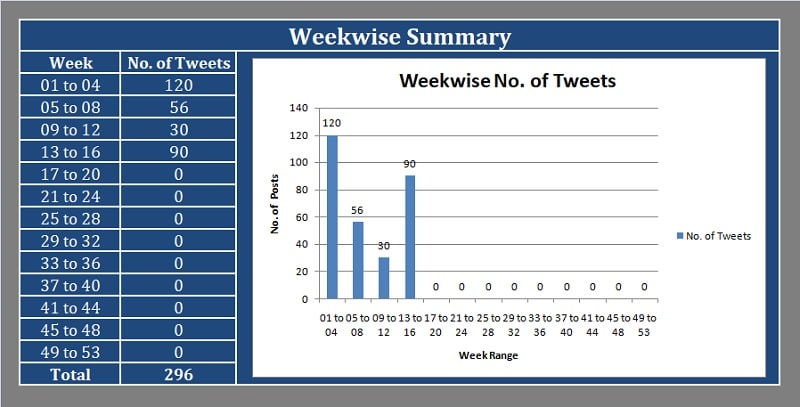 Additionally, it also represents the summary columnar graph displaying the number of posts made during that period.
15 Tips For Twitter Posting
By posting often when you are new you can come to know what is the best time to post according to your audience.
Don't bombard your audience with tweets. It means don't flood with tweets every 10 minutes.
Ask questions, do Twitter polls or hop in on public conversations.
Join in on trending topics.
Get creative in your tweets. Use multiple sentences.
Put hashtags at the end of the post.
Post quality content.
Allocate time to curate images, captions, and hashtags
Research about people making an influence in your niche. Find things you can work with them on.
Use Twitter handles of people whose content you have linked in your article or topic.
Get involved with some relevant Twitter chats.
Use great design tools like Canva or Adobe Spark.
Choose a unique representation of your post that intrigues people.
Schedule tweets in advance instead of manual.
Be unique in representing your thoughts.
We thank our readers for liking, sharing and following us on different social media platforms.
If you have any queries please share in the comment section below. We will be more than happy to assist you.