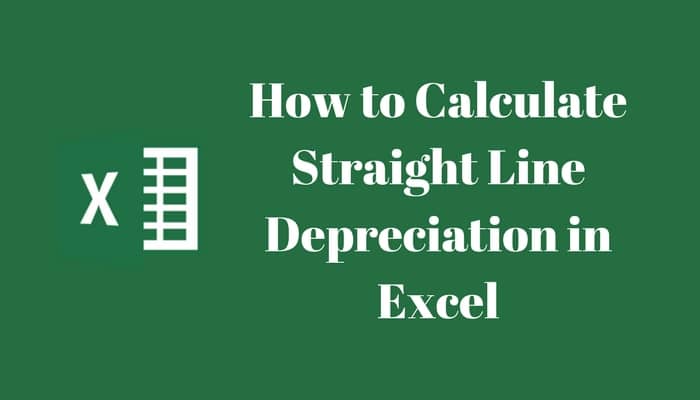 Straight Line Depreciation is a method of uniformly depreciating an asset over the period of its usability.
In other words, it is the method used to gradually reduce the carrying amount of a fixed asset over its useful life.
Formula For Straight Line Depreciation
Depreciation = (Cost – Salvage/Scrap Value) X Rate of Depreciation.
OR
Depreciation = Cost – Salvage Value / Life of the Asset.
Calculating the depreciation is often considered a difficult concept for accounting students, assistants accountants with no accounting knowledge.
There are many inbuilt functions in excel which help us in performing various financial and mathematical operation.
Excel has the SLN Function, which calculates the Straight Line Depreciation for us.
To calculate the depreciation you require only 3 amounts. The initial value of the asset, the estimated life of the asset and its write-off or scrap value at the end of the life.
Let us understand using an example.
We purchase a machine for our company for Rs. 200,000/-. An estimated machine life say 10-15 years. We consider 15 years as the life.
So the estimated life span in which the machine will be in working is 15 years.
Now we require the scrap value or the salvage value of our machine. Let consider it as Rs. 10,000/-.
Open the excel sheet, put the above data starting from cell A1.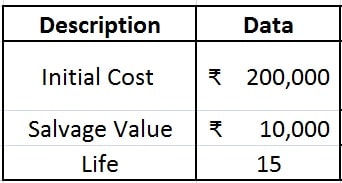 The SLN Function requires 3 arguments, the Cost of Asset, Salvage value and Life of Asset.
Syntax for SLN Function
=SLN(Cost,Salvage,life)
Insert the SLN Function in a new cell where you want the depreciation to be reflected and give cell reference in the same sequence of arguments.

According to our data, cell B2 contains the cost, cell B3 contains the salvage/scrap Value and cell b4 contains the life of the asset.
Our formula will =SLN(B2, B3, B4).
The formula returns the depreciation amount as Rs. 12667/- per year which will be continuously same for 15 years (or the life of our asset).
You can also calculate the depreciation of an asset for a specified period using the fixed-declining balance method by using the DB Function.
We thank our readers for liking, sharing and following us on different social media platforms.
If you have any queries please share in the comment section below. I will be more than happy to assist you.