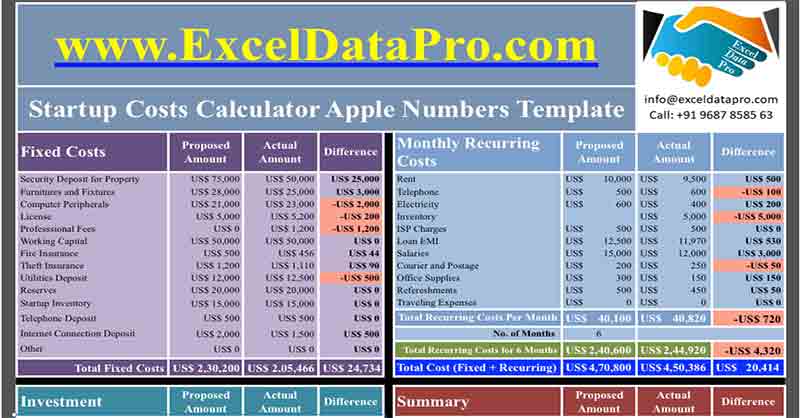 What are Startup Costs?
Startup costs are the expenses incurred during the process of opening up a new business. These expenses are not limited to office place and furniture. These expenses also include expenses Advertising, legal fees, government fees for registration, staff recruitment, Staff training, recurring costs (rents, electricity, telephone, traveling etc) and much more.
Different businesses have different costs.  For example, an internet startup would have startup cost other than office space, furnishing staff etc. whereas a manufacturing unit will require machinery, tools, space for installing the machinery, machinery operators etc.
How important is it to calculate the startup costs?
Usually, many businesses fail to do this exercise. It is a must exercise business in any niche.
Skipping this could cost you much. You may forget to consider an important aspect of startup and it remains unaccounted. Thus, running the business for long becomes impossible.
We usually see many many startups who haven't made such evaluations fail to run their businesses.
TAs an accountant and a business analyst, what I have observed is that many businesses even don't consider recurring costs for running a business. This brings them cash crunches at initial stages and they end up making losses or shutdown.
Evaluating your Startup Costs is the first step when planning for a new business. Smart entrepreneurs will always perform a detailed research before getting into the business.
Such research will include product evaluations, market evaluations, searching the internet, meeting or calling suppliers etc to know what all costs will be applicable according to their business model.
Startup Cost Calculator Apple Numbers Template
Reading the above details, it would seem that it would b a tough process. To simplify the process and help you easily calculate your startup costs we have created Startup Costs Calculator Apple Numbers Template with predefined formulas.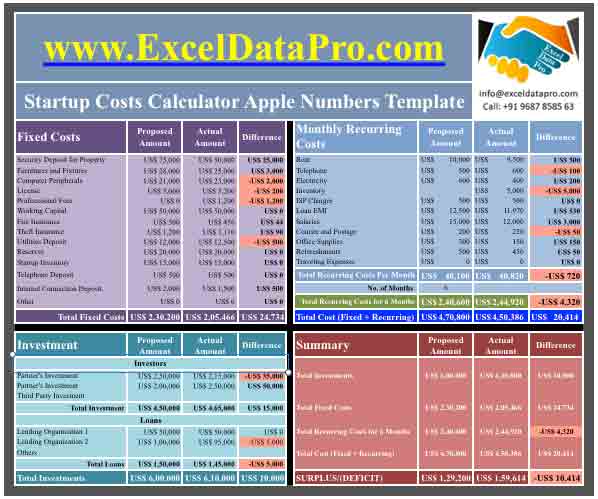 Most things associated with a startup have been taken into consideration. You can add expenses that are relevant to your business model. The best thing about this template is that you just need to enter your figures and it will automatically calculate the startup cost for you.
Click here to download Startup Costs Calculator Apple Numbers Template
You can download the same in Microsoft Excel From the link below:
You can also download Breakeven Analysis Apple Numbers Template which would help you in further define your break-even sales or break-even point for your business.
Let us discuss the contents of the template in detail.
Contents of Startup Costs Calculator Apple Numbers Template
This template consists of 4 sections:
Fixed Costs
Recurring Costs
Investments
Summary
Three columns have been given next to every cost. Proposed Amount, Actual amount and the Difference. After calculating the initially proposed costs, you can enter the actually incurred costs to know the difference.
The Difference Column will show the Surplus or deficit between the actual and proposed costs. If it is deficit then the cell will automatically turn red.
Often, in the excitement of starting a new business, we sometimes spend more amount as compared to our estimates. By recording the actually incurred costs against the estimations will help you balance the things.
1. Fixed Costs
Fixed costs are those cost that is either one time or paid on yearly basis. Security deposits for rental property, security deposit for Utility services, furniture, fixtures, reserves and Working capital etc are included in this.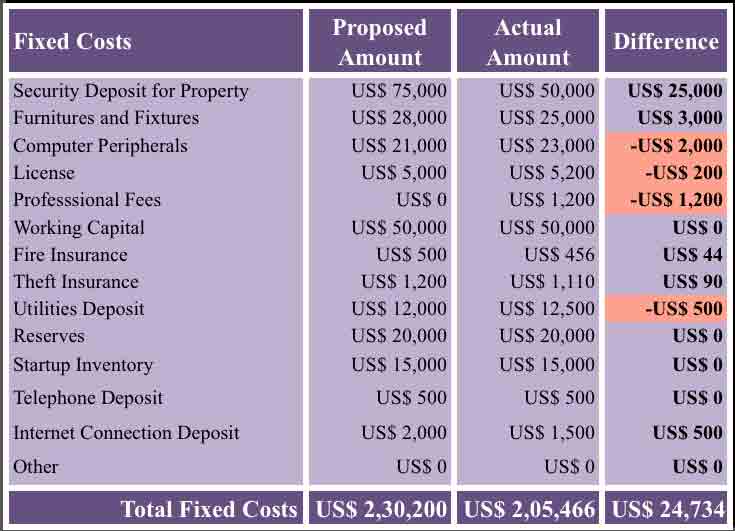 A business must have enough working capital and the reserves.  These both must be kept in mind while calculating the Startup costs.
For smooth running of routine operations, a business must keep provisions of working capital. Similarly, keeping reserves for contingencies will help you avoid any last minute surprises. This amount will be calculated based on the risks involved in your business.
2. Recurring Costs
Recurring or monthly costs are those costs which are repeated every month. These amounts can be of same or different every month. These recurring costs include rent, postage/courier, utility bills, office supplies etc.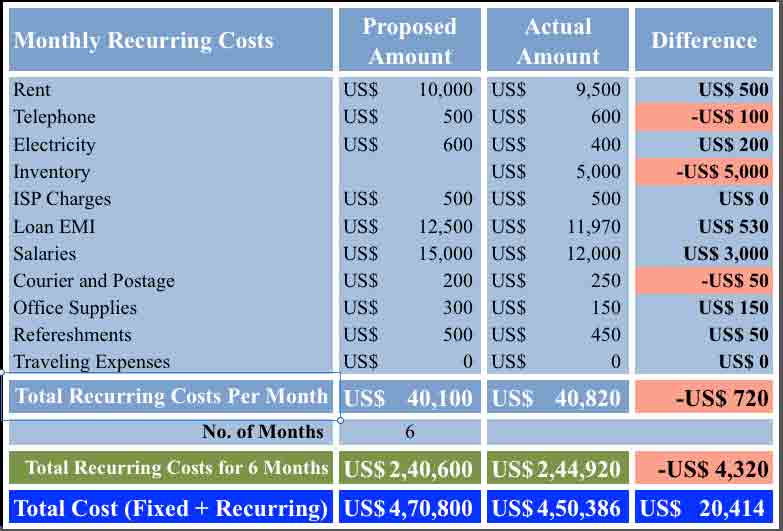 While calculating the recurring costs you need to calculate them for at least 6 months from the inception or up to the break-even point. Use our Break-Even Analysis Template to calculate your break-even point.
3. Investments
This section includes the sources of your investment.  Sources of investment can be owner's investment in case of a proprietorship firm, partner's investment in case of a partnership firm. Other sources of income can be the loans from banks or private lending organizations.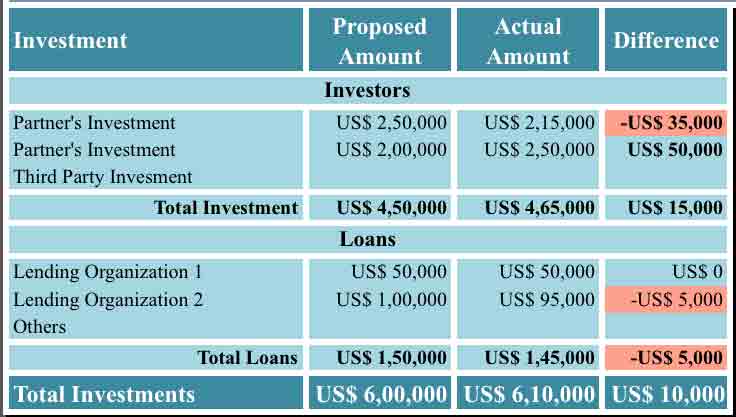 4. Summary
The summary section will show the comparative study of the investment vs the costs. It will help us know where we are standing, we are in surplus or in deficit. If it is surplus it all good but if it is deficit you need to arrange extra funding.
We thank our readers for liking, sharing and following us on different social media platforms.
If you have any queries please share in the comment section below. I will be more than happy to assist you.